Of 791 new tests in Champaign County, nine new COVID-19 cases emerged Thursday, a positivity rate of 1.1 percent.
Newly confirmed cases continued to pop up in Mahomet (added four, now at 38 total) and Seymour (added one, four total) two days after public health officials announced that 10 new cases were linked to an "unofficial prom" at a private home in Mahomet on June 13.
Of Champaign County's now-815 confirmed cases, 724 are considered recovered and 79 are active.
The number of county residents hospitalized with the coronavirus remained nine.
Here's an updated rundown of county cases by ZIP code, according to C-U Public Health data, which doesn't distinguish between active and recovered:
— 61866/Rantoul: 184 (up two from Wednesday)
— 61821/Champaign: 142 (no change)
— 61820/Champaign: 129 (up one)
— 61802/Urbana: 126 (no change)
— 61822/Champaign: 65 (up one)
— 61801/Urbana: 55 (no change)
— 61853/Mahomet: 38 (up four)
— 61874/Savoy: 35 (no change)
— 61880/Tolono: 9 (no change)
— 60949/Ludlow: 6 (no change)
— 61873/St. Joseph: 6 (no change)
— 61863/Pesotum: 5 (no change)
— 61875/Seymour: 4 (up one)
— 61843/Fisher: 3 (no change)
— 61849/Homer: 3 (no change)
— 61878/Thomasboro: 2 (no change)
— 61847/Gifford: 1 (no change)
— 61862/Penfield: 1 (no change)
— 61877/Sidney: 1 (no change)
****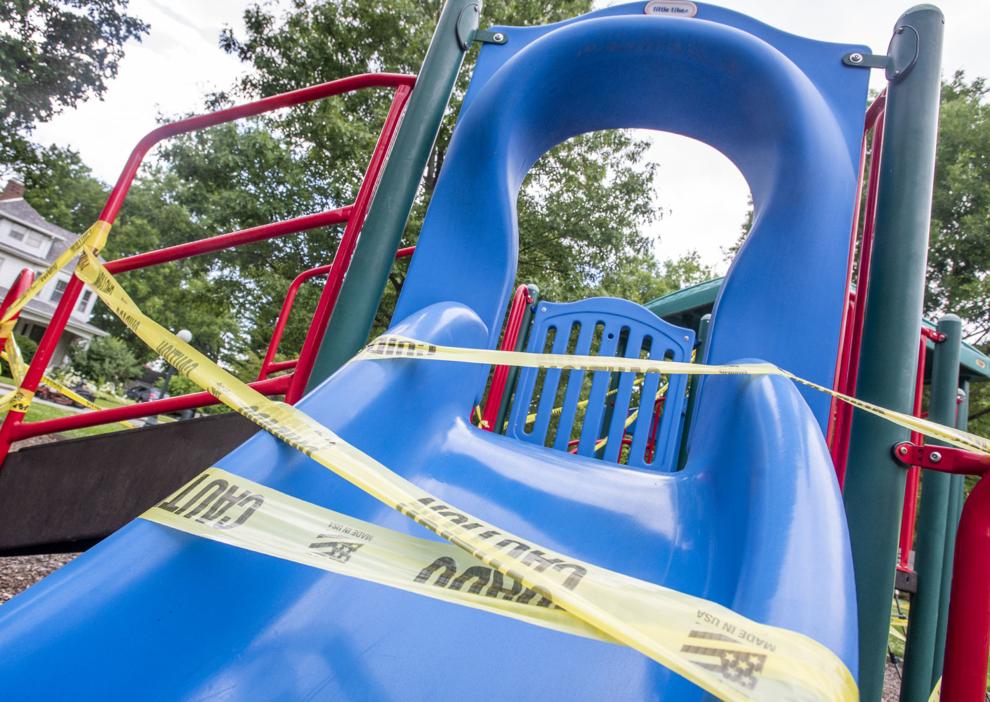 'PEOPLE ARE BEGGING FOR PLAYGROUNDS'
Our Deb Pressey reports on park playgrounds officially reopening when Phase 4 takes effect Friday morning:
In preparation for Friday morning, the Champaign Park District planned to remove taping and other barriers from its closed-off outdoor areas Thursday night, according to Champaign Park District spokeswoman Chelsea Norton.
Reopening playgrounds is "really exciting," she said.
"People are begging for playgrounds," Norton said. "They have been, the entire time."
If you plan to head to a park, bring your face masks and maybe something to quench your thirst. Restrooms and other indoor facilities and drinking fountains will continue to be off limits.
Also advised is washing hands before you head to a park, using hand sanitizer before and after using play equipment, avoiding congregating and wearing face coverings when 6-foot distances from others aren't being maintained.
Outdoor play surfaces aren't — and won't be — sanitized, according to Norton.
"You just sort of play at your own risk," she said.
Along with playgrounds, reopening today for public use are baseball and softball fields, basketball and volleyball courts, football fields, soccer fields and picnic shelters, Norton said.
Splash pads and Sholem Aquatic Center will remain closed for now, she said.
Crystal Lake Park Family Aquatic Center will also remain closed, but planning is underway to get Urbana's indoor aquatic center reopened, possibly in mid-July, according to Urbana Park District Executive Director Tim Bartlett.
"Staffing is key," he said. "We don't have staffing right now."
While playgrounds will be reopening officially, that won't change things for those who have been disregarding the restrictions throughout the pandemic, Bartlett said.
"What we've seen is people have been using playgrounds from the beginning," he said. "We have not been successful in keeping people out of playgrounds."
The reopening of outdoor recreation under Phase 4 is "a bit thin on details," and a lot of questions remain, Bartlett said.
The Urbana Park District has been getting guidance from the Champaign-Urbana Public Health District on how to proceed with a safe reopening, and is also coordinating plans with the Champaign Park District, he said. Many people in the local community use parks in both cities, regardless of where they live.
Bartlett said the Urbana Park District is still waiting to hear from the health district whether outdoor drinking fountains can go back into use, but won't be able to reopen restrooms because there isn't staff available to handle the frequent cleanings that would be required.
For now, he said, "we'll continue to use porta potties."
It's likely the Urbana Park District will be putting up signs in parks advising the public about safe use, Bartlett said.
"Just to let people figure out for themselves is not a good plan," he said.
****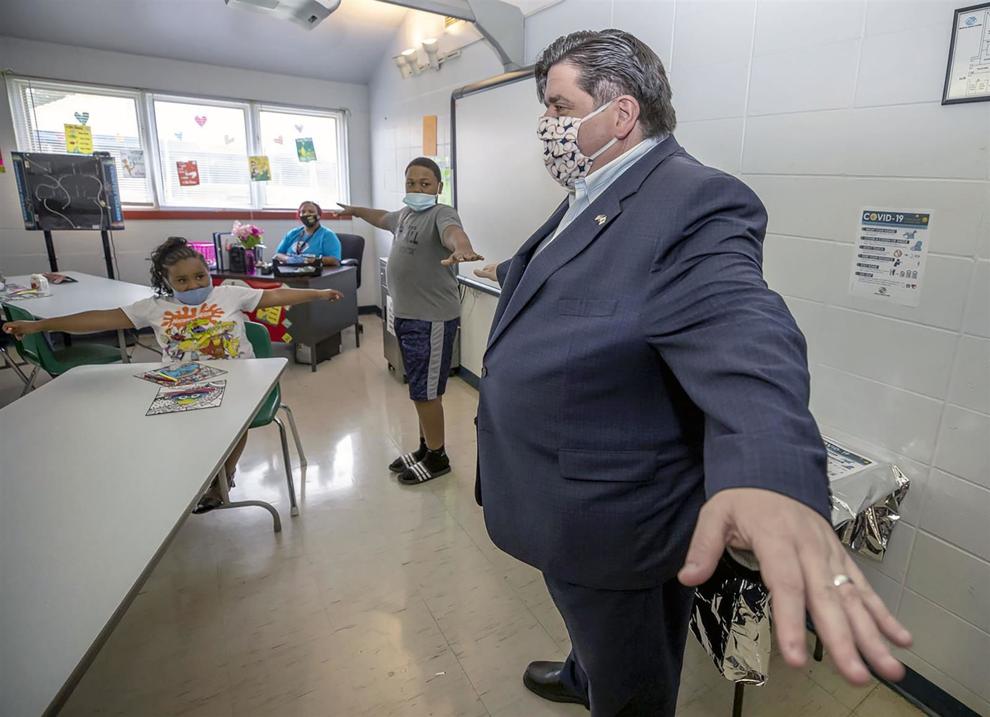 'ILLINOISANS ARE FOLLOWING THE MITIGATIONS'
It's official: All four regions will advance to Restore Illinois Phase 4 on Friday, Gov. J.B. Pritzker announced Thursday.
"We've seen what's happened in other states that have allowed politics or short-term thinking to drive decision-making. Many other states are now seeing significant increases in cases, hospitalizations and intensive care bed usage and they're being forced to move backward and stay at home — that's not the story in Illinois," Pritzker said.
"Here, we have been gradually restoring business and leisure activities in a highly deliberate manner, guided by doctors' advice. Illinoisans are following the mitigations that we can each do ourselves, like wearing face coverings, keeping 6 feet distance between us, and washing our hands frequently. It's because of the people of Illinois that we're seeing a trajectory of relative success where other parts of the country are not."
The unsurprising news coincides with the state surpassing 30,000 tests in a 24-hour period for the first time of the coronavirus pandemic.
The 31,686 tests produced 894 new cases statewide, a positivity rate of 2.8 percent.
The Illinois Department of Public Health also announced 41 new coronavirus-related deaths, pushing the state total to 6,810.
The fatalities spanned 10 of Illinois' 102 counties:
— Cook County: 2 males 30s, 1 female 50s, 3 females 60s, 2 males 60s, 2 females 70s, 3 males 70s, 4 females 80s, 3 males 80s, 1 female 90s, 1 male 90s, 1 female 100-plus.
— DuPage County: 1 male 70s, 1 female 80s, 2 male 80s, 1 male 90s.
— Kane County: 1 male 50s, 1 male 70s.
— Lake County: 1 male 60s, 1 male 80s.
— LaSalle County: 1 male 70s.
— McHenry County: 1 male 70s, 1 male 80s.
— Monroe County: 1 female 80s.
— St. Clair County: 1 male 40s, 1 male 80s.
— Will County: 2 females 80s.
— Winnebago County: 1 male 80s.
****
MORNING UPDATE
— On the eve of Restore Illinois Phase 4, Champaign County is coming off a second straight day of double-digit new COVID-19 cases. After a 17-case Tuesday, the county's total grew by 10 Wednesday, to 806.
— With just 148 new tests, the county's single-day positivity rate was unusually high — 6.8%. That's similar to June 16 (154 tests, 7.8%) but much higher than any day since, when the rate ranged from 0.1% to 2.1%.
— The rise in cases comes amid news that an 'unofficial prom' at a Mahomet home led to 10 positive tests. Mahomet's 61875 ZIP code, which on Saturday had 22 cases, now has 34. Seymour's 61875 also added its first three cases this week.
— Our central region won't have any issues meeting the metrics needed to advance to Phase 4:
1. At or under a 20% positivity rate (central: 1%) and increasing no more than 10 points over a 14-day period (central: down 1%).
2. No increase in hospital admissions for COVID-19-like illness for 28 days (central: down 34%).
3. Available surge capacity of at least 14% of ICU beds (central: 53%), medical/surgical beds (41%) and ventilators (82%).