Nearly a quarter of the 114 active COVID-19 cases in Champaign County are in the village of Mahomet, according to new C-U Public Health District data.
A new map that displays active cases by ZIP code shows Mahomet (61853) with 27 cases, most of any county ZIP code. The village has made headlines in recent weeks after health officials said they'd linked at least 16 cases to an "unofficial prom" at a private home in mid-June.
Fifteen ZIP codes have active cases, 10 of them with more than two. Those include Rantoul's 61866, which has an area-high 195 cases but just 14 active.
Meanwhile:
— The number of confirmed COVID-19 cases in Champaign County grew by 11 Thursday, to 901.
— The number of county residents hospitalized continued to drop — by three more Thursday, to four.
— The county's seven-day positivity rate rose to 1.5 percent, up two-tenths of a percent, with 5,857 tests producing 86 new cases.
— With just 108 new tests processed in the past 24 hours, the county's daily positivity rate was 10.2 percent.
Here's the rundown of ZIP codes with active cases, followed by their total number of cases, according to CUPHD data:
61853/Mahomet: 27 active, 54 total
61821/Champaign: 18 active, 158 total
61866/Rantoul: 14 active, 195 total
61822/Champaign: 13 active, 74 total
61874/Savoy: 7 active, 38 total
61820/Champaign: 6 active, 135 total
61843/Fisher: 6 active, 8 total
61802/Urbana: 6 active, 131 total
61873/St. Joseph: 5 active, 12 total
61801/Urbana: 5 active, 59 total
61872/Sadorus: 2 active, 2 total
61849/Homer: 1 active, 3 total
61864/Philo: 1 active, 1 total
61875/Seymour: 1 active, 4 total
61878/Thomasboro: 1 active, 3 total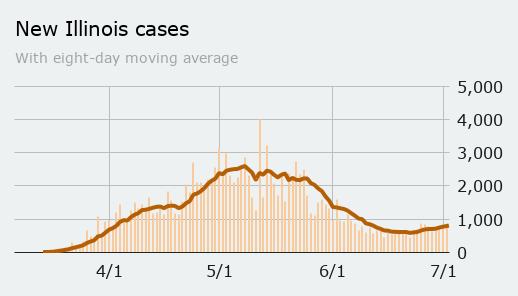 C-U MAYORS: Prepared to take action
Days after photos of crowded Campustown bars made the rounds on social media, Champaign-Urbana's mayors on Thursday reiterated the need for all liquor license holders to comply with the state's Phase 4 safety guidelines — or else.
"I will not hesitate to use my authority to suspend or revoke the liquor license of any establishment that does not adhere to the Safety Guidelines," Urbana Mayor Diane Marlin wrote in a letter to business owners Thursday.
An emergency order issued by Champaign Mayor Deb Feinen said Campustown liquor establishments that violate the guidelines could be subject to penalties that include closures, fines, suspensions or revocation of licenses.
Champaign's order goes on to state that, effective Friday, only those age 21 or older can be on the premises of Campustown bars past 9 p.m.
Marlin also urged liquor license holders to cooperate with the cities' effort to discourage the UI's Greek Reunion weekend, set for July 10-13 on campus, "and others like it."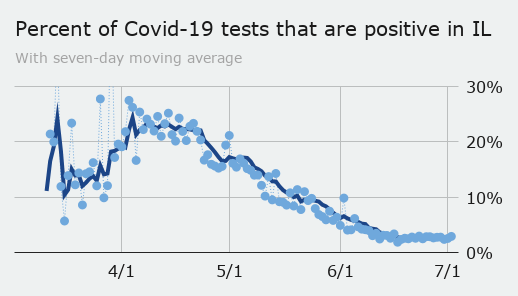 DOUGLAS COUNTY: 6-year-old boy tests positive
A 6-year-old boy is the 57th Douglas County resident to test positive for COVID-19, the Tuscola-based public health department announced Thursday.
"DCHD officials are attempting to identify and contact individuals who had close contact with him," the department said in a statement.
JUDGE: Pritzker exceeded authority with rulings
Rebecca Anzel of our Springfield-based partner Capitol News Illinois reports:
All of Gov. J.B. Pritzker's executive orders since April 8 pertaining to the coronavirus pandemic are void because he exceeded his authority when he used his emergency powers for more than 30 days, a Clay County judge ruled Thursday.
The Illinois Department of Public Health instead has "supreme authority" to close businesses and restrict residents' activities in a public health crisis, Circuit Court Judge Michael McHaney added.
His decision, which he expanded to apply to all Illinoisans, is the latest ruling in Xenia Republican Rep. Darren Bailey's lawsuit. He argued in his April 23 filing that the governor could not issue successive disaster proclamations to manage COVID-19.
The attorney general's office is likely to ask a higher court to reconsider the order. Thomas DeVore, Bailey's attorney, said business occupancy limitations and other restrictions can no longer be enforced.
McHaney did not agree with all of the points Bailey alleged, however. He rejected the argument that COVID-19 did not satisfy the definition of a "disaster," as outlined in the law Pritzker cited in his executive orders.
"One problem with the governor's approach was that he acted as though he knew better how people should behave," Bailey said in a statement. "Instead of presenting facts and calling on people to respond in a collaborative way, hard and fast rules were imposed."
Bailey entered the court Thursday afternoon and walked out to applause from a group of supporters who, the representative said, came from across Illinois. Several were wearing grey shirts that said, "My governor is an idiot."
The ruling in his lawsuit, he told reporters after the hearing, is beneficial for all Americans — governors' COVID-19 responses should not be unilateral. Instead, he suggested, local departments of health should make determinations "county by county."
"Every other court — both state and federal — that has considered these exact issues has agreed with the administration that executive orders protecting Illinoisans' health and safety are well within the governor's constitutional authority," a Pritzker spokesperson said in an email. "...While this one county circuit court has gone a different direction from all of the other cases, the administration will ultimately seek to appeal this ruling, and the governor will continue to urge the people of Illinois to exercise constant vigilance and keep doing what has worked: wash your hands, watch your distance and wear your face covering."
A spokesperson for Attorney General Kwame Raoul said officials are "reviewing" McHaney's order and "evaluating our options."
Bailey's case was in Clay County court because a federal district court judge returned it there Monday, denying a request for it to be heard in federal court made in late May by the attorney general's office.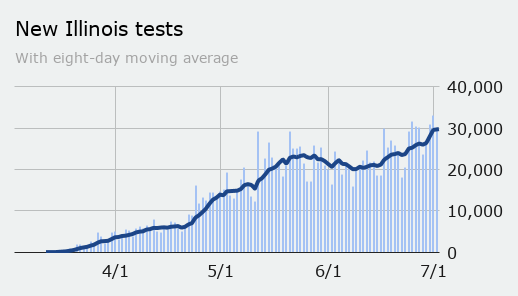 VERMILION COUNTY: 17 cases this week
A child in grade school and people in their 20s, 30s and 50s are the latest Vermilion County residents to test positive for COVID-19, local health officials said Thursday.
"Two of the positive cases today share a household with a positive case from earlier in the week," county health Administrator Doug Toole said.
Since Monday, Vermilion County has added 17 new cases to its total, the most of any four-day stretch since the coronavirus pandemic began.
The county now has 71 confirmed cases. Tests have come back negative for 6,300 others and two residents have died.
Toole said 8.4 percent of the county's population has been tested for COVID-19.
****
FORD COUNTY: 25 recovered, 8 in isolation
A woman in her 50s is the 34th Ford County resident to test positive for COVID-19.
Twenty-five of the county's cases involve residents who've been released from isolation, eight remain in isolation, one has died and none are hospitalized, Ford's public health department announced Thursday.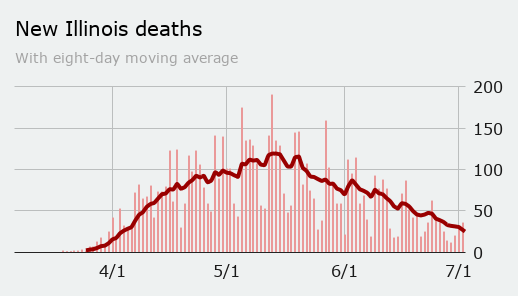 STATE: Seven-day positivity rate remains 2.6%
The statewide seven-day positivity rate remained 2.6 percent after Thursday's 869 new cases and 30,262 tests were factored in.
The Illinois Department of Public Health also reported 36 coronavirus-related fatalities, bringing the state total to 6,987.
The deaths included Illinoisans from seven of 102 counties:
Cook County: 1 male 40s, 2 females 50s, 1 male 50s, 1 female 60s, 4 males 60s, 3 females 70s, 4 males 70s, 3 females 80s, 2 males 80s, 6 females 90s, 1 male 90s.
DeKalb County: 1 male 80s.
DuPage County: 1 female 80s.
Kane County: 1 female 70s.
Lake County: 2 females 70s, 1 male 70s.
St. Clair County: 1 female 70s.
Winnebago County: 1 female 80s.
While Illinoisans aged 40-49 make up the age bracket with the most confirmed cases, the majority of those who've died from the virus statewide have been 70 or above.
The age breakdown of fatalities, according to IDPH's most recent data:
80-plus: 3,106 fatalities
70-79: 1,671 fatalities
60-65: 1,246 fatalities
50-59: 579 fatalities
40-49: 246 fatalities
30-39: 110 fatalities
20-29: 25 fatalities
Under 20: 4 fatalities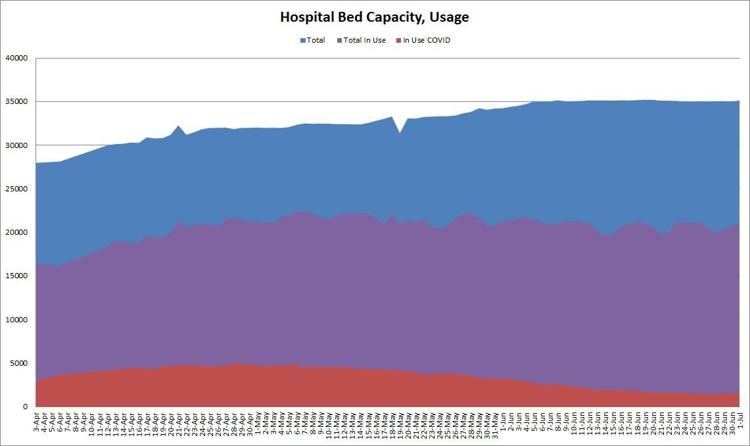 HOSPITALS: Numbers on the rise
Jerry Nowicki of our Springfield-based partner Capitol News Illinois reports:
COVID-19 hospitalizations rose above 1,651 for the first time in seven days at the end of Wednesday, increasing by 140 from the day before and by 187 from its June 27 low.
The number is also the highest single-day tally for hospital bed usage since June 19, when there were 1,699 people hospitalized with the virus.
The number of intensive care unit beds used by COVID-19 patients declined to 349 at the same time, however, decreasing by 35 from the day before and marking a new low since the state began reporting the figure daily on April 12.
There were 195 ventilators in use by COVID-19 patients at 11:59 p.m. Wednesday, an increase of six from the day prior and the second straight day the number saw an increase.
FAIRBURY: Prairie Dirt Classic pushed back to 2021
Added Thursday to the lengthy list of coronavirus-related cancellations: the $50,000 Prairie Dirt Classic, which had been scheduled for July 31 and Aug. 1 at Fairbury Speedway.
It will now be held in the summer of 2021, officials announced.
"It's disappointing, no doubt. However I am very grateful for the support and guidance the Livingston County Health Department has played in allowing us to go back to racing the past couple of weeks," said speedway owner Matt Curl. "In the end, it's the right decision for our community and the long term success and well-being of the Fairbury Speedway. I have no doubt in my mind that the 2021 PDC will be the biggest racing event in the history of FALS."
Curl said this year's race was expected to draw a record crowd of 8,000.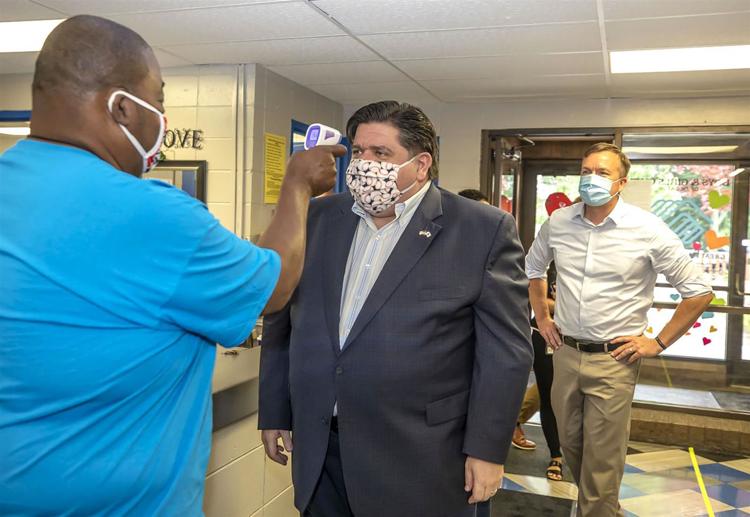 JUDGE: GOP request to allow large political gatherings denied
Capitol News Illinois reports:
A federal judge on Thursday denied a request for a temporary restraining order that would have allowed Illinois Republican Party groups to host large fundraising events.
In the lawsuit, the state GOP argued that Gov. J.B. Pritzker's 50-person cap  on gathering sizes — which was a 10-person cap when the lawsuit was filed — does not apply to religious organizations, and the governor "declined to enforce" his order against protesters demanding an end to systemic racism.
The GOP — along with the Will County Republican Central Committee, Schaumburg Township Republican Organization and Northwest Side GOP Club — argued that applying those exemptions to protestors and religious institutions but not to political parties created an "unconstitutional content-based restriction on speech," according to a court document.
That, the Republicans claimed, was a violation of their First and 14th Amendment rights under the U.S. Constitution, which grant freedoms of speech and demonstration, as well as equal protections under the law.
U.S. District Court Judge Sara L. Ellis, of the Northern District of Illinois' Eastern Division, denied the request for a temporary order that would allow the GOP to resume large gatherings, stating that granting the relief "would pose serious risks to public health."
"The number of COVID-19 infections continues to rise across the United States, which has led some states to recently impose greater restrictions on gatherings and activities," Ellis wrote in her ruling. "COVID-19 is highly contagious and continues to spread, requiring public officials to constantly evaluate the best method by which to protect residents' safety against the economy and a myriad of other concerns."
Illinois GOP Chairman Tim Schneider said lawyers were already working on an appeal.
"We are disappointed with today's results and obviously disagree with the ruling," Schneider said in a statement. "Our fight to secure our First Amendment right is not over, however. Our lawyers have immediately begun the process for appealing the decision."
In its June 15 court filing, the GOP argued political parties "are for political expression what churches are for religious expression: the corporate manifestation of speech and interaction within a community of shared belief."
"Yet, unlike churches, political parties are barred from gathering in groups greater than 10 (now 50) under the governor's executive order," the party continued. "And unlike protestors against police brutality, they have not been given an exemption based on his sympathy, recognition, and participation."
Ellis, however, argued that Pritzker's order "involves reasonable measures intended to protect public health while preserving avenues for First Amendment activities."
"Plaintiffs ask that they be allowed to gather — without limitation — despite the advice of medical experts and the current rise in infections. The risks in doing so are too great," she wrote. "The Court acknowledges that Plaintiffs' interest in gathering as a political party is important, especially leading up to an election. But this interest does not outweigh the governor's interest in protecting the health of Illinois' residents during this unprecedented public health crisis."
The judge also wrote that many political activities are still allowed, such as "phone banks, virtual strategy meetings, and, as of Friday, June 26, gatherings like fundraisers and meet-and-greet coffees that do not exceed 50 people."
Moreover, allowing the GOP to hold mass gatherings would "open the floodgates to challenges from other groups that find in-person gatherings most effective," she wrote, agreeing with one of the state's arguments.
"An injunction that allows plaintiffs to gather in large groups so that they can engage in more effective speech is simply not in the public interest. Such relief would expand beyond any gatherings and negatively impact non-parties by increasing their risk of exposure. Thus, the harms tilt significantly in the governor's favor as he seeks to prevent the spread of this virulent virus," she concluded.
Ellis said the GOP failed to prove the state selectively chose not to enforce its order against protestors. The governor also did not take action against Reopen Illinois protestors during the stay-at-home order, she pointed out.
"Plaintiffs have failed to point to a single instance in which they, or anyone similarly situated, protested with political messages and state officials enforced the order against them because of this content," she wrote. "Thus, the court has no basis by which to evaluate whether the governor has selectively enforced the order."
The judge did, however, agree that the government engaged in "content-based discrimination" by allowing churches to gather.
"When a gathering is still allowed based on the speech involved, the government has engaged in content-based discrimination. The court finds that by exempting free exercise of religion from the gathering limit, the order creates a content-based restriction," she wrote.
An appeal had not been filed Thursday afternoon, and the full case is still pending in Ellis' court.