breaking
popular
top story
Thursday's vaccination updates: 'You did it, Illinois,' Pritzker proclaims on eve of statewide move to Phase 5; Man in 30s becomes 142nd Vermilion resident to lose life to COVID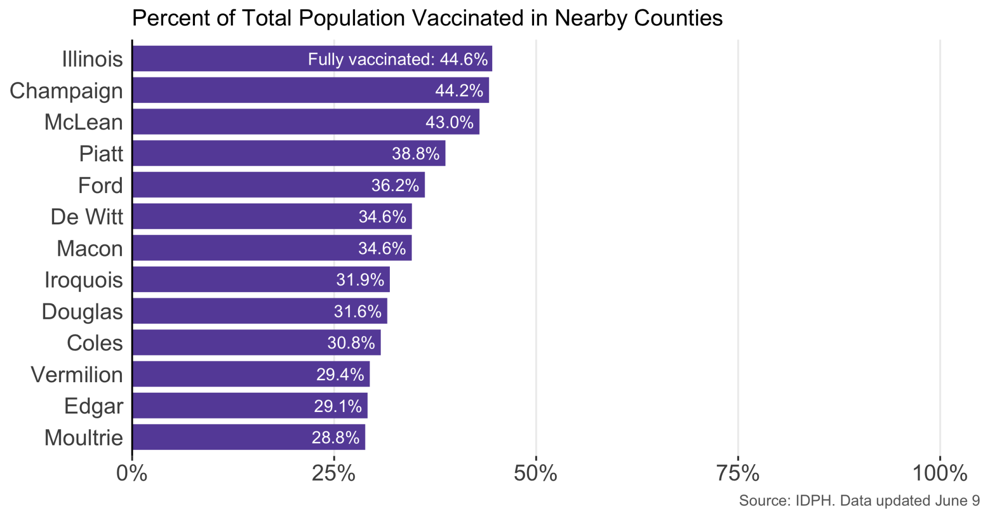 With a 1.0 percent seven-day positivity rate and hospitalizations at their lowest point of the pandemic, Gov. J.B. Pritzker gave the all-clear Thursday for the state to advance to Phase 5.
Come 12:01 a.m. Friday, all state-set capacity restrictions go away — at restaurants and bars, the IHSA track finals and Wrigley Field, gyms and golf courses.
"A strong economy requires that people not only feel safe, but truly be safe, as they go about their lives as workers, neighbors, consumers and friends — and thanks to the lifesaving power of vaccinations, that day is finally here for Illinois," Pritzker said in a statement.
"I invite all Illinoisans to feel the hope and joy of this moment while also recognizing that this pandemic is still very present for the world at large — not to mention those here at home who have not been or cannot be vaccinated. As we take this next step forward, let's do so with a renewed commitment to empathy, to community, and to making each day together count. You did it, Illinois."
Not everything changes Friday, including the recommendation that those who aren't fully vaccinated cover their faces.
And for the time being, masks remain mandatory while traveling on public transportation, in congregate settings, in health care settings as well as in schools, day cares and educational institutions.
"It is important to remember that we are still in a world pandemic and not everyone has the protection of one of the safest and most effective vaccines ever," IDPH Director Dr. Ngozi Ezike said. "Currently, there is not a vaccine authorized for children younger than 12 years and some adults have chosen not to be vaccinated. For these reasons, it is important for unvaccinated people to continue to wear masks while in public and to socially distance.
"The virus can continue to spread among unvaccinated individuals, which could lead to additional mutations and new, more virulent variants."
---
VERMILION: 6 cases away from 10,000 for the pandemic
A man in his 30s became the 142nd Vermilion County resident to lose their life to COVID-19, local health officials said Thursday.
"Our sympathies go out to his family and friends," Vermilion health Administrator Doug Toole said.
The news came as the county inched closer to recording its 10,000th case for the pandemic.
As of Thursday, its total stands at 9,994 — up by 12 over the two previous days. With 13 residents released from isolation, Vermilion's active case count stands at 56. Seven county residents are hospitalized with COVID.
How the new cases break down by age:
Two residents in their 60s
Three in their 40s
Three in their 30s
Three in their 20s
One teen
---
It's official: Illinois will move to a full reopening on Friday, June 11.

Hospitalizations and test positivity are at their lowest levels since March 2020, and we're on track to meet @POTUS's goal of 70% of adults receiving their first vaccine dose by the Fourth of July. https://t.co/aWj4HMHRR3

— Governor JB Pritzker (@GovPritzker) June 10, 2021
AREA: Piatt's 7-day rate a little less than perfect
A 44-test, two-case day sent Piatt County's area-best seven-day positivity rate from 0.0 to 0.7 percent.
Before Thursday's report, the county had gone seven straight days — and 273 tests — without any new cases.
The state's formula for calculating positivity rates includes a three-day lag, so the period covered is from June 1-7.
Meanwhile, Champaign County's seven-day rate held at 2.0 percent, after new data from June 7 (549 tests, 8 cases) was added to its total.
Here's look at new seven-day rates for area counties: