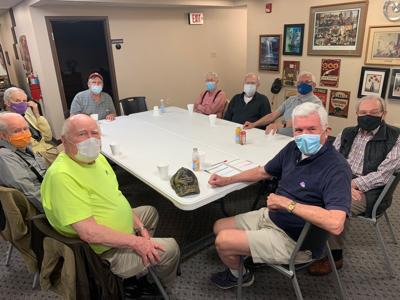 The location has changed, but the atmosphere hasn't.
On Wednesday, nine members of the Stevick Senior Center men's coffee club — best described as retired rascals — yukked it up in the basement of the Attorneys' Title Guaranty building in Champaign. That's where they'll meet twice a week — in person, thankfully — after more than a year's break due to the pandemic.
"These guys are just kind of happy to be with their buddies again," said Kellie Anderson, director of the Retired and Senior Volunteer Program (RSVP). "They seem delighted."
Our Mike Haile visited Wednesday, which was the club's second get-together since early March 2020. Before COVID-19, they gathered each weekday morning for decades.
Said Bob Lumsden, part of the group since 2000: "People don't change at all. It was almost like coming back after a long weekend."