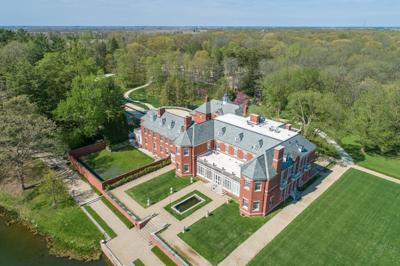 Jordan Zech was startled on Tuesday when she heard voices outside her office at Allerton Park and Retreat Center.
For months, the park and the mansion have been quiet, with staff working remotely. Strange voices in the hallway were unexpected. Then, she came to the refreshing realization that for the first time in months, guests were staying at the mansion.
"I'm like, 'Oh no, there are people in here,'" Zech said. "Then I was like, 'Wait a minute, they're allowed to be in here now.'"
After starting to allow a limited number of guests to lodge at the mansion on Tuesday, Allerton received the go-ahead to start having some of their normal events starting today. Next week, their monthly Full Moon Yoga, the sold-out Full Moon Hike and garden tours will once again meet in person instead of the virtual hikes they'd been having for the last few months. They're also starting a drive-in movie series along with weddings, corporate retreats and conferences that had backlogged over the months.
For a job that centers around interacting with people, the last few months had been strange for Zech, even though she was starting to get used to the silence.
"Our jobs kind of took a 360 turn," Zech said. "It was very odd. We've been working remotely from home and the office a few days a week."
Now, she's enjoying hearing the chatter, even if it took a little while to get used to it again.
"It's weird getting used to it again, but it's a nice weird," she said. "It's getting a little bit closer to back to normal."