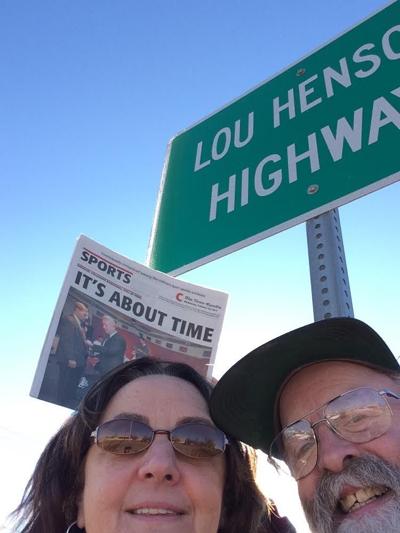 Year 31 of Kendall Gill's fundraising golf outing will have a different look and feel, and not just because of the altered format made necessary by COVID-19.
It will take place without one of its biggest fans and contributors, Lou Henson, who died July 25.
"It's hard to imagine the world without Lou Henson," said Cloydia Hill Larimore, who as a key administrator at Cunningham Children's Home worked with the Gill and Henson families to bring the golf outing to C-U. "Lou and Mary, the two together, they had the energy and willingness to help other people … always so generous."
Now retired, Cloydia will speak of Lou's impact at Monday's sold-out event in Savoy, which will feature two waves of golfers and boxed lunches. Lou relished the chance to mingle at the Gill outing, hobnobbing with golfers and posing for photos as they walked off No. 18.
Last summer, "a parade of well-wishers stopped by where the Hensons were set up for pictures and a chance to chat. The Hensons remain the first couple of C-U," our Bob Asmussen wrote.
Raising money for Cunningham — where the Coach Lou and Mary Henson Gymnasium and the Rosann Gelvin Noel Educational Center were celebrated in March 2019 — was a three-decade mission for the UI's all-time winningest coach, even though he ducked attention whenever possible.
"I know of so many people who made gifts who would not have done it without Lou helping out," Cloydia said. "The Hensons opened so many doors for us. The fact that we built a $15 million education and recreation center was because of his leadership."
PODCAST: Monday's 'Inside Illini Basketball'
REMEMBERING LOU: Click on the icon and tell us your story.
Coming Thursday
THANK YOU, LOU: Our special section devoted to the UI's all-time winningest coach. Email Nancy Sims at nancy.c.sims@gmail.com to share your message.