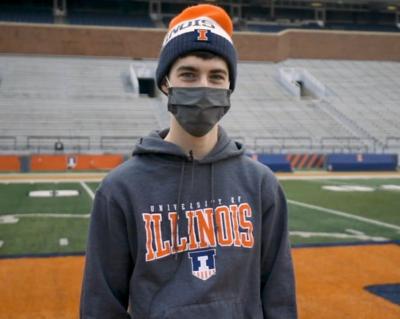 Of the many clever ideas hatched for virtual homecoming at the University of Illinois, the College of Liberal Arts and Sciences' just might top the list.
A year after Illini kicker James McCourt's
39-yard field goal stunned Wisconsin on homecoming, LAS students were invited to Memorial Stadium to try their luck at replicating the feat. Same spot, same direction, even same announcer.
"The only thing that was missing," Voice of the Illini Brian Barnhart said, "was (analyst) Martin O'Donnell's excitement."
O'Donnell, radio listeners will remember, went nuts when McCourt's kick sailed through the uprights as Barnhart bellowed "Upset in Champaign! Upset in Champaign!"
This time, Barnhart went with "Ice cream in Champaign! Ice cream in Champaign!" as he called Tom Bludgen's left-footed winner. The sure-footed UI student's reward: a year's supply of free ice cream (one two-topping Snowstorm every week) from nearby Jarling's Custard Cup.
Like Barnhart, Jarling's owner and former Illini Tom Siegel was happy to help out the college.
"It was great to see the students so excited just to be back in the stadium," Siegel said. "We're living in a pandemic: No games, no fans. This was fun."
Happy Homecoming Week!🔸🔹

Earlier this semester, we invited students inside Memorial Stadium to try and imitate @McCourtJ_38 and his 39-yard field goal to beat Wisconsin a year ago.

The prize? Free ice cream for a year from @JarlingsCU.

Check out the 2-minute recap⬇️. pic.twitter.com/InEtMqZB1G

— Liberal Arts & Sciences at Illinois (@LASillinois) November 30, 2020