Top of the Morning, Dec. 31, 2020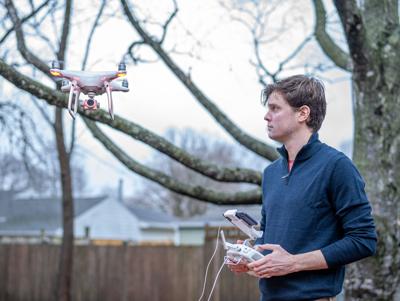 Of the hundreds of videos that played in 2020 at news-gazette.com, the aerial tour of the University of Illinois was multimedia editor Anthony Zilis' favorite.
"It was incredible for me to see the campus from that angle," the 2011 UI grad said. "I'm very familiar with most parts of campus, but usually you only see one space at a time. Seeing the entire campus at once was jaw-dropping for me. That's one of the things I've enjoyed about drone photography and videography — it helps you see ordinary things in a completely different way."
The video, published ahead of the students' return in August, heads our top 10 list of Zilis' efforts in '20.
How'd he do it during a pandemic?
"After coordinating with the UI Police Department, I went to campus five different times, getting there just as the sun was rising to avoid people as much as possible," he said. "Each time, I'd find a secluded place to take off, and I'd try to find the most interesting ways to show each building, quad or section of campus while keeping safety in mind (i.e. not flying too close to buildings and keeping in mind the FAA limits for how high I was able to fly at that particular spot).
"This is one of those things that I had always wanted to do, but the pandemic actually made it easier because of how empty campus was."
Anthony Zilis' Top 10
University of Illinois campus from above
Illinois football hosts strange opening day
Behind the scenes of Champaign County early voting
Tour of Champaign Central and Centennial's renovations
Follow Rev. Willie Comer as thousands take to the streets of CU to protest police brutality
Thousands protest in C-U BLM march organized by high schoolers
Illinois tops Iowa in season finale
Krannert hosts rare co-production of Cabaret