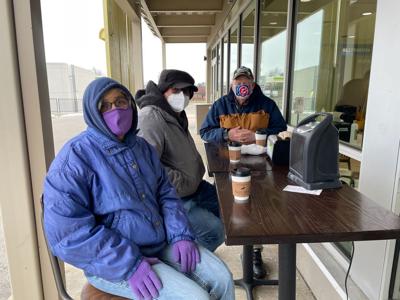 The group that meets for coffee on weekday mornings outside Harvest Market in Champaign especially loves it when Pat Webb shows up.
She's the one who brings the portable heater.
"Otherwise we just put our gloves on and our hoods up and defy the elements," Stu Trumbo said. "We are not going to be deterred by low temperatures."
Trumbo is one of the coffee klatsch's founding fathers. It started years ago after a chance meeting with former Illini basketball assistant coach Mark Coomes while the two were in line at McDonald's at Neil Street and Kirby Avenue.
"That was four remodels ago at that" McDonald's, Trumbo said. "That's how long it's been."
The participants have changed over the years. So has the location, due to COVID-19.
During the pandemic, the friendly folks at Harvest Market have gone out of their way to create a socially distanced setting, moving tables and chairs outdoors. The staff behind the counter doesn't "even have to ask us for our orders," Trumbo said. "They see us in line and they get the orders."
The chatter starts around 8 a.m. and lasts about an hour — rain or shine.
"If you let us sit there and drink our coffee, we'll do it," Trumbo said. "It's good to get out and get some fresh air, a mentally healthy thing to do.
"Just the thought of being cooped up and
not going anywhere and talking to anybody is horrible."