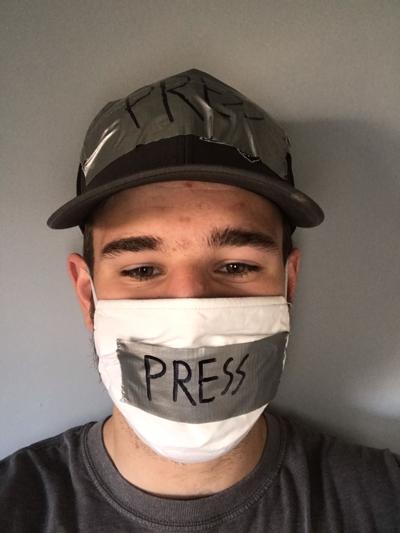 When University of Illinois students tell their "What did you do during winter break" stories, Barrett Wynn will have a doozy.
The sophomore was at home in Baltimore on Wednesday morning when news broke about riots at the U.S. Capitol. The enterprising WPGU correspondent called back to the station to see if there was interest in coverage. The answer: Absolutely.
Wynn, 19, jumped in the family's Nissan Pathfinder and made the hour drive to Washington, D.C.
"I was pretty nervous on the drive down. I was pretty amped up," Wynn said.
Wynn found a safe place to park and went to work. He is familiar with the area.
He interviewed protesters and took photos and videos. You can check out his work on Twitter: @barrett_wc or @WPGUNews.
For safety's sake, Wynn wrote "PRESS" on his hat, mask and backpack.
"I was pretty nervous that I might get singled out," he said. "There were definitely a few times where I had to walk over to other larger groups of reporters and stand with them for a few minutes to let the crowd trickle by."
As the day went on, Wynn said, "most of the people I was coming across didn't really care if I was press or not."
"Most of the people I spoke with didn't seem to be all that radical."
Wynn is entering his third semester at WPGU. The political-science major doesn't plan a career in journalism.
"It's always a career I've had a lot of respect for," he said. "I came to Illinois not really sure how I wanted to spend my time other than classes. When I found out about WPGU and got involved with everything there, I just sort of jumped at the chance to do a little bit of student journalism."