Top of the Morning, June 24, 2020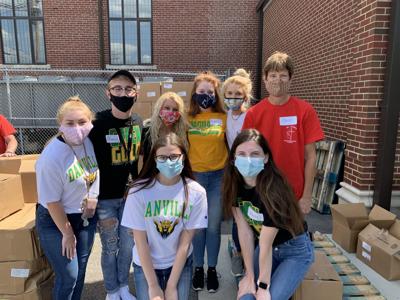 Nikia McGlory's incoming cheerleading team at Danville Area Community College met for the first time not in a gym but at a church.
Last week, the 2020-21 Jaguars volunteered at the food pantry at St. James United Methodist Church in Danville.
They made the team through virtual tryouts because of strict COVID-19 restrictions. During masked introductions at St. James, "they were like, 'You look different than you did on the computer,'" McGlory said. "I just said 'Don't hug, air high-fives only.'"
McGlory's program has a reputation for giving back, be it at churches, women's shelters or nursing homes. Actively involved in all things Vermilion County, the Jaguars participate in parades in Danville, Hoopeston, Potomac and Westville.
They're at St. James UMC the third Wednesday every month.
"It's much deeper than the sport," McGlory said. "I really like having the team do volunteer work because it serves as a reminder that when they are stressing over classes, they are still blessed in so many ways."
McGlory is eyeing Hoopeston's 77th National Sweetcorn Festival in early September as the kickoff to what she hopes is a cheerleading season at DACC. Classes are set to start Aug. 24.
"The kids are ready," she said. "Can we just do this thing?"