Top of the Morning, March 25, 2020
Have a story to share on the community impact of coronavirus? Email Jim Rossow at jrossow@news-gazette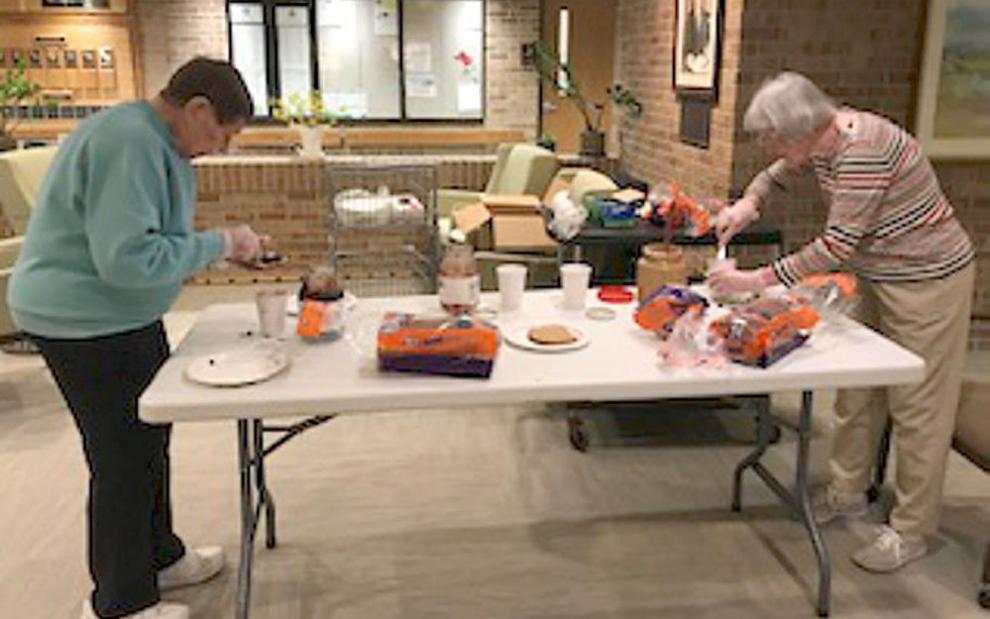 At Clark-Lindsey Village, where group activities and visitors are no longer part of the daily routine, the mood nonetheless remains upbeat. That's a testament to staff and residents who are determined to make the best of a challenging situation.
Like Anna Merritt.
The feisty 85-year-old oversees a crew of 34 residents who — three times a day "at all hours" — wipe down doorknobs and handrails inside the sprawling complex in Urbana. Asked by CEO Deb Reardanz if she could assist housekeeping, Merritt met little resistance rounding up volunteers. "People are so grateful for something to do," she said.
Goodwill is rampant.
One resident has offered to deliver each day's News-Gazette door-to-door. Others are sewing face masks for nonmedical workers. Gifted pianist Jan Impey provided soothing music one day recently from the lobby. The photo above shows Marilyn Hill (left) and Julia Clausing preparing peanut butter and jelly sandwiches — at a safe distance — Tuesday morning for the Canteen Run.
Help's been coming from outside in waves, too. Florists, auto shops, churches, school districts, journeymen, community colleges — even a Champaign tattoo parlor — have delivered both pick-me-ups and supplies. Ordinary citizens are sending in notes and drawings and videos of encouragement (email retire@clark-lindsey.com or text 217-714-6819).
For employees, the dress code has been relaxed, the break room has been turned into a day care center and the kitchen staff has cooked up free meals.
Merritt, who moved to C-U in 1967 and has been at Clark-Lindsey for almost six years, isn't surprised.
"I've been reminded," she said, "what a remarkable community we live in."