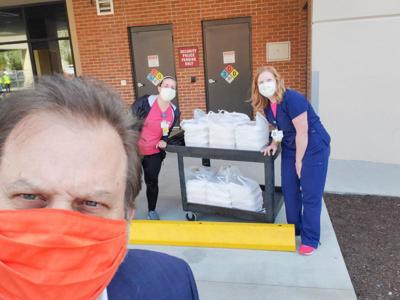 Lent is normally a time for members of Three Hierarchs Greek Orthodox Church to go to church more, pray more, and give to those in need, member Lou Laros said. While going to church hasn't been an option during the stay-at-home order, Laros and his fellow members of the parish council saw plenty of need this year, both inside the church's membership and outside of it.
So they found a way to help support two of their members while helping the most vulnerable. The church orders 25 meals a day three or four times a week from Merry Ann's and Sam's Cafe, owned by church members Katie Pomonis and Sam Issa, and delivers them to CU at Home, Christie Clinic, Carle Hospital and the local blood bank.
"We're not only helping homeless or medical professionals, but we're also helping two businesses that have done a lot for our church, but also for our community," Laros said.
Laros said the church has built a relationship with CU at Home in recent years, making it an easy decision to deliver the meals to the organization, which includes a shelter and other services that help the homeless.
"I've heard, 'God bless you,' so many times when we walk in," he said. "We normally see (the homeless) walking by us on the street, but when you see them congregated all together and you start having interactions with them, (you realize) they're no different than us. Theyr'e down on their luck, and they're not choosing to live on the street or in this situation, and there's a whole bunch of different variables where we can't sit and judge them."
Laros said the church will deliver its 1,000th meal this week.
While it fulfills Laros to deliver the meals to the most vulnerable, he hopes the donations will help the two restaurants get through an isolating and difficult time.
"What I'm afraid of is that, when this is all over, there are going to be a lot of different businesses that are going to fall," Laros said, "and if we can help two of them that are part of our parish, that would be great."