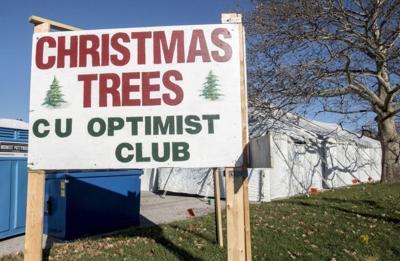 Last year, their fundraising Christmas tree sale took a hit when thieves swiped three dozen Fraser firs from the big white tent on the corner of Mattis and Springfield in Champaign.
This year, it's COVID-19 delivering the haymaker.
The C-U Optimist Club, which for more than 70 years sold live trees to benefit children, will take this holiday season off, organizer Jack Widholm said. He said the idea of putting volunteers in harm's way made it a necessary call.
"Most of our club members are in the bull's-eye (age) range," said Widholm, 81. "The virus is a fact of life. Nobody likes it, and you have to adapt to it."
The community rallied behind the Optimists last year, donating enough to make up for the stolen trees.
Those still selling trees have made changes, too.
Tate Trees north of Champaign turns 50 years old this year. Instead of a celebration, co-founder Richard Hansens is asking "for patience" among customers who will be asked to shop in small, socially-distant groups and wear masks at all times. Tate Trees is opening earlier than usual (Monday) in hopes of spreading out business.
Hansens and Fred Tate hatched the idea in 1970 to fill "the vacant spot between harvest and spring," he said. Today, Hansens and his son, Jason, and Leon Freese carry on the tradition.