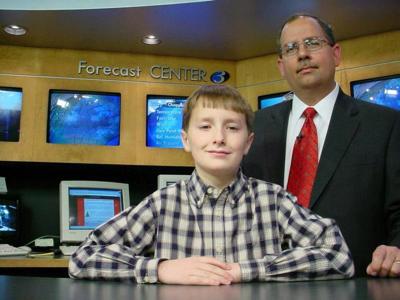 Jacob Dickey caught the weather bug early in life. Very early.
As his parents, Dan and Paula, tell it, as a toddler, Jacob would cry if someone switched away from the Weather Channel. Once it went back on ...
"I turned into an angel of a child, apparently,"
Jacob Dickey said. "I grew up loving the weather. I was a weather nerd. Any time there were storms, I was looking out the window."
Jacob and Dan went on their first storm chase in the late '90s. He was 5 or 6 at the time.
The Gibson City native and University of Illinois graduate (2015) returned to local airwaves this week. Dickey is the new weekend weather forecaster for WCIA, the same place he interned in 2015. He is handling the morning and evening shows Saturday and Sunday. He will also fill in during the week.
Dickey studied agriculture education at Illinois with the idea of being a high school ag teacher. He was all set to go to work in Polo, but decided against it.
On a whim, Dickey moved to Oklahoma and landed a job in Oklahoma City in 2016. He went to graduate school at Mississippi State, which is considered one of the top broadcast meteorology schools in the nation.
Dickey, 27, had a job offer in Lawton, Okla., but WCIA called to see if he was interested in returning to the station.
"It's very rare in the broadcast business for people to be able to go back home with a tremendous job opportunity," he said. "This checked all of the boxes."
Dickey isn't the only new on-air personality at WCIA. Andy Olson started this week in the sports department.