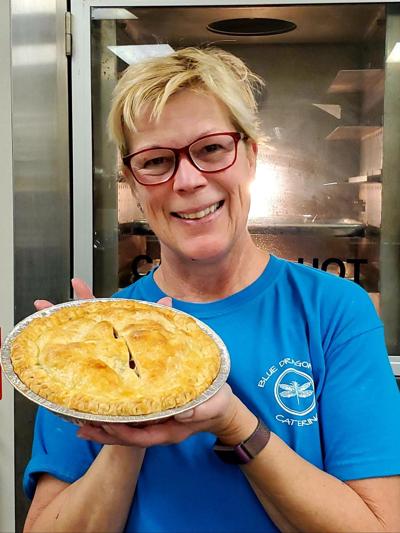 Leah Bodine credits Grandma for stoking her cooking interests.
"I was 5 or 6 and would stand on a stool next to her in the kitchen," Bodine said. "That got me going."
Today, the 59-year-old Rantoul resident and Centennial High grad (Class of '79) is knee-deep in flour as owner of Blue Dragonfly Catering. Part of her mission in 11 years of business: helping those in need.
In the pandemic's early stages, she baked for front-line workers. During this holiday season, she's lending a hand to Developmental Services Center.
For every $15 pie she sells through Christmas, $3 goes to DSC's Tree of Hope campaign. Each pie (pumpkin, apple or pecan) features a heavy-on-the-butter handrolled crust stuffed with fillings from Grandma's recipe book.
"Not for the faint of heart," she said. "True and authentic."
Visit bluedragonflycatering.com to get started.
"I've been very fortunate with my business,"
Bodine said. "This is my way of paying it forward."