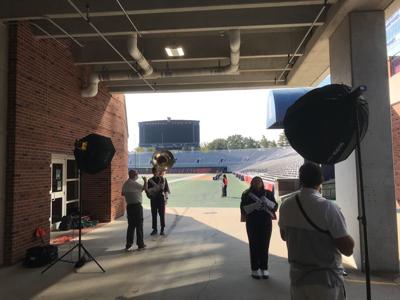 If Lovie Smith's Illini climb into the stands to celebrate with the Marching Illini after wins this fall, they'd better take it easy.
Barry Houser would hate for one of his percussionists to be snapped in half.
Since the band can't attend home games due to COVID-19 restrictions, cardboard cutouts of 275 members of the Marching Illini will occupy their usual spots, perched above the north end zone. The process started Sunday when photos were taken of the kids in uniform.
"We can't be in the crowd," Houser said, "but we want to make it look more like home for the players. Anything we can do to build a game atmosphere, we need to do it."
Cutouts — which the students can take home after the season — are an impressive, innovative first step. Houser is hoping to have sections of the band playing favorites like "Oskee-Wow-Wow" and "Illinois Loyalty" in the empty stadium in the coming days, too, so those videos can be shown on the giant scoreboard when good things happen.
"After a touchdown, you'd see actual members of this year's band playing," he said. "Just not live."
The idea of producing cutouts had the band jazzed, with many remote-studying students traveling hours to attend Sunday's photo shoot, where social distancing was maintained. It was a pleasant change of pace in a semester they'll remember for practices conducted via Zoom.
"We're throwing anything we can against the wall and seeing what sticks," Houser said.