Top of the Morning, Oct. 18, 2020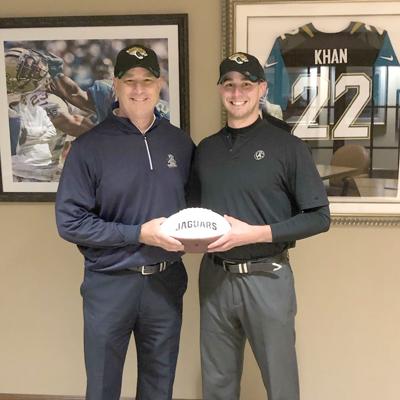 As much fun as Bob and Mike Plecki had in winning the inaugural Khan Cup, they'll get a bigger kick out of cashing in what ranks as the coolest first-place prize in area golf tournament history:
An all-expenses-paid trip to an NFL game.
Team Plecki won the yearlong golf competition at Shahid Khan's Urbana Country Club, beating out 31 other duos in a bracketed format that wrapped up Oct. 1. They celebrated with a burger and beer before studying the schedule of the Jacksonville Jaguars, owned by Khan since 2011.
Unless things change, Bob and Mike will be
wined and dined before, during and after the Jaguars home game against the Bears on Dec. 27.
Bob is vice president at Busey Bank. Mike, a
multi-sport All-Area performer at St. Thomas More who played college baseball at Illinois Wesleyan (Class of '18), is an accountant at Martin Hood.
"The best part of the tournament was definitely playing with Mike," Dad said, "watching him compete in a new sport and watching him play through the highs and lows of golf."
A competitive type like his dad, Mike, 25, enjoyed the high stakes and is looking forward attending his first NFL game since the Bears played in Champaign in 2002.
"The prize was incredible, and just getting out and competing again for something was fun," Mike said. "There definitely was pressure. And I had a pretty good partner."