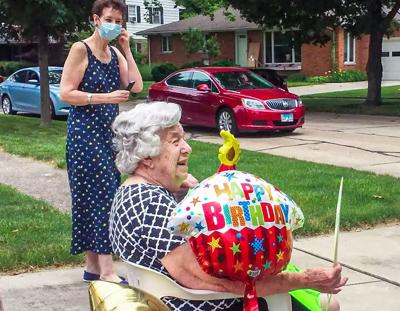 By the time St. Peter's United Church of Christ moved from its location at the corner of Fourth Street and University Avenue to its current location on Russell Street in the mid-1950s, Cleo Pelg had already been a member for decades.
It's no surprise, then, that 15 cars containing 21 members of the church showed up to drive by Pelg's house on Sunday to celebrate her 99th birthday.
"She's an institution with the church," longtime church member Mark Williams said. "She's someone who's always been there. She's always been an important part of the church. Anything that's gone on, she's seemed to be a part of it."
Pelg, who has been a member of the church for her entire life, happily waved at passersby and called them out by name as they stopped to talk from a safe distance.
For Williams and the rest of the members of St. Peter's, the last few months have been difficult for a tightknit group. Sunday wasn't simply a chance to honor their oldest member. It was a chance to keep that bond alive.
"It's been tough on all of us," Williams said. "We all want to get back and see everybody. That was one of the fun things for the people that were there (Sunday). They were just happy to see each other. It was fun for all of us to get together from a safe distance. We're close-knit. Everybody cares about each other. It was important for us to get together, not only to recognize her, but to associate with each other."