Of Champaign County's 1,367 total cases, 1,140 are considered recovered and 209 are active.
Here's an updated rundown of county ZIP codes with active cases followed by their total number of cases, according to C-U Public Health District data:
61802/Urbana: 42 active (up six), 195 total (up 12)
61821/Champaign: 39 active (up four), 249 total (up six)
61820/Champaign: 28 active (up two), 210 total (up nine)
61822/Champaign: 22 active (up seven), 122 total (up eight)
61866/Rantoul: 16 active (up four), 233 total (up five)
61801/Urbana: 13 active (up six), 84 total (up six)
61874/Savoy: 11 active (up three), 52 (up three)
61880/Tolono: 6 active (unchanged), 24 total (up one)
61845/Foosland: 5 active (unchanged), 7 total (unchanged)
61853/Mahomet: 5 active (up two), 78 total (up two)
61877/Sidney: 5 active (unchanged), 11 total (up one)
61843/Fisher: 4 active (down two), 30 total (unchanged)
61864/Philo: 4 active (unchanged), 6 total (unchanged)
61873/St. Joseph: 2 active (up one), 23 total (up one)
61847/Gifford: 1 active (unchanged), 2 total (unchanged)
61851/Ivesdale: 1 active (up one), 1 total (up one)
60949/Ludlow: 1 active (unchanged), 7 total (unchanged)
61871/Royal: 1 active (unchanged), 5 total (unchanged)
61875/Seymour: 1 active (unchanged), 4 total (unchanged)
61878/Thomasboro: 1 active (down one), 5 total (unchanged)
61863/Pesotum: 0 active (down one), 6 total (unchanged)
---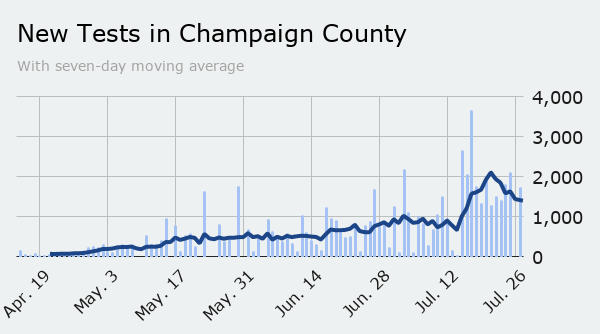 IDPH: 7 local facilities on watch list
Seven long-term care facilities in Champaign and Ford counties were considered to have open COVID-19 outbreaks, according to the Illinois Department of Public Health's most recent update.
In Champaign County, they include:
Country Health and Rehab, Gifford: Four cases.
Champaign-Urbana Nursing and Rehab, Savoy: Four cases.
Reflections Memory Care, Savoy: 30 cases and four deaths.
Villas of Holly Brook: Rantoul: Two cases.
In Ford County:
Accolade Healthcare: Five cases.
Accolade Healthcare of Paxton Senior Living: Two cases.
Gibson Area Hospital Annex: Four cases.
IDPH considers two or more cases at a facility to be an outbreak, and outbreaks to be active if there have been any new cases in the past 28 days.
Long-term care facility outbreaks are updated by the state online weekly, with the most recent update done this past Friday.
---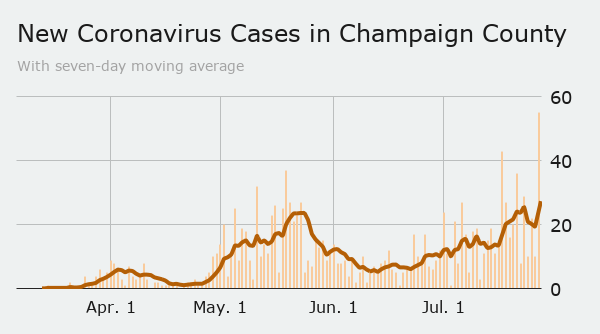 VERMILION COUNTY: Five teens, five in 60s among 14 new cases
Six days after reporting a single day-high 12 new COVID-19 cases, Vermilion County topped it — by two.
The 14 positive tests announced Tuesday include:
Five teenagers
Five residents in their 60s
Two in their 40s
One in their 20s
One in their 50s
Of the 14 new cases, three share households with positive cases from last week, and two sets of two share a household, Vermilion County Health Administrator Doug Toole said.
 The status of the county's now-160 total cases:
Recovered/released: 117
Isolating at home: 40
Deceased: 2
Hospitalized: 1
Vermilion's positivity rates stand at 2.6 percent (seven days) and 1.33 percent (single day).
---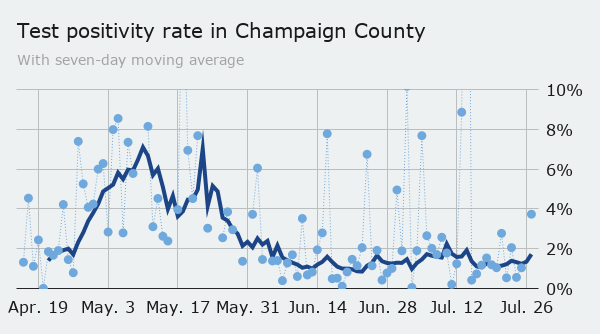 CHAMPAIGN COUNTY: 'People acting like we are not in a pandemic'
Local health officials recorded the largest daily increase in COVID-19 cases Tuesday, with 55 new positive tests in Champaign County.
At least some of the cases can be linked to failures to follow required safety measures in bars, lots of parties and gatherings, and "people acting like we are not in a pandemic," said Champaign-Urbana Public Health District Administrator Julie Pryde.
"Any time people gather and spend time with others, even in their extended families, and they don't remain masked and distanced six feet at least there will be cases," she said. "These can, and have led, to hospitalizations and deaths."
CUPHD has received many complaints about bars and has had many positive cases linked to being in bars, Pryde said.
"One solution being discussed is that bars should only be open if people must remain seated, and follow restaurant rules," she said. "Clearly allowing standing and movement within the bars is not working. It is not safe. That, however, is still allowed at this time."
Pryde said CUPHD will have teams of inspectors going out to bars from midnight to 2 a.m. to look for violations and will be relaying information to city and county liquor commissioners for action.
"We are working with the cities and the liquor commissioners to ensure that there are consequences for bars that do not follow the infection control guideline during COVID," she said. "These will include fines and potential suspension of liquor license. The community can help by not patronizing bars that are not following the rules. They are not safe, and we have already seen multiple outbreaks in bars and many cases with links to bars."
With Tuesday's news, active cases were up 32, to 209, while recovered cases increased by 23.
There are now 13 county residents hospitalized with COVID-19, up one from the three previous days. The county death toll remained 18.
Champaign County's seven-day positivity rate now stands at 1.7 percent.
---
STATE: 1,076 new cases, 3.8% seven-day positivity rate
Jerry Nowicki of our Springfield-based partner Capitol News Illinois reports:
The Illinois Department of Public Health announced another 1,076 confirmed cases of COVID-19 in Illinois on Tuesday as the rolling, seven-day test positivity rate remained at 3.8 percent.
IDPH also reported that the rolling positivity rate in Region 4 of the state's COVID-19 mitigation plan — which includes the Metro East area on the Missouri border — reached 7.8 percent as of July 25, or slightly less than the 8 percent mark that, if sustained for three days, would necessitate state intervention to mitigate the virus's spread.
When Gov. J.B.  Pritzker laid out the state's coronavirus mitigation plan on July 15, he said if a region has three consecutive days averaging greater than an 8 percent positivity rate on tests conducted, it would be a "failsafe" metric requiring immediate action.
Mitigation efforts would occur in three tiers, he said at the time, and would including rolling back some sectors of the economy to how they looked in previous phases of the state's COVID-19 reopening plan.
In "higher risk" settings, such as indoor bars and restaurants, some restrictions could be triggered "automatically." These include reduced indoor dining capacity and suspended indoor bar service in tier one, followed by suspended indoor dining in tier two, then takeout only in tier three. Other mitigation strategies would occur in other sectors of the economy.
Additional meeting size restrictions would also be considered, along with remote work guidance or safety requirements for offices.
In the other 10 regions, the rolling positivity rate was as low as 2.9 percent in Region 6, which includes much of eastern Illinois, but that rate had increased for nine of the past 10 days as of July 25. In southern Illinois' Region 5, the positivity rate was 6.5 percent as of July 25, an increase of 2.7 percentage points over one week prior.
All of the other regions ranged from 3.9 percent in western Illinois to 5.8 percent in Will and Kankakee counties. Six of the 11 regions had seen their positivity rate tick upward for at least seven of the past 10 days — another warning level, according to the state's mitigation plan. None of them, however, had seen the necessary hospitalization increases to warrant state action for rolling back reopening efforts.
The new cases reported by IDPH were among 28,331 test results completed over the previous 24 hours, making for a one-day statewide positivity rate of 3.8 percent.
The department also reported another 30 COVID-19-related deaths, bringing the total number of fatalities since the pandemic first reached Illinois to 7,446 among 173,731 confirmed cases throughout the state's 102 counties.
The number of hospital beds in use by COVID-19 patients remains relatively level near pandemic lows. At the end of Monday, 1,383 people in Illinois were hospitalized with COVID-19, including 329 in intensive care unit beds and 128 on ventilators.