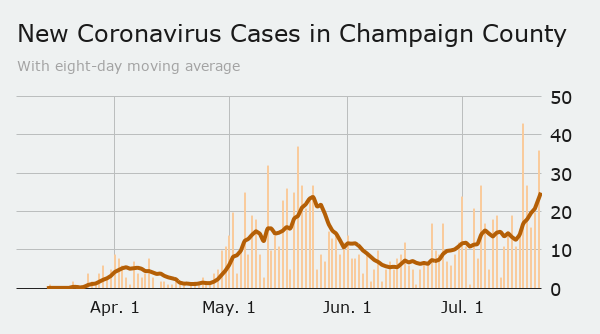 In the span of five days, Champaign County has had two of its three biggest 24-hour increases in new COVID-19 cases.
Tuesday's count was 36 — topped only by Friday's 43 new cases and the 37 added on May 19.
Tuesday's numbers were mostly discouraging all the way around:
— While the seven-day positivity rate remained low (1.1 percent), the single-day rate was 2.8 percent (1,299 tests, 36 cases).
— Hospitalizations continued to climb — by two in a day, to 10. On Friday, that number was three.
— The active case total grew by 22, to 181. Recovered cases were up 14, to 1,035.
— New cases were added throughout the county — from three in Foosland (pop. 99) to 10 in Urbana's 61802 ZIP code, which passed Champaign's 61822 for the third-most active cases in Champaign County.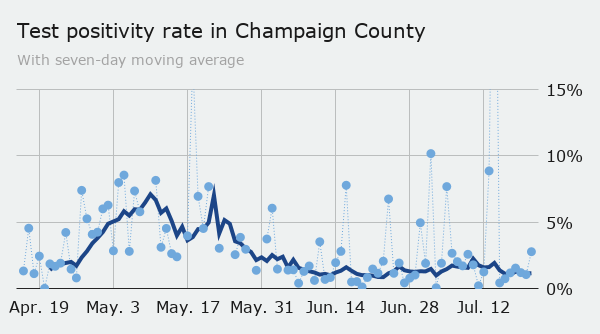 Here's an updated rundown of Champaign County ZIP codes with active cases, followed by their total number of cases, according to C-U Public Health District data:
61821/Champaign: 38 active (down three from Monday), 225 total (up one)
61820/Champaign: 38 active (up four from Monday), 196 total (up six)
61802/Urbana: 21 active (up 10 from Monday), 159 total (up 10)
61822/Champaign: 20 active (up two from Monday), 108 total (up two)
61843/Fisher: 9 active (up three from Monday), 29 total (up three)
61853/Mahomet: 9 active (down one from Monday), 75 total (unchanged)
61866/Rantoul: 8 active (unchanged from Monday), 222 total (up one)
61880/Tolono: 7 active (up three from Monday), 23 total (up three)
61874/Savoy: 6 active (up two from Monday), 47 (up two)
61864/Philo: 5 active (up three from Monday), 6 total (up three)
61801/Urbana: 4 active (down one from Monday), 72 total (unchanged)
61873/St. Joseph: 4 active (unchanged from Monday), 22 total (unchanged)
61845/Foosland: 3 active (up three from Monday), 5 total (up three)
61877/Sidney: 2 active (unchanged from Monday), 5 total (up one)
61878/Thomasboro: 2 active (unchanged from Monday), 5 total (unchanged)
61840/Dewey: 1 active (down one from Monday), 3 total (unchanged)
61847/Gifford: 1 active (unchanged from Monday), 2 total (unchanged)
61871/Royal: 1 active (down one from Sunday), 5 total (up one)
61872/Sadorus: 1 active (unchanged from Monday), 3 total (unchanged)
61875/Seymour: 1 active (unchanged from Monday), 4 total (unchanged)
---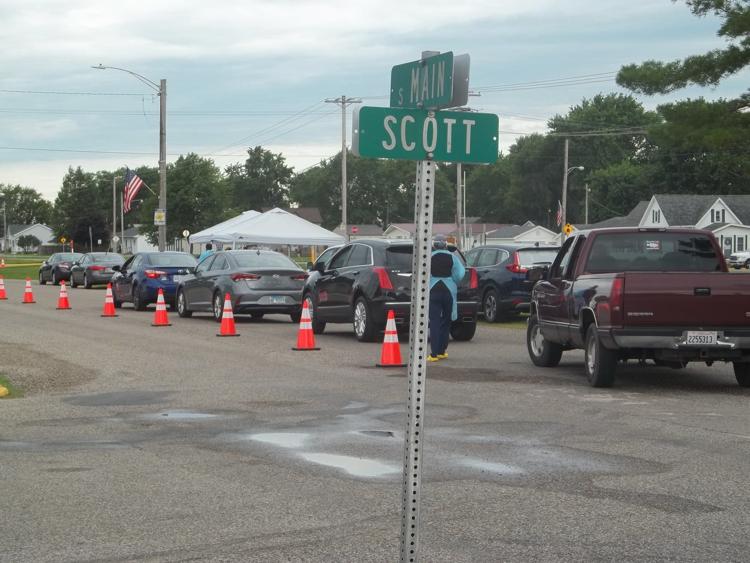 VERMILION COUNTY: 6 new cases, 22 active
Four Vermilion County residents in their 30s, one in their 20s and one in their 70s tested positive for COVID-19, pushing the county's total to 113.
With four others released from isolation Tuesday, Vermilion County has 22 active cases, public health Administrator Doug Toole said.
One of the 22 cases involves a resident who has been hospitalized, Toole said.
Of Tuesday's six new cases, two live in the same household, and two others share a household with multiple people who tested positive earlier.
The state's mobile COVID-testing team collected specimens from 161 people in Oakwood on Monday. Tuesday's clinic was cut short due to storms but will reopen, weather permitting, from 9 a.m. to 4 p.m. Wednesday at Westville's Judith Giacoma Elementary.
---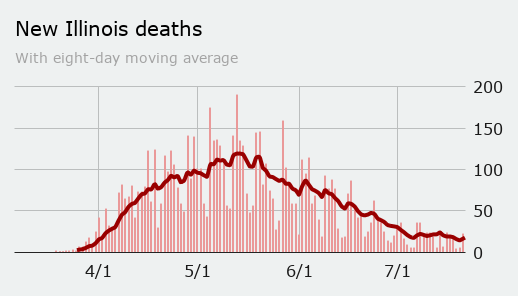 STATE: 955 cases, two outbreaks
The Illinois Department of Public Health reported 955 new COVID-19 cases, 23 additional deaths and two major outbreaks on Tuesday.
One was at the Illinois Department of Juvenile Justice's St. Charles facility, where 16 staff members and three youths have tested positive.
The other happened at the Chester Mental Health Center in Randolph County, where 27 staff and five residents have newly confirmed cases of COVID-19.
Meanwhile, the statewide seven-day positivity rate increased by a tenth of a percent, to 3.1.
Tuesday's fatalities spanned seven counties:
Cook: 1 female 50s, 6 males 60s, 2 males 70s, 1 female 80s, 1 male 80s
DuPage: 1 female 80s, 1 male 90s
Kane: 1 male 40s, 1 female 80s, 1 male 80s
Lake: 1 male 60s
McHenry: 2 males 70s
St. Clair: 1 female 80s
Winnebago: 1 male 50s, 1 male 70s, 1 male 80s
---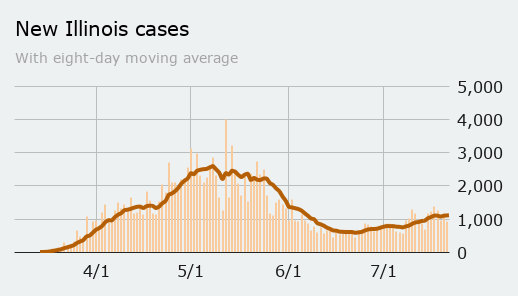 CHAMPAIGN: RPC employee tests positive
An employee at the Champaign Early Childhood Education Center (909 N. Neil St.) has tested positive for COVID-19, the Champaign County Regional Planning Commission announced Tuesday.
The individual is employed by the RPC, not the Unit 4 school district.
"The center was not yet opened to students, so no children have been exposed," the RPC said in a statement.
The center will close for two weeks and not go forward with Monday's planned reopening. All staff members at that location will have to test negative twice for COVID-19 before being allowed back into the center, the RPC said.
"The RPC has implemented additional safety protocols including but not limited to checking the temperature of staff before entering our locations to make sure they are healthy, providing hand sanitizer, following social distancing protocols, increased disinfecting of surfaces and equipment, and wearing face coverings or masks in alignment with CDC public guidance," the RPC said in its statement.
"These extra precautions are in addition to the strict safety protocols already in place at RPC sites, such as regularly wiping down high-touch areas."
---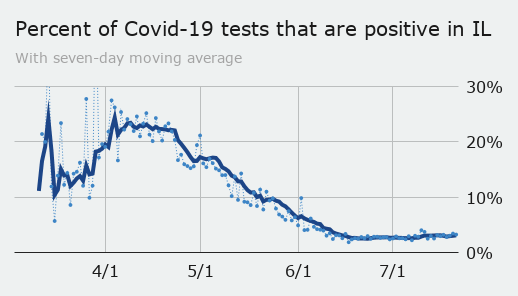 FORD COUNTY: Woman in 70s tests positive
A woman in her 70s is the 43rd case of COVID-19 in Ford County, local health officials said.
Thirty-three of those cases are confirmed and 10 are probable. Last week, the Ford County Public Health Department began a new way of classifying cases, separating "confirmed" and "probable" in its news updates. Both groups, however, "are treated the same with regards to isolation and contact tracing," the department noted.
A breakdown on the status of the 43 total cases:
Released from isolation: 38
Isolated at home: 4
Deceased: 1
Hospitalized: 0
---
PIATT COUNTY: Four Monticello residents among six new cases
The number of confirmed COVID-19 cases in Piatt County grew by six, to 30, public health director Dave Remmert said Tuesday.
Ten of those are considered active, including six announced in the past 24 hours (four Tuesday morning, two Tuesday afternoon):
A 26-year-old man in Monticello, who was tested prior to a scheduled procedure and showed no signs or symptoms.
A 27-year-old man in LaPlace, who began experiencing symptoms after being in close contact with someone who had tested positive earlier.
A 22-year-old man from Cerro Gordo.
A 54-year-old woman isolating at her Monticello home. She was exposed to a confirmed case at her place of employment, officials said.
A 35-year-old woman isolating at her Monticello home. lMost likely exposed at work, in another county as a healthcare worker, officials said.
A 48-year-old man isolating at his Monticello home. Exposure was close contact of a confirmed case.
Remmert also announced Tuesday that one case was removed from Piatt's total, saying: "The individual was without symptoms and received two negative test results."
---
IHSA: Board meeting pushed to next week, pending guidance from IDPH, ISBE
News-Gazette sports editor Matt Daniels reports:
The fate of fall sports for high school teams in Illinois is still undetermined.
And any clarity schools were hoping to receive on Wednesday about how the coronavirus pandemic is affecting their plans will have to wait.
IHSA Executive Director Craig Anderson said in a statement on Tuesday the scheduled IHSA Board of Directors meeting, scheduled for Wednesday, will be postponed until July 29.
The IHSA is set to take part in a roundtable discussion with leaders from the Illinois Department of Public Health and the Illinois State Board of Education on Friday, according to Anderson.
"We expect this meeting will provide important guidance on how the IHSA will proceed with fall sports," Anderson said.