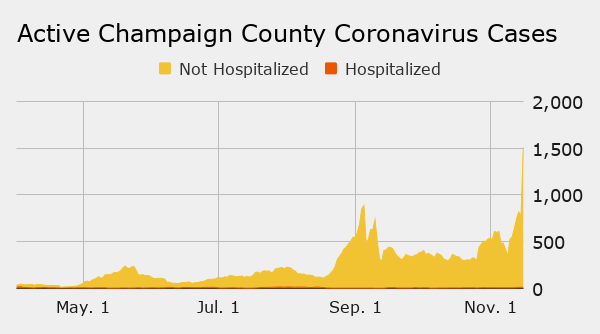 LATEST: If newly announced mitigation measures 'don't start to bend this curve, it is clear that we're going to have to take more difficult measures and go to a stay-at-home order,' Pritzker says
No, nearly 1,000 Champaign County residents did not test positive for COVID-19 in the span of 24 hours.
But the C-U Public Health District on Tuesday cleared out a several days-long backlog of recent tests, which sent the county's confirmed case total skyrocketing — from 8,184 Monday to 9,114 overnight, a jump of 930.
On the day that CUPHD announced the county's 40th death — a man in his 60s — the number of residents hospitalized with COVID-19 dropped by two, to 10.
That hospitalization number applies only to Champaign County residents. Carle Foundation Hospital, which serves the broader region, was caring for 79 COVID-19 patients as of Tuesday and was seeing a surge of need for hospital beds, Carle COO Matt Kolb told The News-Gazette's Deb Pressey.
"But because of these steps we've taken, we feel we can manage care for COVID and non-COVID patients," Kolb said.
CUPHD's influx of new cases also meant a big jump in the number of active cases — they were up by 737, to 1,509. Recovered cases rose by 192, to 7,565.
Close contacts in quarantine were down by by three, to 1,345.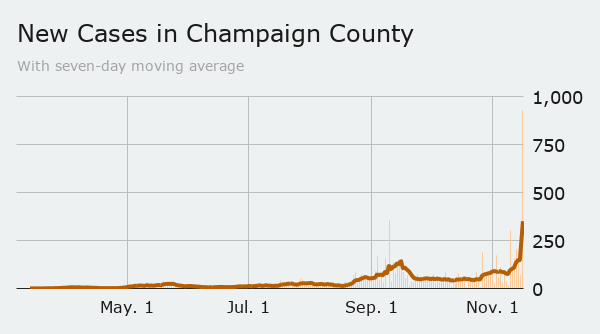 Here's an updated rundown of county ZIP codes with active cases followed by their total number of cases, according to CUPHD data:
61820/Champaign: 300 active (up 124), 3,339 total (up 164)
61821/Champaign: 207 active (up 118), 1,027 total (up 147)
61822/Champaign: 178 active (up 91), 798 total (up 110)
61802/Urbana: 154 active (up 71), 673 total (up 86)
61866/Rantoul: 137 active (up 80), 768 total (up 93)
61801/Urbana: 124 active (up 47), 840 total (up 64)
61853/Mahomet: 109 active (up 53), 419 total (up 69)
61880/Tolono: 50 active (up 26), 184 total (up 33)
61874/Savoy: 46 active (up 13), 257 total (up 26)
61873/St. Joseph: 43 active (up 22), 215 total (up 25)
61847/Gifford: 22 active (up eight), 58 total (up nine)
61843/Fisher: 15 active (up eight), 88 total (up 12)
61864/Philo: 15 active (up seven), 65 total (up 10)
61877/Sidney: 13 active (up nine), 59 total (up 11)
61871/Royal: 13 active (up 12), 23 total (up 12)
61878/Thomasboro: 12 active (up nine), 46 total (up 11)
61849/Homer: 11 active (up three), 41 total (up seven)
61859/Ogden: 8 active (up four), 29 total (up four)
60949/Ludlow: 8 active (up eight), 21 total (up 10)
61840/Dewey: 7 active (up four), 15 total (up four)
61863/Pesotum: 6 active (up four), 29 total (up four)
61862/Penfield: 5 active (up one), 22 total (up one)
61845/Foosland: 5 active (up four), 16 total (up four)
61872/Sadorus: 5 active (up three), 15 total (up three)
61875/Seymour: 4 active (up two), 20 total (up two)
61816/Broadlands: 2 active (up one), 19 total (up one)
61851/Ivesdale: 1 active (up one), 9 total (up two)
61852/Longview: 1 active (unchanged), 2 total (up one)
61810/Allerton: 0 active (unchanged), 1 total (unchanged)
The county's pandemic totals, according to CUPHD:
967,356
9,114 confirmed cases
40 fatalities
12,450 close contacts quarantined
1,249 close contacts that became positive
---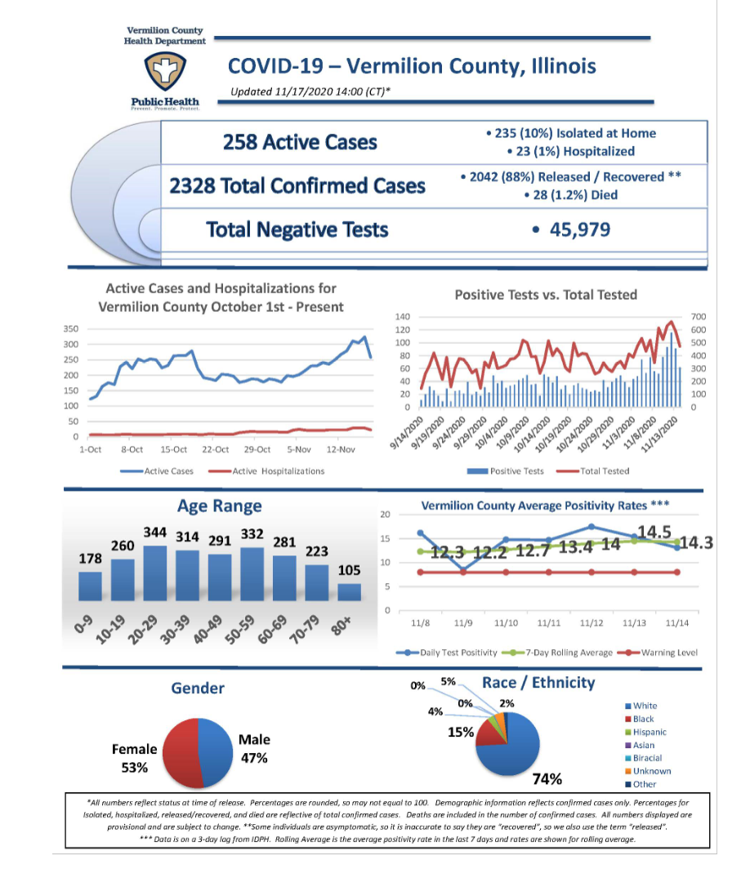 VERMILION COUNTY: 28th death reported, hospitalizations down by six
A man in their 70s became the 28th Vermilion County resident to lose their life to COVID-19, the health department announced Tuesday.
Meanwhile, the number of county residents hospitalized with COVID-19 fell by six, to 23.
With 126 residents released from isolation and 61 new positive tests reported Tuesday, the county's active case total now stands at 258.
The new cases range inn age from infancy to 90s:
One resident in their 90s
One in their 80s
Five in their 70s
Three in their 60s
Seven in their 50s
Eight in their 40s
11 in their 30s
12 in their 20s
Seven teens
One grade-school-aged child
One pre-schooler
Two toddlers
Two infants
---
DOUGLAS COUNTY: 19 new cases, 13th death reported
The Douglas County Health Department announced a 13th life lost to the coronavirus — a resident in their 70s — who experienced "health complications caused by COVID-19."
The county also reported 19 new cases, ranging in age from 17 to 80s, pushing its total to 1,198.
Of those, 304 have been added in the past 14 days and remain active.
---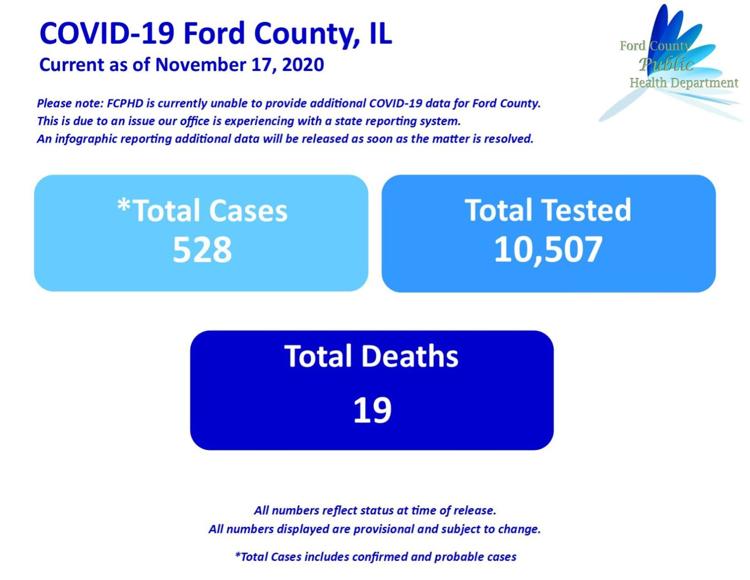 FORD COUNTY: 73 cases reported over four-day period
The number of confirmed cases in Ford County grew by 73, to 528, with 358 classified as confirmed and 170 as probable.
The 73 cases cover a four -day period — Nov. 13-17.
Nineteen Ford County residents have died of COVID-19.
---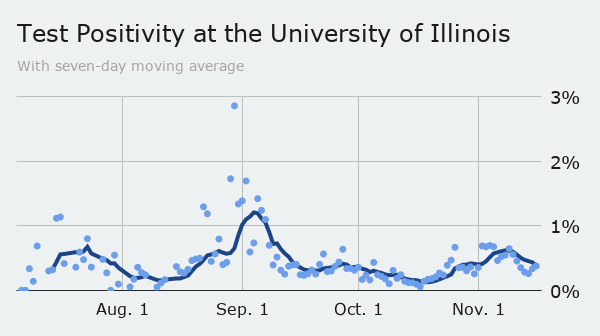 UNIVERSITY OF ILLINOIS: 51 new cases, seven-day rate holds at 0.4 percent
The seven-day positivity rate on campus held at 0.4 percent for the second straight day.
Fifty-one new cases emerged from 13,545 new tests Monday on campus, a rate of 0.4 percent, according to data updated Tuesday.
Since Aug. 24, when classes began, there have been 3,476 unique cases of COVID-19 on the UI campus.
Since Aug. 16, when move-in week kicked off, there have been 3,758 cases.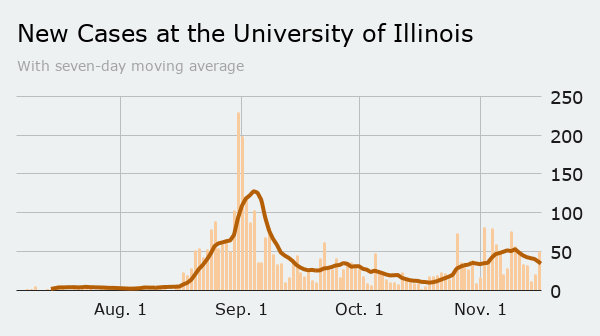 Here's a daily breakdown of tests and unique cases since students began reporting to campus in mid-August, according to the UI's COVID-19 dashboard:
Monday, Nov. 16: 13,545 new tests, 51 new cases

Sunday, Nov. 15: 6,280 new tests, 21 new cases

Saturday, Nov. 14: 4,639 new tests, 12 new cases
Friday, Nov. 13: 11,351 new tests, 32 new cases
Thursday, Nov. 12: 9,715 new tests, 34 new cases
Wednesday, Nov. 11: 11,071 new tests, 50 new cases
Tuesday, Nov. 10: 10,324 new tests, 57 new cases
Monday, Nov. 9: 11,800 new tests, 76 new cases
Sunday, Nov. 8: 5,339 new tests, 29 new cases

Saturday, Nov. 7: 4,016 new tests, 21 new cases
Friday, Nov. 6: 10,429 new tests, 48 new cases
Thursday, Nov. 5: 8,895 new tests, 60 new cases
Wednesday, Nov. 4: 11,537 new tests, 80 new cases
Tuesday, Nov. 3: 5,941 new tests, 40 new cases
Monday, Nov. 2: 11,956 new tests, 82 new cases
Sunday, Nov. 1: 4,823 new tests, 17 new cases
Saturday, Oct. 31: 3,522 new tests, 9 new cases
Friday, Oct. 30: 10,787 new tests, 39 new cases
Thursday, Oct. 29: 8,980 new tests, 27 new cases
Wednesday, Oct. 28: 9,579 new tests, 34 new cases
Tuesday, Oct. 27: 10,294 new tests, 36 new cases
Monday, Oct. 26: 11,112 new tests, 74 new cases
Sunday, Oct. 25: 4,935 new tests, 23 new cases
Saturday, Oct. 24: 3,870 new tests, 15 new cases
Friday, Oct. 23: 9,284 new tests, 22 new cases
Thursday, Oct. 22: 8,581 new tests, 23 new cases
Wednesday, Oct. 21: 9,639 new tests, 20 new cases
Tuesday, Oct. 20: 9,964 new cases, 18 new cases
Monday, Oct. 19: 10,611 new tests, 18 new cases
Sunday, Oct. 18: 4,320 new tests, 6 new tests
Saturday, Oct. 17: 3,666 new tests, 2 new cases
Friday, Oct. 16: 9,700 new tests, 9 new cases
Thursday, Oct. 15: 7,777 new tests, 9 new cases
Wednesday, Oct. 14: 9,322 new tests, 11 new cases
Tuesday, Oct. 13: 10,057 new tests, 14 new cases
Monday, Oct. 12: 9,573 new tests, 23 new cases
Sunday, Oct. 11: 4,358 new tests, 8 new cases
Saturday, Oct. 10: 3,574 new tests, 11 new cases
Friday, Oct. 9: 9,867 new tests, 10 new cases
Thursday, Oct. 8: 7,953 new tests, 14 new cases
Wednesday, Oct. 7: 9,780 new tests, 21 new cases
Tuesday, Oct. 6: 10,369 new tests, 25 new cases
Monday, Oct. 5: 11,142 new tests, 48 new cases
Sunday, Oct. 4: 4,374 new tests, 7 new cases
Saturday, Oct. 3: 3,851 new tests, 9 new cases
Friday, Oct. 2: 10,765 new tests, 18 new cases
Thursday, Oct. 1: 7,577 new tests, 27 new cases
Wednesday, Sept. 30: 10,354 new tests, 32 new cases
Tuesday, Sept. 29: 10,637 new tests, 36 new cases
Monday, Sept. 28: 10,736 new tests, 36 new cases
Sunday, Sept. 27: 4,408 new tests, 28 new cases
Saturday, Sept. 26: 3,892 new tests, 17 new cases
Friday, Sept. 25: 11,090 new tests, 41 new cases
Thursday, Sept. 24: 9,086 new tests, 27 new cases
Wednesday, Sept. 23: 9,671 new tests, 28 new cases
Tuesday. Sept. 22: 11,030 new tests, 62 new cases
Monday, Sept. 21: 10,474 new tests, 42 new cases
Sunday, Sept. 20: 4,383 new tests, 11 new cases
Saturday, Sept. 19: 4,133 new tests, 13 new cases
Friday, Sept. 18: 10,564 new tests, 27 new cases
Thursday, Sept. 17: 7,802 new tests, 18 new cases
Wednesday, Sept. 16: 9,965 new tests, 24 new cases
Tuesday, Sept. 15: 11,232 new tests, 45 new cases
Monday, Sept. 14: 10,214 new tests, 40 new cases
Sunday, Sept. 13: 4,568 new tests, 17 new cases
Saturday, Sept. 12: 4,009 new tests, 10 new cases
Friday, Sept. 11: 11,253 new tests. 35 news cases
Thursday, Sept. 10: 6,626 new tests, 34 new cases
Wednesday, Sept. 9: 11,993 new tests, 47 new cases
Tuesday, Sept. 8: 11,621 new tests, 81 new cases
Monday, Sept. 7: 6,299 new tests, 69 new cases
Sunday, Sept. 6: 2,987 new tests, 37 new cases
Saturday, Sept. 5: 2,609 new tests, 37 new cases
Friday, Sept. 4: 14,204 new tests, 104 new cases
Thursday, Sept. 3: 14,841 new tests, 88 new cases
Wednesday, Sept. 2: 7,089 new tests, 120 new cases
Tuesday, Sept. 1: 14,367 new tests, 199 new cases
Monday, Aug. 31: 17,227 new tests, 230 new cases
Sunday, Aug. 30: 3,640 new tests, 104 new cases
Saturday, Aug. 29: 2,895 new tests, 50 new cases
Friday, Aug. 28: 15,030 new tests, 65 new cases
Thursday, Aug. 27: 15,123 new tests, 60 new cases
Wednesday, Aug. 26: 6,812 new tests, 54 new cases
Tuesday, Aug. 25: 15,850 new tests, 89 new cases
Monday, Aug. 24: 17,656 new tests, 79 new cases
Sunday, Aug. 23: 4,474 new tests, 53 new cases
Saturday, Aug. 22: 3,326 new tests, 43 new cases
Friday, Aug. 21: 10,877 new tests, 54 new cases
Thursday, Aug. 20: 10,742 new tests, 52 new cases
Wednesday, Aug. 19: 6,300 new tests, 29 new cases
Tuesday, Aug. 18: 6,162 new tests, 20 new cases
Monday, Aug. 17: 9,064 new tests, 24 new cases
Sunday, Aug. 16 2,453 new tests, 7 new cases