Tuesday's coronavirus updates: In Champaign County, cases up 12, hospitalizations down four, seven-day positivity rate at 1.3%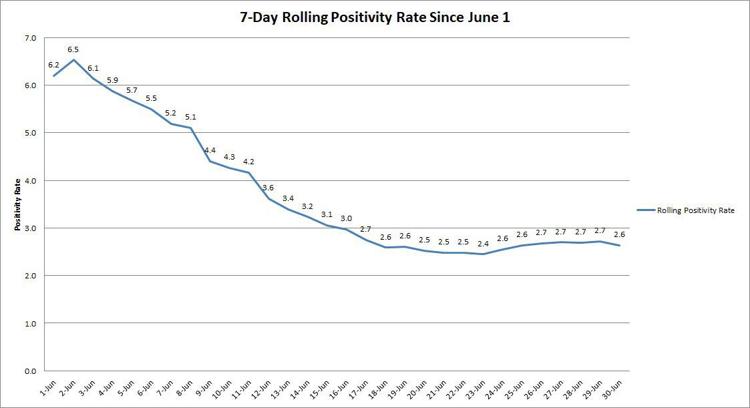 The number of confirmed COVID-19 cases in Champaign County grew by 12, to 866, while the number of residents hospitalized with coronavirus symptoms fell by four, to eight.
Mahomet had the most new cases Tuesday (four) and Sadorus had its first, becoming the 18th Champaign County town with at least one resident testing positive.
The county's seven-day positivity rate now stands at 1.3 percent — one-tenth of a percent higher than Monday — with 5,418 tests producing 70 new cases.
With 242 new tests processed in the past 24 hours, the county's daily positivity rate was 5.0 percent — up from 1.0 a day earlier.
Of the 866 confirmed cases, 755 are considered recovered and 99 are active.
Here's an updated rundown of Champaign County cases by ZIP code, according to C-U Public Health data, which doesn't distinguish between active and recovered:
61866/Rantoul: 189 (up one from Monday)
61821/Champaign: 155 (up one)
61820/Champaign: 134 (no change)
61802/Urbana: 129 (up one)
61822/Champaign: 69 (up two)
61801/Urbana: 57 (no change)
61853/Mahomet: 48 (up four)
61874/Savoy: 37 (up one)
61873/St. Joseph: 9 (up one)
61880/Tolono: 9 (no change)
60949/Ludlow: 6 (no change)
61863/Pesotum: 5 (no change)
61875/Seymour: 4 (no change)
61843/Fisher: 3 (no change)
61849/Homer: 3 (no change)
61878/Thomasboro: 3 (no change)
61847/Gifford: 1 (no change)
61862/Penfield: 1 (no change)
61864/Philo: 1 (no change)
61872/Sadorus: 1 (first case reported Tuesday)
61877/Sidney: 1 (no change)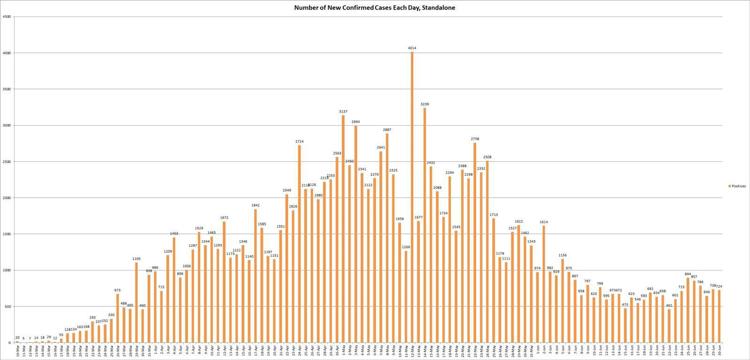 VERMILION COUNTY: Out-of-state travel responsible for uptick?
A day after adding eight newly confirmed COVID-19 cases, Vermilion County's total grew by two Tuesday, to 64.
The new cases involve county residents in their 50s and 60s.
"It could just be coincidence, but both of the positive cases today — and some of the cases yesterday — mentioned that they recently traveled out-of-state to visit relatives or to vacation," county public health Administrator Doug Toole said.
About 8 percent of Vermilion County residents have been tested for COVID-19, Toole said.
AREA: 1 new case in Piatt, none in Douglas, Ford
Piatt County reported its first new case of the week on Tuesday, pushing its total to an area-low 19.
Elsewhere around the area, Douglas' total remained 54 and Ford's stayed at 32 with no reports of new cases in either county Tuesday.
As the pandemic enters a fifth month, Douglas and Piatt remain among the Illinois counties without a coronavirus-related fatality.
The death totals for other counties in the region:
Sangamon: 31
Macon: 22
Coles: 17
McLean: 13
Champaign: 12
Iroquois: 5
Vermilion: 2
Ford: 1
DeWitt: 0
Moultrie: 0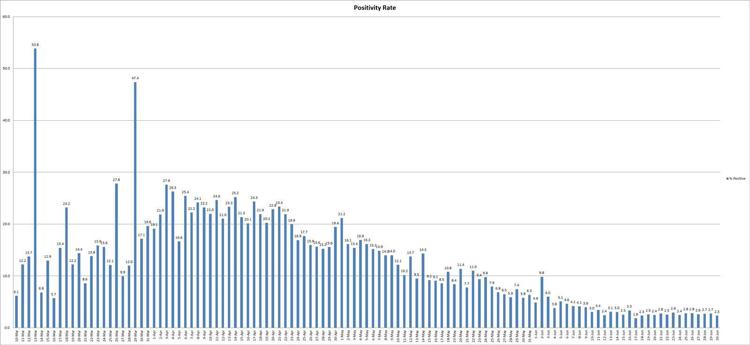 STATE: 724 new cases, 23 deaths
The statewide seven-day positivity rate now stands at 2.6 percent — down one-tenth of a percent from Monday — after Tuesday's 724 new cases and 31,069 tests were factored in.
The Illinois Department of Public Health also reported 23 coronavirus-related fatalities, bringing the state total to 6,923.
The deaths included Illinoisans from nine of 102 counties
Bureau County: 1 male 60s.
Cass County: 1 female 90s.
Cook County: 1 female 40s, 1 male 40s, 1 female 50s, 1 male 50s, 1 male 60s, 2 females 70s, 2 males 70s, 2 females 90s.
Kane County: 1 female 60s, 2 males 70s.
Lake County: 1 female 70s, 1 female 90s.
Rock Island County: 1 male 90s.
St. Clair County: 1 male 80s.
Tazewell County: 1 female 90s.
Winnebago County: 1 female 70s, 1 female 80s.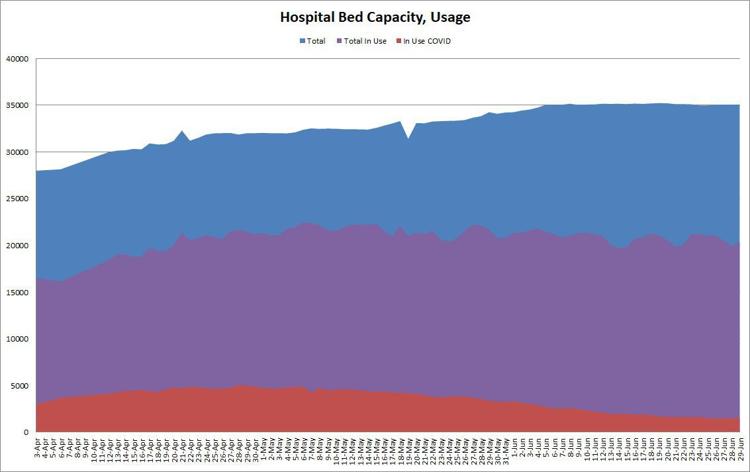 HOSPITALS: Small rise in use statewide
Jerry Nowicki of our Springfield-based partner Capitol News Illinois reports:
The state's hospital bed usage by COVID-19 patients ticked slightly upward Tuesday.
The number of those hospitalized for COVID-19 as reported by IDPH — a number that often fluctuated by the hundreds daily at the height of the pandemic — has been on a relative downward trend for more than one month.
The number of hospital beds in use by COVID-19 patients as of 11:59 p.m. Monday remained lower than at any point prior to this week at 1,560, but the number represents an increase of 59 from the day prior and an increase of 96 from its previous low of 1,464 on Saturday.
Intensive care bed usage by COVID-19 patients ticked back up to 401 at the end of Monday after three days below 400. That number also remains lower than at any point prior to this week.
Ventilator use by COVID-19 patients dropped to its lowest point since the state began daily reporting of the figure, with 185 in use at the end of Monday – a decrease of two from the day prior.