University of Illinois: Students return to class Monday
UI's approach to preventing, monitoring spread to be put to test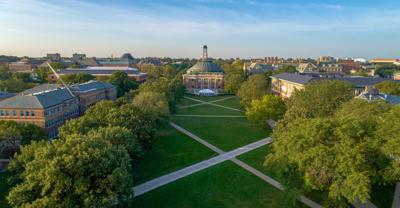 It's been a quiet summer — COVID-19-wise — in Champaign-Urbana. Case counts and the rate of infection remain low.
Now comes the unknown: adding as many as 50,000 University of Illinois students to the mix when classes start up again on Monday.
College campuses across the country have seen COVID-19 spikes as students return. CBS and CNN reported in recent days that at least 19 states are seeing a rise in cases on campuses.
— Notre Dame moved undergraduate instruction online for two weeks.
— Michigan State is going fully remote for the semester.
— The University of North Carolina had to change its plans for in-person instruction after a high early case count and will be all remote this semester.
— N.C. State went to remote learning for the fall semester after more than 500 students were placed in isolation or quarantine.
Is that going to happen here?
Marty Burke sure hopes not. He thinks in-person learning can work during the upcoming semester and beyond.
"We are quite confident as long as everybody does their part," Burke said. "That's the key."
It will take constant testing, which Burke has a hand in.
The UI chemistry professor and associate dean is the lead researcher on the university's saliva test project. He was featured Friday on a CNN report that detailed the advances made at the UI.
The university is conducting 10,000 tests daily, with a goal to double that number.
Twice-a-week testing will be required for students. In order to stay in good academic standing, all students living on or near campus must be tested.
Those who fail to comply face academic penalties, including expulsion for repeat offenders. School officials hope they don't have to go that far.
Ramped-up testing is only part of the plan.
"It's by no means a silver bullet," Burke said. "It has to be done in concert with wearing masks, social distancing, washing hands and avoiding indoor parties without masks where super spreader events can happen."
There are no guarantees the students will follow all the rules. But ...
"I have great faith and confidence in our students," Burke said. "We are a community of scholars who care passionately about making a difference.
"Young people have a very strong drive to get together and have fun. We know that. They know that. The message isn't 'Don't socialize.' The message is 'Socialize safely.'"
Earlier last week, Burke was driving home past a row of fraternity houses. One had pulled its table-tennis setup outside in the yard. Members were wearing masks while playing.
"I've never felt so proud to be an Illini," Burke said. "That is what we're talking about."
Other schools have noticed the testing program at the UI and want to do it, too.
"There have been in the order of 100 we've been speaking to," Burke said. "There have been a lot of really great discussions and a lot of great exchanges back and forth.
"We've learned a lot from other universities and we've tried to share everything we can in real time."
PRYDE: 'What the UI testing and tracing program does is a public-health dream'
The UI campus spans Urbana and Champaign. Students frequently interact with the communities at grocery stores, gas stations, restaurants, etc.
Burke thinks the frequent testing will help the university to be a strong partner with the cities.
The UI's modeling predicts there will a bump in the rate of positive tests. Burke said the first two weeks of classes are "critical."
"This is the time for everybody to go above and beyond, do something special, be extra safe, be extra careful," he said.
The university has had open dialogues with Champaign Mayor Deb Feinen and Urbana Mayor Diane Marlin.
"They've shown tremendous vision and leadership," Burke said. "They've done preemptive measures to make sure we don't have any super-spreader events at bars and restaurants."
UI officials have talked to business owners. University leaders understand the hardship caused by COVID-19. If students are sent home, it will take a financial toll on C-U.
"Our goal is to stay open; then everybody in the community wins," Burke said. "If we're open in October, November, all those businesses are thriving because we were able to pull this off.
"We're all investing in that future."
The UI is also working closely with the Champaign-Urbana Public Health District.
Thanks to the protocols the UI put in place, health district Administrator Julie Pryde isn't fretting about the return of the students.
"Due to the planning, modeling, testing strategy and cooperation that is in place, I am not anxious," Pryde said.
Pryde said there will be COVID-19 cases among the students.
"We are confident that the processes put in place will limit outbreaks," Pryde said. "What the UI testing and tracing program does is a public-health dream. It is allowing cases to be made visible so public-health mitigation strategies of isolation, contact tracing and quarantine can prevent spread."
There are concerns among C-U residents. Pryde gets it.
"I want the community to know that the UI, CUPHD, local government, health care and the business community are working in concert to ensure a safe reopening and a safe semester," Pryde said.
The health district and the university will keep a close watch on the positivity rate and hospital capacity daily and will make adjustments when needed.
ROSENSTOCK: 'I would be very thrilled to be able to teach in the spring if we have a vaccine'
When it comes to in-person instruction during the coronavirus pandemic, put UI religion Professor Bruce Rosenstock in the skeptical camp.
"Sitting for an hour in a classroom is exactly the environment where COVID spreads," Rosenstock said.
The mandated twice-a-week testing gives the UI a chance to have in-person instruction.
"It's the only hope we have," Rosenstock said. "And it only depends on students complying with all of the other mitigation efforts — wearing masks, social distancing and not congregating in closed spaces.
"I don't have a lot of hope that all those mitigation efforts will be complied with."
Rosenstock has seen troubling signs on Alma Cam, which streams live video of the area around the Alma Mater statue at Wright and Green streets.
"Most people are wearing a mask. That's good," Rosenstock said. "But there's absolutely no social distancing."
Rosenstock is teaching two courses this semester, both remotely. His choice.
"I would normally be teaching in person," said Rosenstock, who has been at the UI since 2002.
There are several factors in his decision to stay off campus.
"First of all, I'm in an age-group demographic (65 years and older) that is endangered," he said. "It's just too much risk for not the right situation to be in the class with the students. To have them seated 6 feet apart wearing masks, it wasn't, even under the best circumstance, the kind of classroom that I would have wanted to teach in."
He is all for remote instruction.
"I'm more able to teach in a Zoom conference setting with the number of students that I have in the way that I want," Rosenstock said.
He has one class with 13 students, which would require a room that seated 50.
Rosenstock likes to work in a smaller circle and be more engaged with the students.
Another class includes 60 students, which is over the state-imposed limit of 50 for in-person gatherings.
Rosenstock hopes to someday return to in-person teaching — maybe in the spring, but more likely next fall.
"We'll see where things are," Rosenstock said. "I would be very thrilled to be able to teach in the spring if we have a vaccine."
SELVIN: 'I will basically not go into town because I'm worried about it'
Paul Selvin has been at the UI since 1997. The physics professor is taking the fall semester off, part of his yearly routine.
Selvin, 59, has multiple sclerosis, which compromises his immune system.
He needs to avoid COVID-19.
"I will basically not go into town because I'm worried about it," Selvin said.
Selvin is concerned about the mass of returning students causing a surge in COVID-19 cases in C-U.
"Do we have the ability to handle this?" Selvin said. "To UI's credit, they have a very impressive program to tap."
He doubts the students who are learning remotely will follow the rules in terms of testing.
"This is a serious question," Selvin said. "That's a very big issue."
Universities that have abandoned in-person learning had limited or no testing.
"That is completely crazy," Selvin said.
WELTY PEACHEY: 'We have no control over what students do outside of campus'
Jon Welty Peachey enters his eighth year as a UI associate professor in recreation, sport and tourism. He is teaching two graduate courses this semester.
Half of the students will be in the classroom and the other half will be joining online.
His first in-person class is Monday in Huff Hall.
One course has 13 in the room and the other will have six. Plenty of space for social distancing.
So what is his level of concern?
"It's moderate," he said. "The university certainly has novel protocols in place."
Chancellor Robert Jones sent out a mass email Friday, explaining the reasoning behind allowing in-person instruction. It made Welty Peachey feel better.
"It sounds like this could work," he said. "I'd like to be optimistic with that, but then you think, 'Well, there's a lot that couldn't work, too."
Such as ...
"We have no control over what students do outside of campus," Welty Peachey said.
He has been in his office and feels safe there. It's in a campus building, access to which is restricted to those who can prove they have tested negative for COVID-19.
"You can't deny that there is still a level of angst for all of us teaching in person," he said. "There is still some anxiety."
His family is taking the virus very seriously, Wife Andrea is a teacher in Rantoul.
Campus life will change for Welty Peachey. He will visit the office less frequently than in the past.
"I will just be on campus when I absolutely have to be," Welty Peachey said. "Otherwise, I'll be working from home."
UI chemistry Professor Zan Luthey-Schulten is teaching a graduate course this semester.
"I am very proud of my chemistry department," she said. "I think we led the way on this campus getting the saliva test up and running."
Luthey-Schulten checked out the room where her graduate course will be held, in Noyes Laboratory.
"It's fantastic," she said.
Not everybody will be there in person. Her teaching assistant and three students elected to take the course online.
Luthey-Schulten usually does her virus testing on Mondays and Thursdays. She has asked her students to follow the rules.
"I feel very comfortable with them," she said.
Luthey-Schulten, who has been at the UI since 1990, said the school and professors are doing a good job accommodating the needs of the students.
Keeping everyone informed is important.
"People need to know where it is they have to go and what's expected of them," she said. "It has to be stressed again and again.
"One needs to learn how to maneuver in this world."