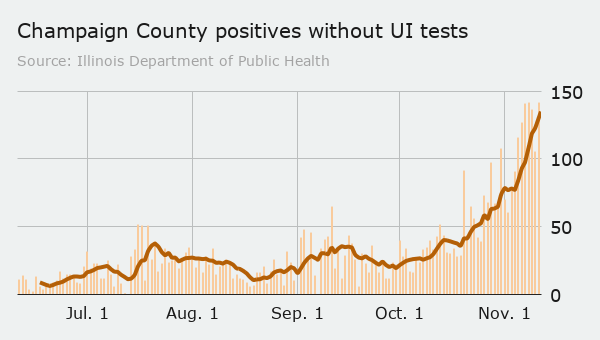 Two more Champaign County school districts plan to hold in-person classes next week, then reassess whether to switch to all-remote after Thanksgiving break.
"Our numbers right now are extremely low — one active case — so our data doesn't constitute a shutdown at this point," Fisher Superintendent Barb Thompson said Saturday.
Unity schools also plan to hold in-person classes next week, then assess whether it should follow the advice of C-U Public Health Administrator Julie Pryde and go all-remote until after the new year.
Unity Superintendent Andy Larson said it's likely that the district will follow CUPHD's advice after Thanksgiving break.
"Our kids have been resilient, our educators have been fantastic and we're probably going to take three weeks of remote time and hopefully get back to it after the new year," Larson said. "Put a fork in 2020 and move on."
Larson expressed similar frustration as his counterparts at Mahomet-Seymour and St. Joseph-Ogden with Thursday's surprise recommendation from CUPHD.
"Our county health department pushes out an email about noon a couple days ago without having any conversation with the area superintendents, and then we end up having a meeting with her a day after," he said. "(Administrator Julie Pryde's) stance is that schools can do as they please; she's not telling us to shut down but that's pretty much what the (Thursday) letter said. A lot of frustration."
Other Champaign County schools' and districts' plans:
— Joining Champaign's Unit 4 in switching to all-remote effective next week: the four elementary schools and junior high in the Rantoul City Schools district and all 42 schools in the Catholic Diocese of Peoria.
Rantoul Superintendent Michelle Ramage is recommending sticking with a full remote plan until Jan. 19 — "to ensure at least 14 days from New Year's Eve," she wrote in a Friday letter to parents — but the school board will make the final decision at Thursday's meeting.
Jan. 19 is also the return date for six area Catholic schools, according to a plan spelled out by diocese Superintendent Sharon Weiss.
— Both St. Joseph Grade School and St. Joseph-Ogden High School plan to continue in-person learning all of next week.
The grade school will shift to all-remote the Monday after Thanksgiving — "It is our hope that we can return to in-person the beginning of January," Superintendent Todd Pence said Friday — while the high school is still in evaluation mode.
"We have put out a plan for our students, parents and staff to potentially go to full remote learning after Thanksgiving, with students coming back to in-person instruction on our current hybrid plan on Jan. 5," said Superintendent Brian Brooks, who expects a decision next week.
— Those Mahomet-Seymour students who chose the in-person learning option will be back in school next week. While post-Thanksgiving plans remain TBD, Superintendent Lindsey Hall wrote in a letter to parents, "in the best interest of our students, as superintendent, it is my hope to remain open and following the hybrid plan we've been following until Dec. 18."