Submit a Letter to the Editor here
CHAMPAIGN — A Campustown restaurant owner expects more lost business as a result of the new emergency orders issued Tuesday by Champaign Mayor Deb Frank Feinen.
One of the two orders will temporarily prohibit indoor service at Campustown area bars and restaurants and permit service in outdoor areas only beginning at 5 p.m. today for bars and at 9 p.m. Friday for restaurants.
Both restrictions will be in effect through Labor Day.
Bruce Hink, who operates Mia Za's restaurant at 629 E. Green St., C, called the orders "a little frustrating."
Who will want to sit outdoors in the heat and noise and dust resulting from ongoing road construction in the campus area when indoor dining is available a short distance away, including at the Illini Union, he asked.
UI students will be around only until late November, Hink said.
Meanwhile, he said, "we're losing money hand over fist for the past six months."
The emergency order includes a map (below) defining Campustown as the area between St. Mary's Road on the south, Wright Street on the east, the Canadian National railroad on the west and East Healey Street and East Springfield Avenue on the north.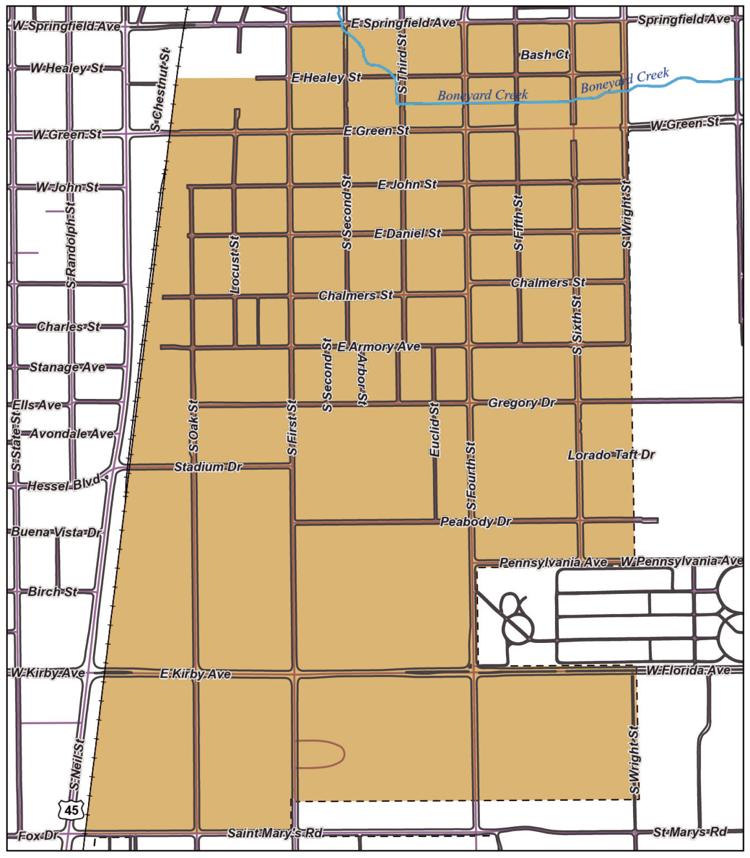 The city of Urbana will be issuing its own emergency orders for bars and restaurants this morning, according to Urbana Mayor Diane Marlin.
Urbana's orders will be similar to what will be taking effect in Champaign, with some differences since Campustown bars and restaurants are largely in Champaign, she said.
Both emergency orders in Champaign were announced near the end of the day Tuesday.
The one applying to Campustown will permit customers to go inside those bars and restaurants only for limited purposes, such as placing an order, picking up a carryout order or using the restroom, and require patrons to wear a face covering when they go inside.
That order also allows bar and restaurant owners to temporarily expand their outdoor service areas if certain safety requirements are met.
Champaign's other emergency order applies to all bars and restaurants holding liquor licenses in the city and requires all customers to be seated to be served and while they're consuming food or beverages on the premises, whether they are indoors or outdoors.
Bar and restaurant customers will be allowed to be standing only to get up and use the restroom or pick up an order, but they must wear a face mask while they're on their feet.
This order, which takes effect at 5 p.m. today, also prohibits anyone under age 21 from entering or remaining inside a bar with a Class A liquor license after 9 p.m. each night.
Both orders were imposed to help prevent a large spike in COVID-19 cases as thousands of college students return to the community, according to the city.
"According to the modeling data provided by the University of Illinois researchers, the next several weeks will be critical to making sure the spread of the coronavirus doesn't get out of control as students return for the start of the fall semester," Feinen said. "We have all made great sacrifices since the pandemic started, and I realize that these changes will be inconvenient for our residents and businesses, but they are necessary to flatten the curve and prevent a large increase in COVID-19 cases in our community as the fall semester gets underway."
Hink said bars and restaurants have all been doing their best to follow state and local guidelines and had anticipated the opportunity to try and recover from the last five months in hope of saving their businesses and employee jobs.
What makes no sense to him, he said, is that students are likely to be socializing together in between required COVID-19 testing, and restrictions that drive them to restaurants and bars outside the campus area will just put others in the community at risk.
Say students go to another restaurant outside the campus area, he said, "and they're going to be sitting six feet away from somebody's grandmother or somebody's father, and that father has a kid who has asthma or some condition."
Marlin said Urbana's emergency orders will also generally cover keeping those under 21 out of bars after 9 p.m., require patrons to be seated to be served in restaurants and bars and include a general requirement to wear face coverings at any business, facility or organization.