Vermilion County's COVID-19 death toll surpasses Champaign's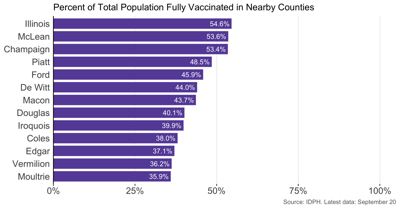 Men in their 50s and 80s became the 186th and 187th Vermilion County residents to lose their lives to COVID-19, local health officials reported Tuesday evening.
For the first time, the pandemic death toll in Vermilion (pop. 74,188) exceeds that of Champaign (pop. 205,865).
Elsewhere around the area:
— Wednesday's the day door checkers will begin checking COVID-19 compliance as students, staff and faculty enter buildings at Parkland.
"While no one will be turned away ... enforcement will begin as soon as Oct. 6," the college announced.
— Champaign's Unit 4 on Tuesday reported 10 new cases among the district's 10,275 students last week. That's the fewest in six weeks.
Seventy-seven students were quarantined — down from 90 the week prior.
— Active cases in Champaign County continued their downward trend — from 1,065 three weeks ago, to 881 a week later, 678 last week and 546 Tuesday.
The ZIP codes with the most: Rantoul's 61866 (85) and Mahomet's 61853 (77).
— Of the 85 COVID patients hospitalized in Carle's five facilities in the region at the start of the week, the unvaccinated outumbered the vaccinated, 74 to 11.
The intensive care margin was similar: 17 to 2.