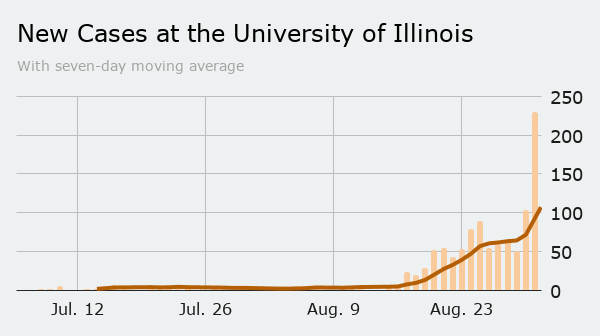 UNIVERSITY OF ILLINOIS: 334 new cases in 2 days
URBANA -- The University of Illinois reported a record 104 new cases on Sunday and 230 on Monday, out of more than 20,000 tests, according to its dashboard.
Since move-in began Aug. 16, 1,013 cases have been found by the UI's saliva-based testing.
The number of cases detected since entry screening has been "higher than we would like," physicist and COVID-19 modeler Nigel Goldenfeld said Tuesday.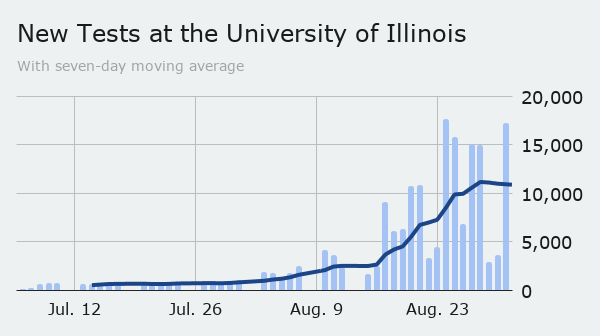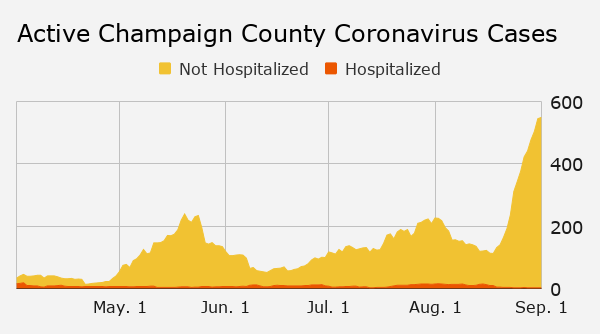 CHAMPAIGN COUNTY
CHAMPAIGN -- Wednesday delivered a handful of new active COVID-19 cases in Champaign County, with an additional four bumping up the total number of active cases in the county to 549.
New positive tests continued to rise, with 37 more added in the past day, bringing the county's cumulative total to 2,462, according to the Champaign-Urbana Public Health District.
Of those cases, two people are currently hospitalized, 1,893 have recovered and 20 have died.
The additional 37 new positives Wednesday came from 3,404 new tests done in the past day.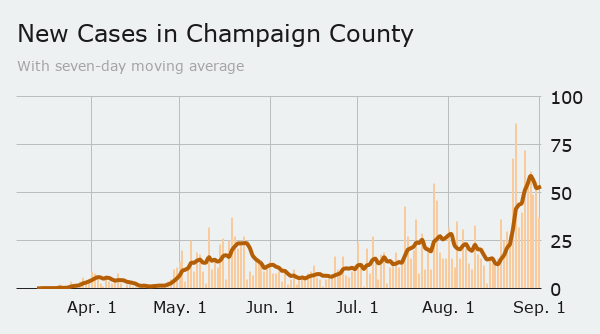 ILLINOIS
The Illinois Department of Public Health reported 2,128 new cases Wednesday and 27 more deaths, including in:
Adams County: 1 male 80s
Christian County: 1 female 90s
Cook County: 1 male 50s, 1 female 70s, 3 males 70s, 1 female 80s, 2
males 80s
Crawford County: 1 male 70s
DuPage County: 1 male 60s, 2 males 80s
Ford County: 1 male 70s
Jefferson County: 1 female 80s
Kane County: 1 female 80s
Lake County: 1 male 70s
LaSalle County: 1 female 60s, 1 female 90s
Macoupin County: 1 female 80s
Montgomery County: 1 male 90s
Perry County: 1 female 80s
Rock Island County: 1 female 90s
St. Clair County: 2 females 80s
Williamson County: 1 female 90s