Hours after Unit 4 announced it was tweaking its reopening plan, Danville did the same.
At Wednesday night's school board meeting, Superintendent Alicia Geddis said, members voted to push back the start of the school year for both staff (Aug. 31) and students (Sept. 7).
That makes Danville the area district with the latest starting date for students, five days later than Monticello.
The area's earliest scheduled start date — Aug. 13 — is at St. Thomas More.
---
DAVIS: 'Other than a higher-than-normal temperature, I am showing no symptoms at this time and feel fine'
A day after speaking in Monticello and holding office hours in Tolono, U.S. Rep. Rodney Davis announced Wednesday he has tested positive for COVID-19.
"Since the beginning of this pandemic, I have taken my temperature twice daily because serving in Congress means I interact with many people, and it's my duty to protect the health of those I serve. This morning, my temperature clocked in at 99 degrees Fahrenheit, which is higher than normal for me," Davis said in a statement issued early Wednesday evening.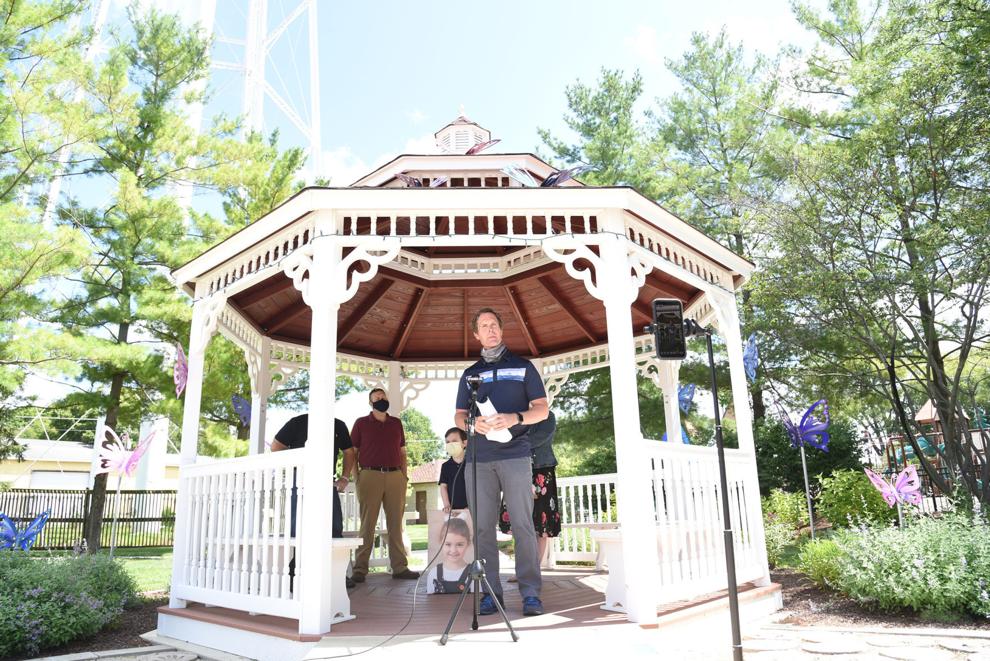 "Because of the high temperature, my wife and I received a test this morning. While my test came back positive, my wife's test came back negative. My staff who I've worked with in-person this week have received negative tests as well. Other than a higher-than-normal temperature, I am showing no symptoms at this time and feel fine.
"Having consulted with the Office of the Attending Physician (OAP) of Congress and local county health officials, our office is contacting constituents I have met with in-person within the previous 48 hours, per CDC guidelines.
"My staff and I take COVID-19 very seriously. My wife is a nurse and a cancer survivor, which puts her in an at-risk category like so many Americans. My office and I have always followed and will continue to follow CDC guidelines, use social distancing, and wear masks or face coverings when social distancing cannot be maintained.
"I will postpone public events our office has planned for the coming days until I receive a negative test. I will continue to serve my constituents virtually from home while I quarantine. Our district offices throughout central and southwestern Illinois remain open for constituents as well.
"During these challenging times, protecting the public health is my highest priority. If you're out in public, use social distancing, and when you can't social distance, please wear a mask. All of us must do our part. That's what it will take to get through this pandemic."
Davis visited Piatt County Tuesday to discuss his effort to pass a federal version of Gabby's Law, named after Monticello 5-year-old Gabrielle "Gabby" Galbo, who died in 2012 after an undetected tick bite developed into the extreme infection of sepsis.
Davis was also in Tolono Tuesday, which the village acknowledged in a Facebook post after Davis announced his positive test:
"Rodney Davis visited our town on Tuesday and held open office hours at the Village's police department, same building we hold village board meetings in."
---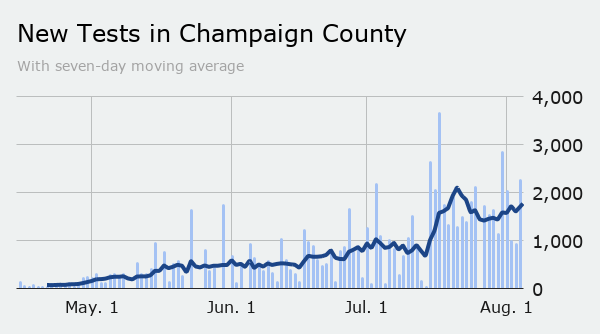 UNIT 4: No-in person classes to start school year
Citing "the health, wellness and safety" of students and staff, Unit 4 Superintendent Susan Zola announced Wednesday that the district won't resume in-person learning until the second quarter of the 2020-21 school year — at the earliest.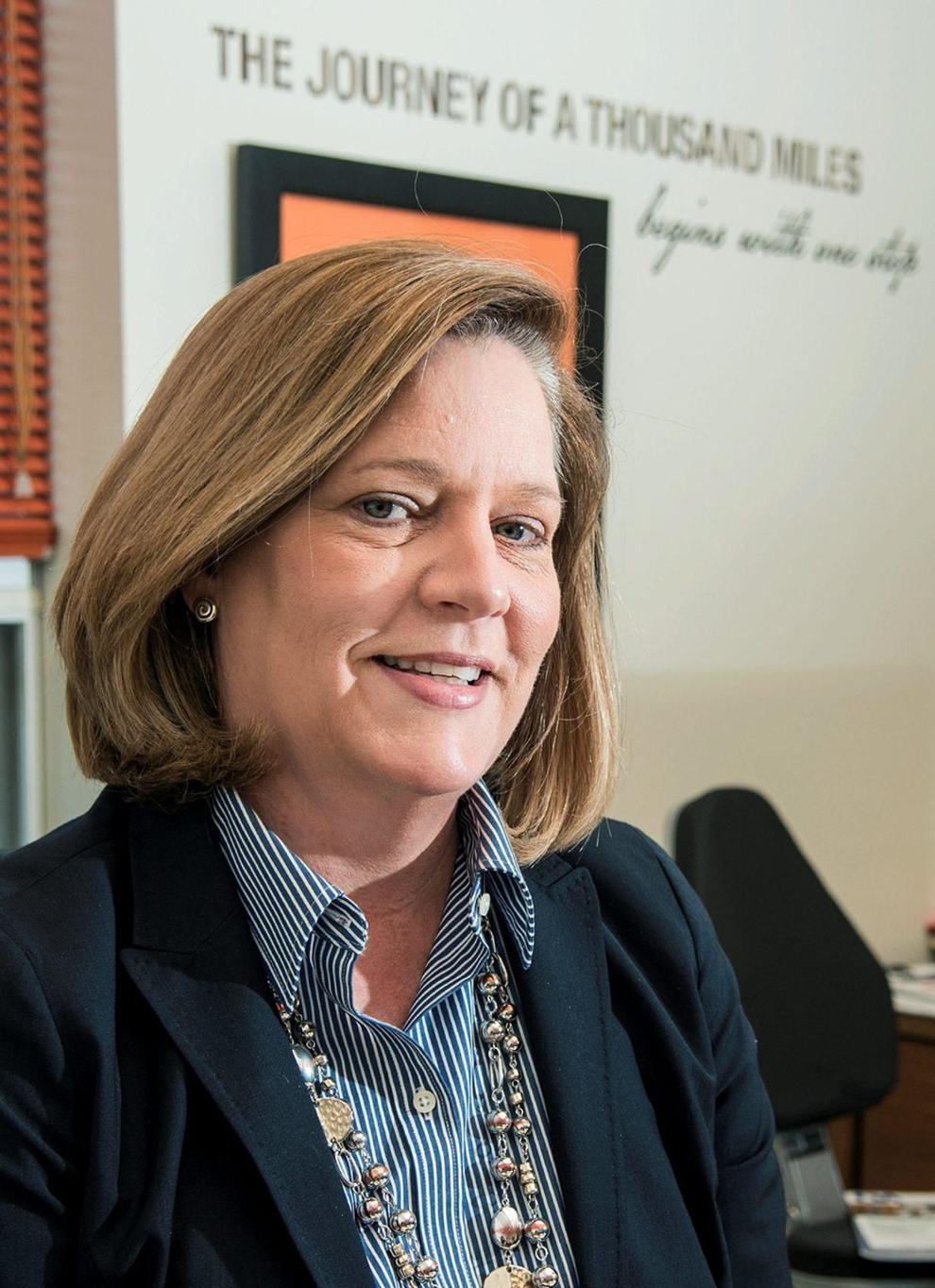 "We fully recognize that this may be distressing news for many students and families but we're here to provide support and guidance as we also learn to adapt to this new learning framework," Zola said in a statement early Wednesday evening.
"During this Distance Learning period, we'll continue to assess the state of COVID-19. By the end of September, we'll make another decision whether to continue Distance Learning when the second quarter begins on October 19th or begin to transition to In-Person Learning.
"We understand that the next several weeks will feel overwhelming. We also must acknowledge that our most vulnerable students will need us to support equitable access to Distance Learning. Addressing these inequities is critical, and we're committed to ensuring access for all students.
"As our re-entry plan is implemented, then develops into an everyday routine, we will face difficult challenges that require innovative problem solving and agile leadership. Through all of it, we will keep our Unit 4 community informed. Because, above all, we're powerfully committed to providing the guidance, knowledge, skills — and safety — for all students to succeed."
---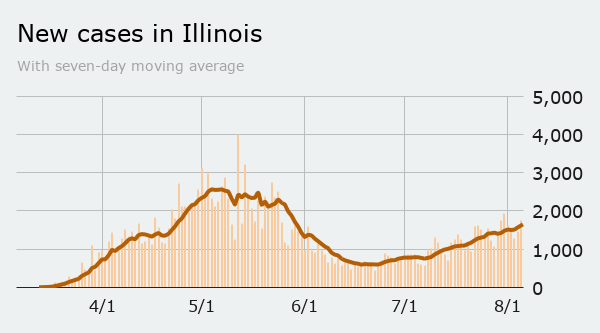 LONG-TERM CARE FACILITIES: Cases in Ford, Vermilion
Health officials in both Ford and Vermilion counties on Wednesday linked multiple new COVID-19 cases to long-term care facilities.
— Three of the nine new cases reported Wednesday in Vermilion County were linked to the same long-term care facility, county health Administrator Doug Toole said.
"This particular facility temporarily transfers its COVID-positive residents to a Chicago-area nursing home, which has a dedicated COVID unit, until they recover or are released," Toole said. "The families of all of the residents of the local facility have been notified. We are not naming the facility at this time, but the IDPH will likely announce this as an outbreak in a Vermilion County facility."
Vermilion's nine new cases involved two residents in their 70s, two in their 60s, a grade school-aged child and residents in their 50s, 40s, 30s and 20s, pushing the county's total to 212.
Of the nine, one is hospitalized.
— Deb Pressey reports on the outbreak in Ford County:
Eight of Ford County's 13 new COVID-19 cases this week have been linked to an outbreak at one long-term care facility in Paxton, according to the Ford County Health Department.
All eight of the new long-term care cases were at Accolade Healthcare of Paxton on Pells, a 106-bed skilled nursing facility at 1001 E. Pells St., Paxton.
Linked to that facility were two of the county's four new cases on Monday and six of the eight new cases reported Wednesday, according to Danielle Walls, the health department's community educator.
Jason Young, the administrator at that facility, said all eight cases were residents who were asymptomatic.
All residents and staff were tested after an employee, also asymptomatic, tested positive, he said.
"All of our cases were asymptomatic," Young said. "These people were shocked that they have this."
Young said the facility has tried to do everything possible to keep coronavirus out.
"We feel like we're doing everything possible, and in some instances, even going above and beyond," he said.
All families of facility residents have been notified and all eight infected residents are being isolated in a specific area, he said.
There are two Accolade facilities in Paxton. The other, Accolade Healthcare of Paxton Senior Living at 450 E. Fulton St., previously had two cases but that outbreak is considered closed, according to the Illinois Department of Public Health.
---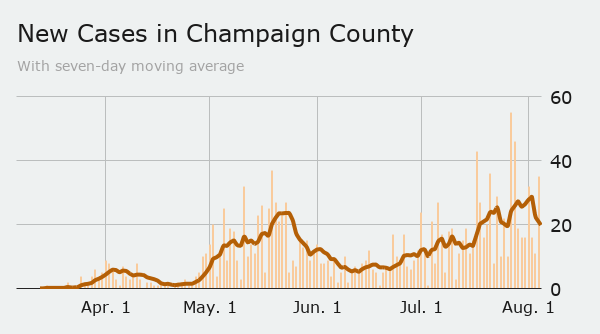 CHAMPAIGN COUNTY: Active cases down by 22
The number of confirmed cases in Champaign County grew by 35 Wednesday — more than triple Tuesday's total.
With 2,276 new tests processed, the county's positivity rates both remained low — 1.5 percent (single-day) and 1.2 percent (seven-day).
For the second straight day, the number of county residents hospitalized with COVID-19 declined by one (to 13). Active cases were also down — by 22, to 195.
The biggest overnight spikes in new cases were in Champaign's 61822 ZIP code (up 11, to 285 total) and Urbana's 61802 (up nine, to 210).
Here's an updated rundown of county ZIP codes with acive cases followed by their total number of cases, according to C-U Public Health District data:
61820/Champaign: 36 active (down seven from Tuesday), 254 total (up two)
61821/Champaign: 36 active (down three from Tuesday), 285 tottal (up 11)
61822/Champaign: 28 active (down four from Tuesday), 148 total (up two)
61802/Urbana: 24 active (down two from Tuesday), 210 total (up nine)
61866/Rantoul: 23 active (unchanged from Tuesday), 253 total (up three)
61801/Urbana: 13 active (up one from Tuesday), 102 total (up three)
61853/Mahomet: 7 active (up two from Tuesday), 85 total (up three)
61880/Tolono: 7 active (down two from Tuesday), 30 total (up one)
61864/Philo: 5 active (unchanged from Tuesday), 7 total (unchanged)
61877/Sidney: 5 active (unchanged from Tuesday), 14 total (unchanged)
61874/Savoy: 3 active (down six from Tuesday), 58 total (unchanged)
61875/Seymour: 2 active (unchanged from Tuesday), 6 total (unchanged)
61840/Dewey: 1 active (unchanged from Tuesday), 5 total (unchanged)
61847/Gifford: 1 active (down one from Tuesday), 3 total (unchanged)
61873/St. Joseph: 2 active (up one from Tuesday), 26 total (up one)
61878/Thomasboro: 1 active (unchanged from Tuesday), 5 total (unchanged)
61816/Broadlands: 1 active (unchanged from Tuesday), 1 total (unchanged)
61843/Fisher: 0 active (unchanged from Tuesday), 30 total (unchanged)
61845/Foosland: 0 active (down five from Tuesday), 7 total (unchanged)
60949/Ludlow: 0 active (down one from Tuesday), 7 total (unchanged)
61863/Pesotum: 0 active (unchanged from Tuesday), 6 total (unchanged)
61871/Royal: 0 active (down one from Tuesday), 5 total (unchanged)
61849/Homer: 0 active (unchanged from Tuesday), 3 total (unchanged)
61872/Sadorus: 0 active (unchanged from Tuesday), 3 total (unchanged)
61851/Ivesdale: 0 active (unchanged from Tuesday), 1 total (unchanged)
61859/Ogden: 0 active (unchanged from Tuesday), 1 total (unchanged)
61862/Penfield: 0 active (unchanged from Tuesday), 1 total (unchanged)
---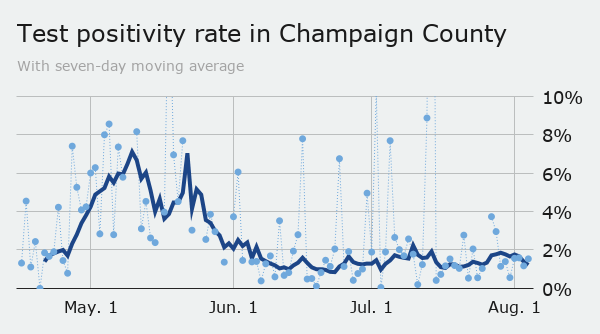 PRITZKER: Surge in cases among young people a concern statewide
Eight new cases emerged Wednesday among Champaign County residents between 21 and 30, pushing that age group's total to 389.
At a Wednesday news briefing in Chicago, Gov. J.B. Pritzker said the surge in young people testing positive throughout Illinois has state health officials concerned.
Here's a breakdown of confirmed Champaign County cases by age group, according to CUPHD data:
21 to 30: 389 cases
31 to 40: 287 cases
11 to 20: 279 cases
41 to 50: 192 cases
51 to 60: 150 cases
10 and under: 104 cases
61 to 70: 83 cases
71 to 80: 37 cases
81 to 90: 28 cases
91 to 100: 9 cases
Those in the 21-30 and 31-40 groups also are Nos. 1-2 in testing, representing 22.2 percent and 16.5 percent of all tests performed on county residents.