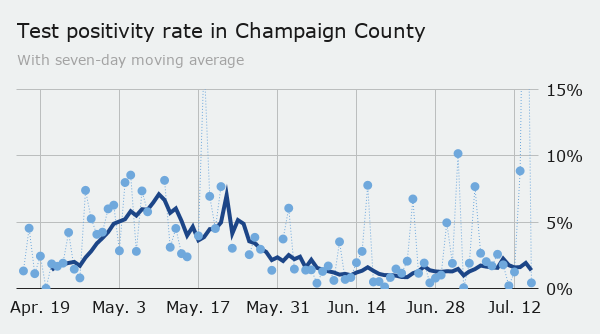 Champaign County is now part of a 21-county region in which new state-ordered restrictions could be imposed to slow down a potential resurgence of COVID-19 cases.
Under a new plan announced Wednesday by Gov. J.B. Pritzker, the state is being divided into 11 regions, with the possibility of rolling back some of the reopenings in regions where cases are surging.
Regions facing newly imposed restrictions would have to reach certain metrics, including a sustained decrease in the seven-day rolling average of positive tests plus either of the two following — a sustained seven-day decrease in COVID-19 hospital admissions or a reduction in hospital capacity threatening surge capabilities — or three consecutive days in which the test-positivity rate averages 8 percent or below.
Champaign County is part of the new East Central Illinois region along with Clark, Clay, Coles, Crawford, Cumberland, DeWitt, Douglas, Edgar, Effingham, Fayette, Ford, Iroquois, Japer, Lawrence, Macon, Moultrie, Piatt, Richland, Shelby and Vermilion counties.
Champaign-Urbana Public Health District Administrator Julie Pryde said her agency has worked closely with the local health departments in those counties for years.
"We are very happy that they are moving the positivity threshold to 8 percent," she said. "This is much more reasonable than 20 percent. A positivity rate of 20 percent would be overwhelming."
Pryde also said she was looking forward to seeing the metrics for Champaign County's new region, which were set to be released today.
Pritzker and Illinois Department of Public Health Director Dr. Ngozi Ezike announced the new resurgence prevention plan Wednesday as the state surpassed 2 million coronavirus tests and added more than 1,000 new COVID-19 cases.
The plan recognizes that the state is in its strongest position to combat the spread of the coronavirus since the pandemic began, based on more than 30,000 tests being done a day, expanded contract tracing, hospital surge capacity and a growing stockpile of personal protective equipment, officials said.
"Illinois now has the lowest infection rates among all our neighboring states, and one of the lowest positivity rates in the country, and it's because of the individual actions of millions of our residents," Pritzker said. "Opening up our economy does not have to come with a spike in new cases."
The governor also warned Illinois residents must remain vigilant.
"It's imperative that individuals, families, workers and businesses follow the recommendations doctors have given about vital mitigations and that we act quickly if we see any outbreaks and upticks, signs that could lead to a surge of coronavirus infections," he said.
The new plan developed by IDPH includes three tiers of mitigation actions that could be put in place in a region should it begin to meet the resurgence metrics, state officials said.
For instance, new restrictions for bars and restaurants could include reducing or suspending indoor dining and bar service.
Stores could face reduced capacity limits, suspension of in-person non-essential retail sales with online and curbside pickup still available, or a suspension of all non-essential retail outlets.
11 NEW CASES IN CHAMPAIGN COUNTY
Meanwhile, the number of new cases in Champaign County grew by 11 Wednesday, to 1,076.
Of 2,655 new tests, 0.4% came back positive. The seven-day average positivity is 1.4%.
Recovered cases outnumber active ones, 936-123. Three county residents are hospitalized with COVID-19, up one from Tuesday.