Less than 48 hours before entering Restore Illinois Phase 4, Champaign County reported a second straight day of double-digit new COVID-19 cases.
After a 17-case Tuesday, the county's total grew by 10 Wednesday, to 806.
Because of a low number of new tests (148), the county's single-day positivity rate was unusually high — 6.8 percent. That's similar to June 16, a Tuesday (154 tests, 7.8 percent) but considerably higher than any day since, when the rate ranged from 0.1 percent (a one-case Friday) to 2.1 percent (the 17-case Tuesday).
Of the county's now-806 confirmed cases, 722 are considered recovered and 72 are active. Nine residents who've tested positive are hospitalized.
The mild spike in new cases comes during the same two-day stretch that it was revealed an "unofficial prom" at a private home in Mahomet on June 13 led to 10 positive tests and a Champaign firefighter contracted the virus.
Mahomet's 61875 ZIP code, which on Saturday had 22 total cases, now has 34, according to C-U Public Health data.
Seymour's 61875 ZIP code also added its first cases this week, with three.
Here's an updated rundown of county cases by ZIP code, according to C-U Public Health data, which doesn't distinguish between active and recovered:
— 61866/Rantoul: 182
— 61821/Champaign: 142
— 61820/Champaign: 128
— 61802/Urbana: 126
— 61822/Champaign: 64
— 61801/Urbana: 55
— 61874/Savoy: 35
— 61853/Mahomet: 34
— 61880/Tolono: 9
— 60949/Ludlow: 6
— 61873/St. Joseph: 6
— 61863/Pesotum: 5
— 61849/Homer: 3
— 61843/Fisher: 3
— 61875/Seymour: 3
— 61878/Thomasboro: 2
— 61847/Gifford: 1
— 61862/Penfield: 1
— 61877/Sidney: 1
****
IT'S ON TO PHASE 4 FRIDAY
The central region (that's us) won't any issues meeting the three sets of metrics needed to advance from Phase 3 to 4 on Friday:
1. At or under a 20 percent positivity rate and increasing no more than 10 percentage points over a 14-day period.
The central's positivity rate is 1 percent — which is down by 1 percent in the past 14 days.
2. No overall increase in hospital admissions for COVID-19-like illness for 28 days.
The central is down 34 percent in hospitalizations for the past 28 days.
3. Available surge capacity of at least 14 percent of ICU beds, medical and surgical beds and ventilators.
Percentages for the central: 53 in ICU beds, 41 in medical/surgical beds and 82 in ventilators.
***
DOUGLAS COUNTY ADDS FOUR CASES
Among area counties, only Douglas added to its confirmed case total Wednesday.
It now has 48, up four from Tuesday. That's one fewer than Vermilion County.
Ford County's count remained 27, Piatt's 16.
****
STATEWIDE POSITIVITY RATE: 2.4 PERCENT
With 29,331 new tests producing 715 positive results, Wednesday's state positivity rate remained low — 2.4 percent.
The death toll grew by 64, to 6,770, with coronavirus-related fatalities reported in 12 of Illinois' 102 counties:
— Cook: 1 male 30s, 1 male 40s, 2 females 50s, 2 males 50s, 9 females 60s, 6 males 60s, 5 females 70s, 5 males 70s, 3 females 80s, 1 male 80s, 4 females 90s.
— DuPage: 1 female 50s, 1 male 60s, 1 male 70s.
— Grundy: 1 female 80s.
— Jackson: 1 female 90s.
— Kane: 1 female 80s, 1 male 90s.
— Lake: 1 male 70s, 1 female 80s, 1 male 80s, 1 female 90s.
— Madison: 1 female 90s.
— McHenry: 1 female 70s.
— Peoria: 1 female 80s.
— St. Clair: 2 males 70s, 1 female 90s.
— Will: 1 female 60s, 1 female 70s, 1 female 80s.
— Winnebago: 1 male 60s, 2 females 70s, 1 male 70s, 1 female 80s.
****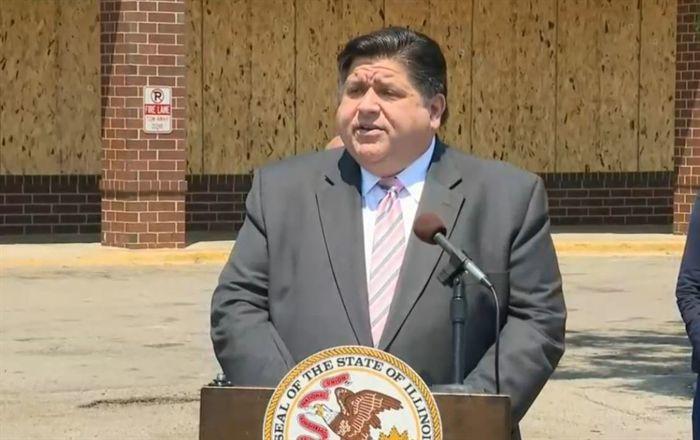 STATE: $85 MILLION OF GRANT FUNDING ON WAY
From Peter Hancock of our Springfield-based news partners at Capitol News Illinois:
The Illinois Department of Commerce and Economic Opportunity announced this week that it will soon start releasing funds from two grant programs aimed at helping small businesses that have suffered losses due to the COVID-19 pandemic and civil unrest that occurred during recent protests over racial injustice.
The administration is releasing $85 million through the Business Interruption Grant program and the Rebuild Distressed Communities grant program. The money is part of $900 million that Gov. J.B. Pritzker recently announced will be released in response to economic impacts of the pandemic.
Both programs are aimed at small businesses whose operations were either restricted or completely shut down during the pandemic. They are also targeted at businesses located in "disproportionately impacted areas" — low income communities that have experienced high rates of COVID-19 cases and communities damaged during recent civil unrest.
According to a release from DCEO, the first round of Business Interruption Grants, or BIG, will make $60 million in federal COVID-19 relief funds available for 3,500 businesses such as bars, restaurants, barbershops and salons, health and fitness centers as well as businesses in areas where there have been reports of property damage from civil unrest. The money comes from the federal Coronavirus Aid, Relief and Economic Security, or CARES, Act.
The grants will range from $10,000 to $20,000 and will be available to businesses that have suffered significant losses due to restricted operations, mandatory closures or property damage. To qualify, those businesses must have been in operation for at least three months before March 2020.
Businesses can begin applying for the grants starting Friday, June 26. The deadline to apply is Tuesday, July 7. Potential applicants can download an application and review the complete criteria for the program on the DCEO website.
The agency said it plans to use community-based financial institutions to review applications and administer the funds. That financial assistance expected to be released starting in mid-July. Eligible businesses will be selected on a lottery basis.
The $60 million being made available is just the first round of grants that will eventually total at least $540 million, including $270 million earmarked for child care providers.
In addition to the BIG program, another $25 million will be made available through the Rebuild Distressed Communities program to support businesses that have suffered damage from civil unrest that occurred on or after May 25.
Those grants, which are funded through the state's Rebuild Illinois capital improvements program, will reimburse the costs to repairs that have already been performed for structural damage, including storefronts, entrances, electrical systems and exterior work. For work yet to be performed, program administrators will partner with local contractors and pay them to perform the work. Projects that were denied coverage by an insurance company are eligible, but applicants must submit documentation proving denial or lack of coverage.
The program will prioritize small businesses, those that are underinsured or uninsured, those that have a high community impact such as grocery stores and those located in communities that have experienced historic disinvestment. For repair work, the program will also prioritize contractors that are certified through the state's Business Enterprise Program — those that are at least 51-percent owned or controlled by minorities, women or people with disabilities.
DCEO is currently seeking one or more administrators to process the reimbursement applications. The agency said it expects businesses will be able to start applying for support in August. Additional information about and how to apply is available by emailing the Office of Grants Management at CEO.OGMgrants@illinois.gov.