Wednesday's coronavirus updates: Unit 4 reveals revised reopening plan; 212 active cases in Champaign County; Davis on IHSA decision: 'Yet another overreach from Governor Pritzker'
Staff writer Anthony Zilis reports:
Only children of district employees will be allowed to attend Unit 4 schools four days a week this fall, the district informed parents and teachers in a Wednesday email.
That group of students was singled out "in order to ensure that (Unit 4 has) adequate staff available to carry out this plan."
The district's revised plan calls for emergent bilinguals and students who have individualized education and 504 plans or are eligible for free or reduced lunch to be invited to attend school two days a week (Mondays/Thursdays or Tuesdays/Fridays), not the four announced previously.
Wednesdays will remain remote learning days for all students.
---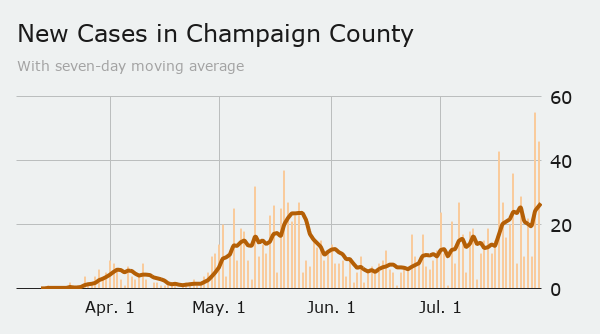 TEACHERS UNIONS: 'No action is off the table'
WDWS 1400-AM's Scott Beatty reports:
Two Illinois teachers unions say "no action is off the table" — including strikes — in school districts where they do not feel the reopening plan is safe for teachers, staff and students.
A joint statement issued today by the presidents of the Illinois Education Association and the Illinois Federation of Teachers says if proper safety measures against COVID-19 aren't met, they would consider taking legal action, going to the state labor relations board or striking.
The unions say they believe some types of in-person instruction can happen. But if there isn't a "practical safety plan" with "a clear line of responsibility and enforcement," they will call for the school year to begin with remote learning.
The two unions say they represent 238,000 employees across the state.
---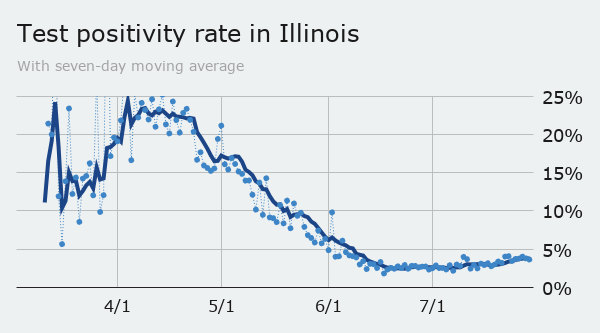 DAVIS: 'Governor's Office has no business determining who can and cannot play youth sports'
U.S. Rep. Rodney Davis (R-Taylorville) criticized the state's decision to hold some high school sports in the fall and push others (including football) to February.
"There should not be one-size-fits-all regulations for youth sports statewide," Davis said in a statement Wednesday afternoon. "As Governor Pritzker's rules currently stand, competitive play for sports like football and basketball is cancelled statewide for as long as the Governor wants. That's the wrong approach.
"As a former youth football and baseball coach, I believe local schools, in consultation with parents, athletes, coaches and their conferences, should get the final say. The Governor's Office has no business determining who can and cannot play youth sports.
"This is yet another overreach from Governor Pritzker."
---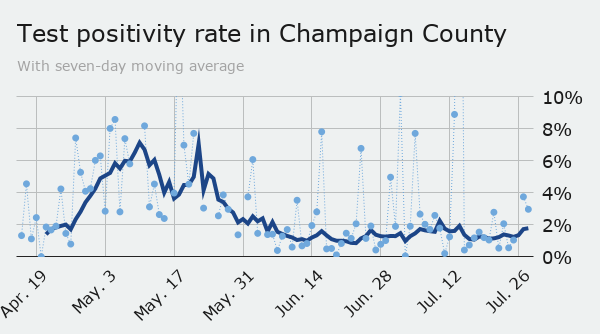 VERMILION COUNTY: 42 isolating at home
The number of confirmed COVID-19 cases in Vermilion County grew by five Wednesday, to 165.
The new cases involve three residents in their 60s, one in their 50s and a teen.
The teen shares a household with another resident who tested positive last week; the four others are two married couples, Vermilion County Health Administrator Doug Toole said.
The status of the 165 cases:
Released/recovered: 119
Isolating at home: 42
Hospitalized: 2 (an increase of one)
Deceased: 2
7-day positivity rate: 2.6 percent
Single-day positivity rate: 1.34 percent
---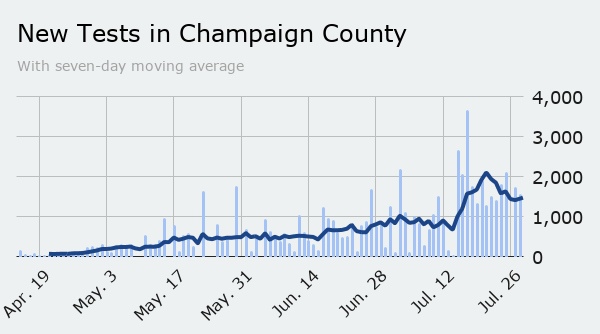 FORD COUNTY: 38 confirmed, 11 probable
Two females in their 50s and one in her 20s have tested positive for COVID-19 in Ford County, officials said Wednesday.
Ford now counts a total of 49 cases (38 confirmed, 11 probable).
The status of the 49 cases:
Released from isolation: 43
Isolating at home: 5
Deceased: 1
Hospitalized: 0
A breakdown of Ford cases by age:
20 to 29: 9 cases
30 to 39: 9 cases
40 to 49: 7 cases
50 to 59: 7 cases
80 to 89: 5 cases
60 to 69: 4 cases
70 to 79: 4 cases
Under 20: 3 cases
90 to 99: 1 case
---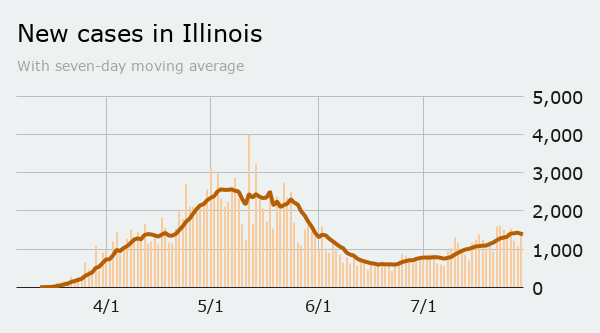 CHAMPAIGN COUNTY: Seven-day positivity rate at 1.8%
Champaign County followed up a 55-case Tuesday with another big number Wednesday — 46.
And similar storylines are playing out throughout the state, Illinois Department of Public Health Director Dr. Ngozi Ezike said at a news conference this afternoon.
Rising case numbers and a slight increase in hospitalizations "are clearly indicators that we are heading in the wrong direction," she said, adding that six of the state's 11 regions have experienced upticks in positivity rates over the last seven days.
"The virus doesn't recognize county lines. It doesn't respect regional borders. The virus is spreading throughout Illinois."
When asked whether the rising numbers would affect the start of school next month, Gov. J.B. Pritzker said decisions about reopening plans would remain in individual districts' hands.
"I think each school is trying to set plans for their school," he said. "I've said all along here that the (Illinois State Board of Education) has been putting out guidance to make sure that there are some basic requirements like masking in schools that are adhered to. But because each school is so much different — there are different campuses there are differently configured buildings, different numbers of people in a building per square foot — we really want those schools to make decisions for themselves.
"But there's no doubt about it. I'm watching very closely."
In Champaign County, the number of residents hospitalized with COVID-19 grew by one Wednesday, to 14. That number was three a week-and-a-half ago.
Active cases only rose by three (to 212) while recovered cases increased by 43.
The county's seven-day positivity rate is 1.8 percent. The single-day rate is 3 percent (1,556 tests, 46 positive).
With 1,393 positive tests of 38,187 Wednesday across Illinois, the state rates stand at 3.8 percent (seven-day) and 3.6 percent (single-day).
Here's an updated rundown of county ZIP codes with active cases followed by their total number of cases, according to C-U Public Health District data:
61802/Urbana: 44 active (up two), 198 total (up three)
61821/Champaign: 39 active (unchanged), 258 total (up nine)
61820/Champaign: 30 active (up two), 210 total (up 13)
61822/Champaign: 22 active (unchanged), 127 total (up five)
61866/Rantoul: 18 active (up two), 239 total (up six)
61801/Urbana: 12 active (down one), 85 total (up one)
61874/Savoy: 11 active (unchanged), 55 (up three)
61853/Mahomet: 6 active (up one), 81 total (up three)
61877/Sidney: 6 active (up one), 13 total (up two)
61845/Foosland: 5 active (unchanged), 7 total (unchanged)
61880/Tolono: 5 active (down one), 24 total (unchanged)
61864/Philo: 4 active (unchanged), 6 total (unchanged)
61843/Fisher: 2 active (down two), 30 total (unchanged)
61840/Dewey: 1 active (up one), 4 total (up one)
61847/Gifford: 1 active (unchanged), 2 total (unchanged)
60949/Ludlow: 1 active (unchanged), 7 total (unchanged)
61871/Royal: 1 active (unchanged), 5 total (unchanged)
61873/St. Joseph: 1 active (down one), 23 total (unchanged)
61875/Seymour: 1 active (unchanged), 4 total (unchanged)
61878/Thomasboro: 1 active (unchanged), 5 total (unchanged)
61851/Ivesdale: 0 active (down one), 1 total (unchanged)
---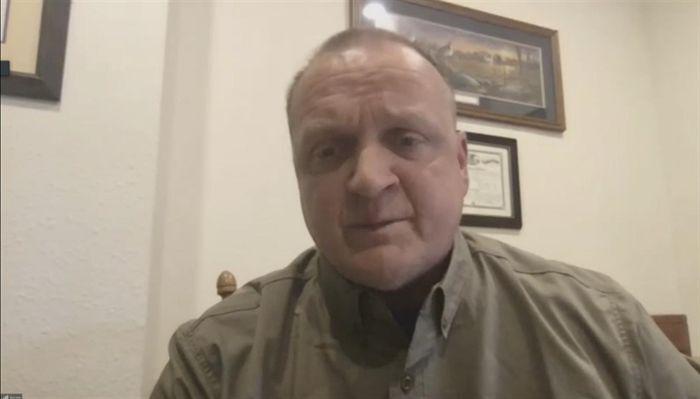 SPRINGFIELD: Attorney says he'll drop 'dozen or so' lawsuits against state if Legislature meets
Rebecca Anzel of our Springfield-based partner Capitol News Illinois reports:
The downstate attorney challenging aspects of Illinois Gov. J.B. Pritzker's COVID-19 response said Wednesday he would halt the progress of his "dozen or so" lawsuits if legislators return to Springfield.
At the heart of Thomas DeVore's many cases in several Illinois counties is the question of whether an Illinois governor is constitutionally and legally authorized to exercise unilateral control over the management of a disaster, such as the public health emergency posed by the novel coronavirus.
He also represents "hundreds" of citizens and business owners as well, he said.
DeVore told Capitol News Illinois in a phone call Wednesday that while lawmakers are barred by the U.S. constitution from delegating their powers to another branch of government indefinitely, the legislative body's lack of action suggests an intention to flout those requirements.
As the head of the executive branch, Pritzker "should not have to" consult with Illinoisans about how best to prevent the spread of COVID-19 — that is the Legislature's job, he added.
In an open letter DeVore sent to the General Assembly's four legislative leaders Wednesday afternoon, the attorney wrote he is "imploring" lawmakers to determine rules for schools and businesses so both can safely resume operations without harming public health.
"The legislature is the voice of the people, and I am afraid of what is to come in the weeks ahead without your involvement in crafting wise solutions," DeVore wrote.
Spokespeople for three of the leaders — House Speaker Michael Madigan (D-Chicago), House Minority Leader Jim Durkin (R-Western Springs) and Senate Minority Leader Bill Brady (R-Bloomington) — did not return requests for comment at the time of publication.
A spokesperson for Senate President Don Harmon (D-Oak Park) wrote in an email that "the Senate has no plans at this time to reconvene before the scheduled veto session in November."
"Far too much ink has been spilled over the last several months in courtrooms across this state" through lawsuits such as his own, DeVore wrote in the letter.
"None of this litigation has served the best interests of the good people of our state, as litigation is never the answer to matters such as these, and should only be a solution when no other viable options exist," he added.
Xenia Republican Rep. Darren Bailey — whose Clay County lawsuit alleging Pritzker overstepped his authority in managing the novel coronavirus pandemic is perhaps the best known of DeVore's cases — said "none of these lawsuits may have existed" if lawmakers convened in Springfield to "confirm the details of how things should work."
He added the Legislature's lack of action since May, ongoing federal investigations into Illinois officials and decreased state revenues as a result of the virus are "a wakeup call to the citizens of this state."
His attorney in that case, DeVore, wrote in his letter that "an ever increasing number" of residents "are growing weary" of actions taken solely by the executive branch to close businesses, implement social gathering restrictions and change school rules.
"This has nothing to do with the efficacy of these executive and administrative actions but everything to do with the lack of checks and balances which the legislative branch of government is intended to provide," he wrote.
Rep. John Cabello, a Republican from Machesney Park and another of DeVore's clients who filed a similar lawsuit against Pritzker, said he thinks members of the General Assembly should tackle corruption, unemployment and the budget shortfall. But, he said, he does not "believe whatsoever" a session will be scheduled before the Fall veto session.
He dropped his case challenging the governor's use of emergency powers on July 22.
"(Michael Madigan) obviously controls the agenda, so we'll have to wait and see what comes about, but I'm not holding my breath that we do anything really good," Cabello said of the Speaker recently embroiled in a federal corruption investigation. "Any time legislators are in Springfield, something bad happens to the taxpayers of this state."
---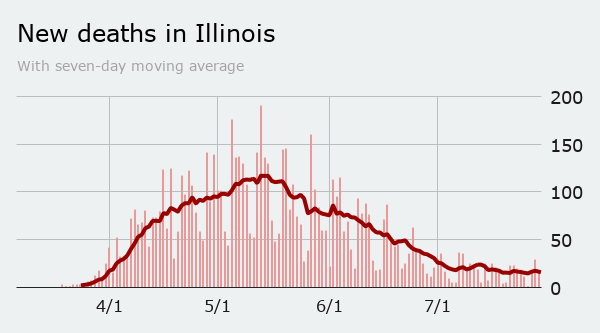 STATE: Fatalities in 10 counties
IDPH reported 18 coronavirus-related fatalities Wednesday, pushing the statewide total for the pandemic to 7,462.
Illinoisans from 10 counties lost their lives:
Carroll County: 1 male 80s
Cook County: 1 female 20s, 1 male 50s, 2 males 60s, 1 female 70s, 1 male 70s, 1 female 80s
DeKalb County: 1 female 70s
Kane County: 1 female 60s, 2 female 90s
Kankakee County: 1 female 60s
Kendall County: 1 male 70s
Montgomery County: 1 male 50s
Peoria County: 1 male 80s
Saline County: 1 male 70s
Winnebago County: 1 male 70s
---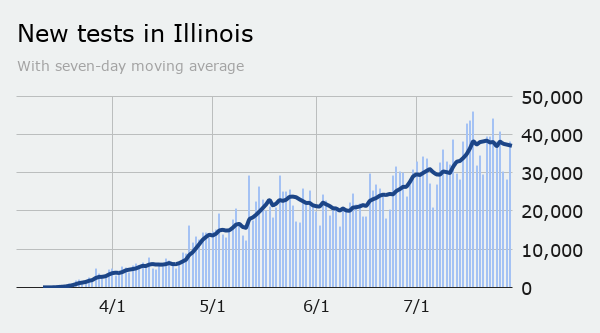 DANVILLE: September parade called off
Labor Day weekend in Danville will be missing one of its longstanding traditions — the "Largest Downstate Parade in Illinois."
"Due to rising Covid-19 cases in the area, out of an abundance of caution, the difficult decision has been made to cancel this year's Labor Day Parade," Mayor Rickey Williams Jr. announced Wednesday.
"We look forward to 2021, and what we hope will be the return to normal where events such as this are once again part of life."