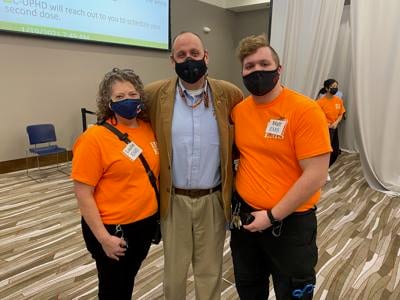 The family of Brian and Laurie Brauer believe there's more to life than just looking out for themselves.
Brian credits it to their life in emergency services and related fields as well as their involvement with Scouting.
The Brauers, including sons Matt and Mitchell, are among those who have been helping with COVID-19 vaccinations at the I Hotel and Conference Center. Brian's role has been general administration, while Laurie handles scheduling in the recovery area. Mitchell assists the nurses with injections, and Matt helps in the recovery area.
"We're a very service-oriented family," Brian said. "Laurie and I met when she was working in the emergency room at Carle Hospital and I was a paramedic in the early '90s."
Brian is now associate director of the Illinois Fire Service Institute, and his wife is an emergency medical technician and works part-time at the institute. Mitchell is an EMT with Arrow Ambulance, and Matt is getting ready to test as an EMT. Laurie and Matt are both first aid and CPR instructors.
Brian said being in the Boy Scouts is what started his interest in public service work.
"I think because both our kids were in Scouting, too," he said. "That's one of the core values that Scouting helps impart, that service to others and helping other people."
Brauer said extensive training helped to streamline the I Hotel clinic operation.
Beginning 2 1/2 years ago, agencies involved in vaccine planning began meeting in the event of such an emergency, basing it on administering an anthrax vaccine "if we had a biological attack on campus. That's one of the reasons we're able to do this so effectively now," he said.
Because of that effectiveness, personnel from the Department of Public Health and National Guard were on hand for a day and a half last week, studying how the local clinic operated.
"Tuesday, they opened four clinics in the Chicago area led by the National Guard based on what they saw here in Champaign," Brauer said.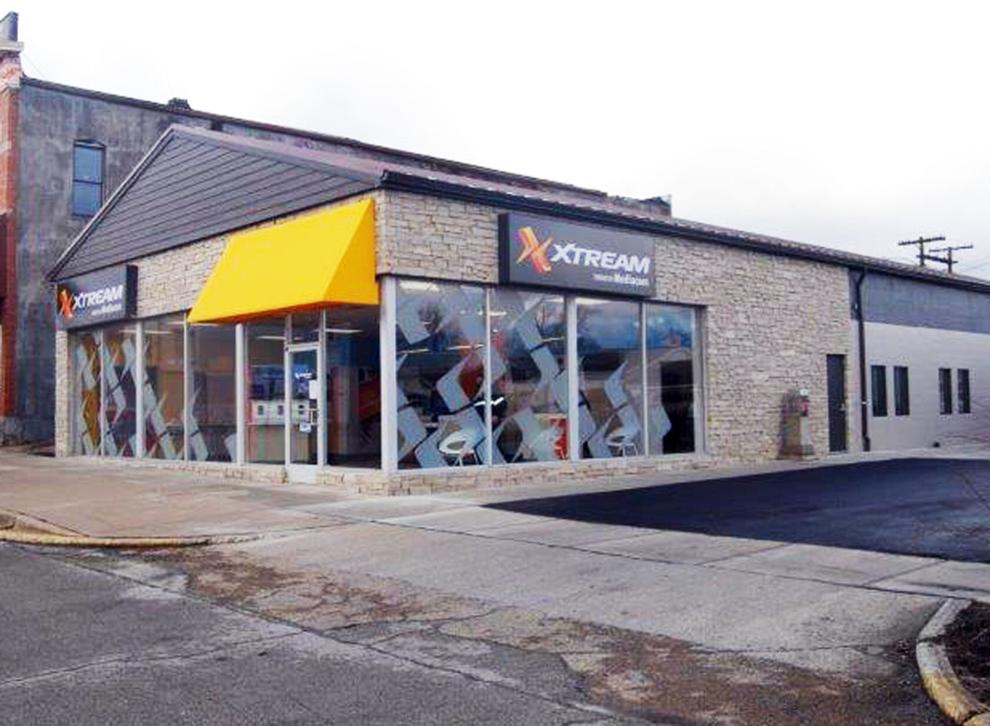 Mediacom moves to downtown Rantoul
Mediacom Communications opened its new Rantoul customer service center Monday. As a result of the move, the company will add Saturday hours from 10 a.m. to 2 p.m. beginning Feb. 6.
A tire center was the most recent occupant of the building at 211 E. Sangamon Ave.
The building has undergone a full-scale renovation. It features a technology-focused showroom.
Accessible kiosks and digital screens are set up to show customers how they can combine streaming services with TV subscriptions, connect smart home devices to wi-fi networks, use voice-activated remotes and experience the speed of gigabit Internet service.
"Mediacom is a digital technology company, and to reflect that, we made it a priority to transform the experience customers receive when they come to our new retail store for information and service," Dan Stuhr, Mediacom's director of area operations, said.
The large open area for customers is double the amount available at the company's previous location on East Grove Avenue. Stuhr described the move as a positive one to be centrally located in the community and noted the availability of parking and the change that adds Saturday service hours.
A variety of Mediacom employees will use the building, including broadband specialists and technical operations staff.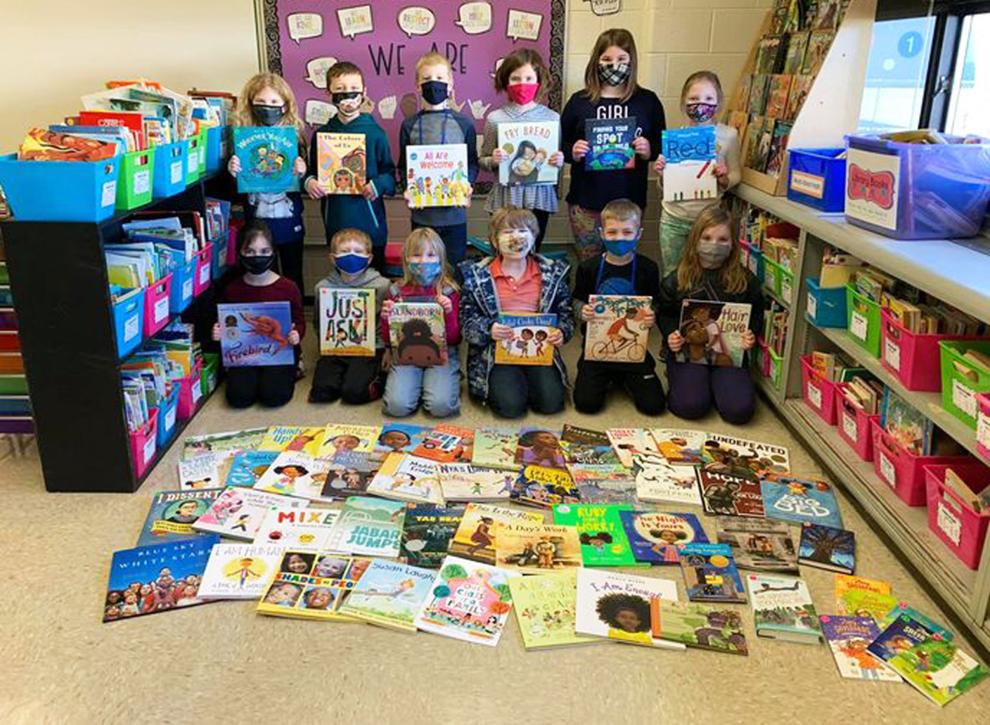 Welcome addition to Villa Grove classroom
Kelly Vail grew up in St. Joseph, when the town was about half the size it is today. In many ways it was much like Villa Grove today.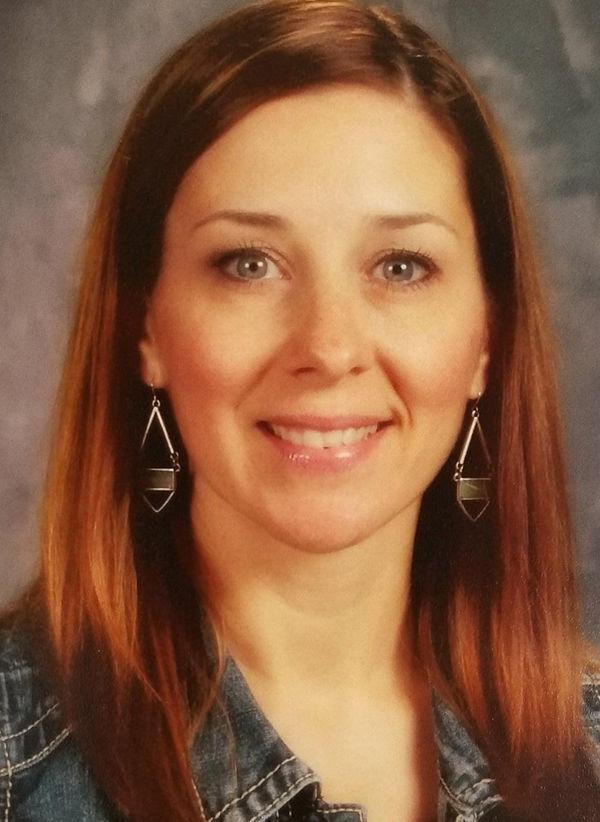 "Villa Grove is a small rural school district K-12," the Villa Grove second-grade teacher said. "We don't have a ton of diversity here."
Vail loves reading and teaching it and other subjects to her second-graders. That's why she started a Donors Choose project for her classroom that resulted in the purchase of 80 new books that teach diversity for her classroom library.
"Getting these diverse books in the hands of students is a great way to practice cultural awareness and celebrate diversity," she said.
Vail, who in her 17th year teaching, is starting a master's program at the University of Illinois in library science. Her goal is to obtain her school librarian certificate as well as a master's degree to one day become a school librarian or to work in a public library.
"Reading is my favorite thing to do with my students, so I try to add as many books as I can when I can," she said.
Donors contributed $1,145 to enable the purchase of the books.
It's not the first time Vail has used the Donors Choose online program to fund the purchase of classroom items.
One item she has obtained includes STEM bins, which help get the students' minds "flowing when they come in in the morning." The bins contain hands-on materials such as magnet construction sets, Legos, tile blocks, gears that can be assembled and geometry sets.
She has also been able to buy four Kindle Fire tablets for student book reading.
Vail's favorite books growing up were anything by Beverly Cleary or Judy Blume, "Charlotte's Web" and the Little House series. She has included some of her childhood books in the classroom library, which her students enjoy. They especially like to see her name written in the books from when she was their age.
People don't read as much as they used to. Vail is doing her best to instill the love of reading in her students.
Anderson takes lead role at senior center
Kellie Anderson has been named director of the Retired and Senior Volunteer Program (RSVP) and the Helen Mary Stevick Senior Citizens Center, Champaign.
She succeeds Karen Kraemer, who is retiring.
A native of Peoria, Anderson moved to this area in 1989 so her husband could finish his education at the University of Illinois.
"We raised our two daughters here," she said. "For the last five years I managed a relationship education program for youth called "CARE4U" through Illinois State University."
Prior to that, Anderson was program manager for Parkland Adult Education. She has also worked as a coordinator for the CU 1to1 Mentoring Program in the Champaign and Urbana school districts.
"I am excited to work with people at the other end of the age spectrum."
The RSVP and Stevick Center are programs of Family Service.
As an RSVP volunteer, those 55 and older are able to help in a variety of volunteer sites. The staff provides support, connections to volunteer opportunities and other things the senior volunteer might need to enjoy their experience.
"We do ask people to complete a volunteer application, and it only takes an hour of time to join the ranks of RSVP volunteers," Anderson said.
The Stevick Center, 2102 Windsor Place, Champaign, provides a location where seniors can gather for an activity, play a game, attend a workshop or just get together with friends for coffee and a chat.
Anderson said the pandemic "has had quite an impact" on the services provided.
"As everyone knows, our seniors are among the most vulnerable members of the community during this time," she said. "Most of our most-popular volunteer sites simply have not been open, and those that are, are restricted as to what they can allow."
The RSVP coordinator continues to seek opportunities for people to do at home or in a setting that provides space for social distancing and mask wearing.
Some of the activities in the last year for volunteers have included making masks and lap blankets; helping with the Food for Seniors and the Meals on Wheels programs; and assembling marketing materials for the Adult Learning Lab at the U of I.
"They are anxious to spend their time in the service of others," Anderson said, "and we're still available to make that happen."
While the Stevick Center can not be open currently, staff are hoping when the recent changes to mitigations and the growing numbers of seniors who have been vaccinated that they might open their doors again soon.
Announcements of programs are listed in the weekly For the Retirees section of the Sunday News-Gazette, or people can call 217-359-6500.
Virtual challenge offers unique opportunity
Do you miss your museum fix? Is that your problem?
A trivia contest ongoing until Feb. 7 might help cure some of those blues.
The contest is designed to highlight all the digital content available to the public through area museums and is hosted by The Spurlock Museum of World Cultures and the Champaign County Museums Network.
The Virtual Visit Challenge is a family-friendly event designed to challenge people to virtually experience local museums, science centers, nature centers and archives by answering trivia questions based on material available on museum websites and social media.
"It's like a scavenger hunt that uses websites, Facebook, youtube and other social media," said Pat Cain, outreach coordinator for Museum of the Grand Prairie in Mahomet and CCMN president. "There will be two questions about each CCMN member institution, which can be answered with information shared online."
Kacya Reno, coordinator for marketing and communication for Spurlock, said the contest will be an eye-opener for many people.
"I think a lot of people don't realize how much we're doing in the virtual realm right now," Reno said.
Kim Sheahan Sanford, assistant director of education at the Spurlock Museum and organizer of the contest, said the contest is designed to be easy and fun to do.
"Individuals, families or even school classrooms can participate," Sheahan said.
Trivia questions will be released on partner social media channels and websites. Questions are also viewable on the CCMN website. Participating individuals and groups will enter their answers on the CCMN website. 
Correct answers and high-scoring groups/individuals will be announced online no later than Feb. 12, with prize drawings to follow. Prizes include posters, toys, sweets, art supplies, books and more from each of the participating venues.
CCMN member institutions participating in the contest are the Spurlock Museum of World Cultures, Anita Purves Nature Center, Champaign County Historical Archives, Champaign County History Museum, Homer Lake Interpretive Center, University of Illinois Distributed Museum, Krannert Art Museum, Museum of the Grand Prairie, University of Illinois Pollinatarium, Sousa Archives and Center for American Music, and Staerkel Planetarium at Parkland College.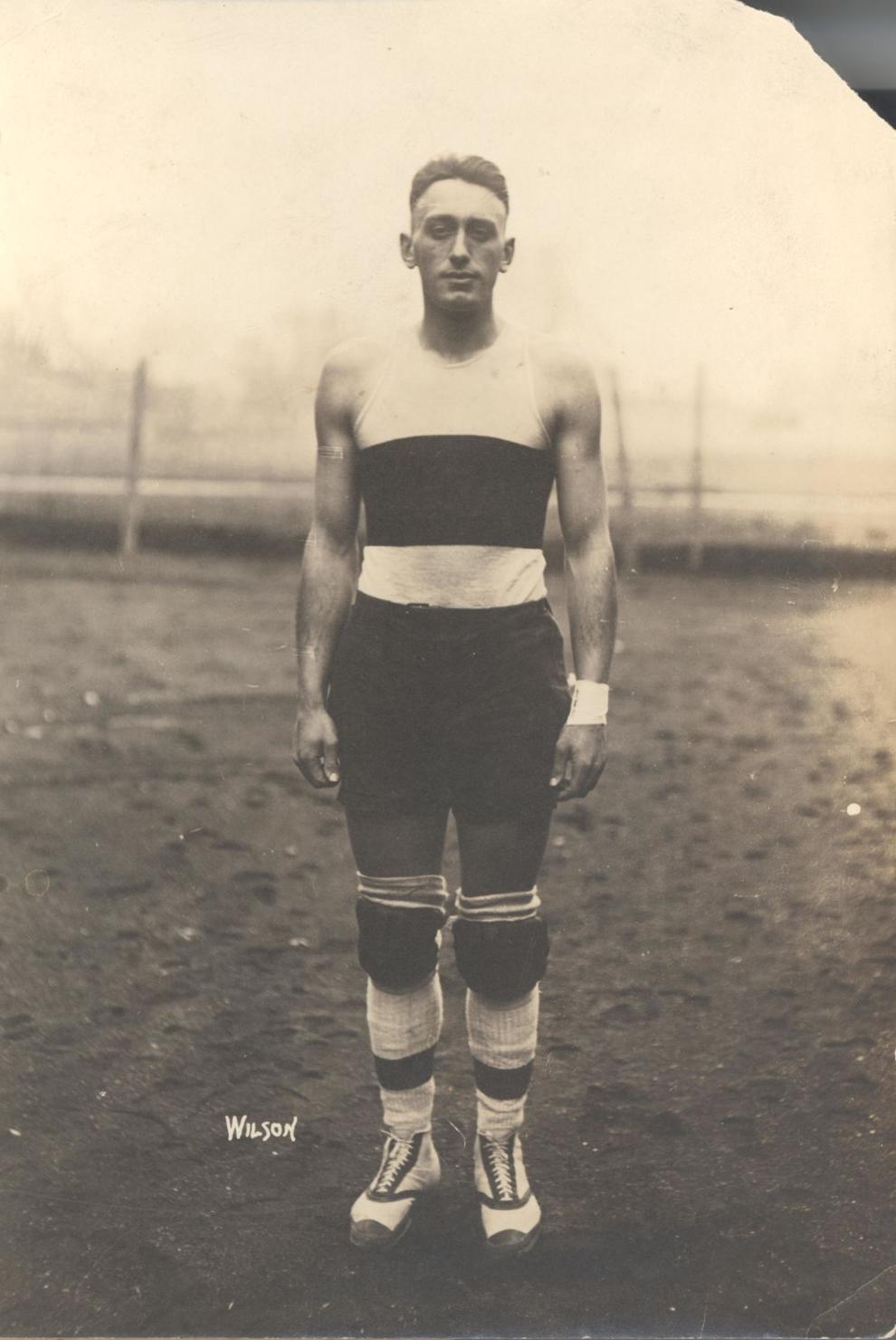 Auction of Olympic collection pays off
An auction of the Olympic collection of the pride of Atwood, Tug Wilson, raised $32,901 Thursday.
Boston-based RR Auction conducted the auction.
Wilson was an American track and field athlete who competed in the 1920 Olympics and went on to serve as president of the United States Olympic Committee from 1953 to 1965 as well as other notable positions.
Wilson, who died in 1979 in Wilmette, is buried in Lexington.
RR representative Mike Graff said 12 Wilson items were auctioned off, with his 1956 Melbourne 1956 Summer Olympics National Olympic badge fetching the most, $16,637.
Other items ranged from Wilson's Rome 1960 Summer Olympics Gold Olympiade Medal, which raised $6,875, to his Olympic and Pan American Games patch collection ($250).
A multi-sport athlete at the University of Illinois, Wilson played football and basketball for the Fighting Illini.
The 24-year-old Wilson, whose real first name was "Kenneth," traveled to Antwerp, Belgium, for the 1920 Summer Olympics, where he placed 10th in the discus.
But 35 years later, he returned to the Olympic arena at the Cortina 1956 Winter Olympics as the president of the U.S. Olympic Committee. His 12-year tenure in that role was the second-longest among all Olympic presidents.
He also served as the athletic director of Northwestern University and the commissioner of the Big Ten Conference.
A historical plaque with Wilson's exploits was dedicated in Atwood last year.
Academic achievers: Rantoul
First semester honor roll has been released at Rantoul Township High School.
HIGH HONOR ROLL (5.0 and higher grade point average)
Ninth grade — Noah Adams, Michael Barcroft, Ly'Samone Brown, Tukeria Brown, Jamela Bruce, Makenna Cravens, Olivia Debusky, Elizabeth Deer, Lucas Doolen, Ashlee Freeman, Ross Gawenda, Katelynn Graham, Ava Haltiwanger, Elizabeth Handal, La Shaya Harper, Isabela Hernandez, Benjamin Hudspath.
Also, Emma Keenan, Evan Larson, Miranda Loosa, Amy Luna-Carapia, Rebekah Maxwell, Marlana McNeely, Cadence Meeker, Skyler Mills, Brittany Navarrete-Ramirez, Hannah Palomar, Anna Perez, Pascaline Phongo.
Also, Akyra Pritchett, Zoey Reichenbach, Leilani Sayovongsa, Cassandra Simons, Natalie Smith, Noella Spencer, Lily Stalter, Nathaniel Swisher, Adrian Tolan and Angelle Wrobel.
Tenth grade — Jacksen Adkins, Emma Benz, Kaitlyn Bradbury, Kaitlyn Cahalan, Karina Diego-Sebastian, Colby Duitsman, Caya Flesner, Hayden Grose, Nicholas Hanson, Janyra Harper, Miguel Hernandez, Tashay Jackson Roper, Anuyasha Johnson, Richard Jones, Savanna Jones, Brady Kaiser, Marin Leng, Cassandra Leranth.
Also, LaNiya Lewis, Raul Lopez, Callie Luna, Alayna Moore, Andrea Morales Arias, Sheila Navarrete, Caleb Neitzel, Aiden Pacunas, Samantha Payne, Anna Quinlan, Jacob Shingleton
Also, Armon Spinks, Triston Stone, Justice Tolan, Nicole Vermillion, Brittani Villegas-Walle, Natilee Walston, Rebekah Weisnmann, Amarah White, Eliaja Wilhelm, Paige Willard and Danica Wrobel.
Eleventh grade — Kennedy Carico, Maci Carpenter, Christian Crandall, Tristan Cravens, Delaney Fullenkamp, Kevin Glover, David Gutierrez, Juan Hernandez, Maddison Houmes, Destiny Igartua, Brayden Karlson, Nathan Kelley, Alysha Kesler.
Also, Miradi Ndumbi, Joshua Newman, Edith Piox-Martin, Emma Quinlan, Nylashae Shedd-Johnson, Natalia Spencer, Breven Stark, Tayon Swift, Grace Swiney, Mackenzie Tome, Danielle Wheeler and Harper Yates.
Twelfth grade — Nicholas Adams, Elaina Baugher, Kianna Berlatsky-Gorrell, Damen Brown, Amairany Bueno Benitez, Ashley Bunting, Cory Caldwell, Rhyane Bushman, Joseph Debusky, Mikayla Evans, Emily Gawenda.
Also, Jerzie Grob, Johnan Guerrero Montes, Abigail Harms, Jake Lykins, Aaliyah Mackins, Madison McGinn, Jomaris Medina, Alexis Melvin, Aneesa Nelsen, Allan Newman, Madison Palmer, Amber Pilkington.
Also, DaJuan Rhea, Alexander Riley, Madelyn Roseman, Martin Francisco, Isabella Shields, Chloe Smith and Lily Swanson.
HONOR ROLL (4.5 to 4.99 GPA)
Ninth grade — Greggory Allison, Eli Baker, Osmar Baltazar, Kerizma Brandon, Codey Brundage, Jarnisha Carter, Jordan Castile, Siera Chipman, Chloe Clements, Brayden Cofel, Jose Diego Nicolas, Nathaniel DuVall, Amaree Emery, Darian Figueroa Irizarry.
Also, Derek Flores, Piper Hall, Justin Hasler, Aja Hunter, Braxton Johnson, Harmony Jones, Niko Jones, Kinneya Lewis, Gabriel Martinez, Elisabeth McCusker.
Also, Trinity Ortiz-Wieczorek, Erielys Quinones-Marrero, Isabella Roberts, Racelynne Roe, Kyndal Rogers, Courtney Sanford, Andrew Stowe, Sophia Swofford, Karell Vannarath-King and Daveigh Venson.
Tenth grade — Heidi Benavides, Hannah Benton, Zeus Brundage, Emily Curtis, Faith Davis, Brianna Dixon, Aniyah Emery, Amethyst Erickson, Terrio Hampton, Brandon Harris, Yanni Hernandez-Garcia.
Also, Denzel Jackson Roper, Isabelle Johnson, Jackson Kinsel, Brisia Martinez, Allison Melvin, Chloe Melvin, Alainna Miller, Jarely Molina, Clayton Nelsen, Kaleb Parks, Victoria Porter.
Also, Arriyanna Rhea, Analy Rios, Cecil Roberts III, Adrian Salinas-Reyes, Bruce Sjoken, Tryvell Smalls, Zashenka Valencia, Valentina Vega-Duarte and Bella Winningham.
Eleventh grade — Rashon Allen, Daniel Barcroft, Wyatt Butterick, Silver Cameron, Hailey Campbell, Myla Caudle, Brianna Crawford, Anna Crites, Travis Dunn, Tamia Gunn, Destiny Johnson, Gary Lawson.
Also, Austin Lee, Marcus Lee, Yahir Luna-Chaparro, Lois Mahama, Benjamin Mensah, Anthony Paige, Lakiya Perry, Sophie Ramme, Joselyn Rodriguez, Titina Rodrieguez, Makayla Sageman, Cody Schluter.
Also, Kassidy Scott, Maria Sebastian Francisco, Nicolas Sebastian Francisco, Samantha Shanks, Kaylin Sosa-Perez, Makayla Stanley, Andrew Tatar, Keddrick Terhune, Tyler Wake and Makenzy Walton.
Twelfth grade — Madyson Belcher, Tressa Bufford, Jamari Buford, Jerrance Crites, Devin Dickerson, Tyler Duke, Brandon Dulske, Waltiasia Duncan, Jaxson Freeman, Rebecca Garcia, Emy Jimenez, Kolton Jones, Autumn Kennedy.
Also, Brandon Lord, Ricardo Martinez, Veronique Muandinga, Mayra Nicolas-Mateo, Tainachi Ortiz-Ramirez, Anthony Owen, Lovenya Perry, Alana Richardson, Kaira Rodgers, Abigail Thomas, Johny Vazquez Santiago and Colin Wilkerson.
HONORABLE MENTION (4.0-4.499 GPA)
Ninth grade — Addison Beal, Aidan Boyd, Makenna Brooks, Kimberly Castillo, Mason Conner, Chase Drewes, Madilyn Duke, Emily Gibbs, Atae'Ya Heldebrandt, Spencer Hesterberg, Kira Holmberg, Juan Moya Luquis, Jean Mutarambirwa.
Also, Mahetzy Perez-Becerril, Aurora Petmecky, Sasha Pittman, Allen Rexroad, Rennick Riddle, Samaia Rudd, Myah Smith, Michael Soltis, Raeonna Steward, Christian Thompson and Lakiya Williams.
Tenth grade — Mia Collins, Caden Evans, Carter Evans, Decian Fuller, Kamryn Glover, Connor Goularte, Dylan Kisantear, Natre'ail Mihalick, Taylor Mennenga, Yoanna Molina Romero, Cheyanna Parker, Jeremias Perez Luquis, Sara Perez Luquis, Alan Piox-Martin, Sidrah Pittman, Mikayla Potts, Gerardo Rios, Jera Sotero, Idalmis Torres, Kelsey Vincent and Christopher Winston.
Eleventh grade — Avontay Anderson, Mackenzie Calhoun, Christian Cameron, Gavin Fitts, Ashlyn Hammond, Tashaya Harris, Janya Holmes, Jaqualine Lopez, Yaire Martinez, Gerardo Mateo Hernandez, Sam Miller, Tatayna Miller, Jailynn Murray, Leyshka Ruiz, Colyn Sarver, Jhonasha Shade, Andra Thompson, Jose Vega-Duarte, Laura Wankel, Kshon Williams and Ashya Wilson.
Twelfth grade — Evan Bock, Davon Brown, Ezequiel Colon Gonzalez, Samuel Dinnin, Jamiah Foster, Cristian Garcia Vazquez, Jamiya James, Roderick Martin, Jaz-Meon McClyde, Cristy Melendez Erazo, Keith Nardi.
Also, Perla Perez-Becerril, Kerlyam Ramos Medina, Korbyn Roaque, Alejandra Soto-Duarte, Jessica Sparks, Cameron Stewart, Madison Stow, Judith Vazquez, Jezlyn Warner, Leah Warner, Jakira Wilson and Symone Winston.
Dave Hinton is editor of The News-Gazette's Our County section. He can be reached at dhinton@news-gazette.com or 217-249-2404.