Tom's #Mailbag, Dec. 6, 2019
Submit your questions by clicking here
Plenty of highway and transportation-related questions this week for our friend Kensil Garnett at the Illinois Department of Transportation, plus queries about drug testing of city employees, sledding at Cannonball Hill in Urbana, a new fieldhouse at the UI, Urbana school board President John Dimit's future, Parkland's parking lots and the continuing Candlestick Lane tradition.
Drug testing city employees
"Will the city governments in Champaign or Urbana still drug test for marijuana use once its legalized?"
Representatives of both cities say their policies will not change when recreational marijuana use becomes legal in Illinois on Jan. 1. But both say changes could be made later.
"After our initial review, the city believes that its current policies and practices related to drug and/or alcohol use, including cannabis, substantially comply with state and federal laws, rules, and regulations," said Urbana City Administrator Carol Mitten. "That said, the city will continue to evaluate any additional developments in those laws to ensure ongoing compliance. As always, the city expects our employees to report to work unimpaired by any substance and prepared to provide our citizens the highest level of public service."
Amanda Farthing, human resources director for the city of Champaign, said the city uses drug testing for employment purposes in three contexts: pre-employment (testing applicants who have been hired for city jobs), suspected on-duty impairment (testing an employee who a supervisor has a reasonable suspicion is under the influence while at work), and random testing for safety-sensitive transportation positions as regulated by the Department of Transportation (city employees who carry a Commercial Drivers License as a requirement for their job).
"The city's impairment testing and random testing policies will be unaffected by the new law, as it will remain illegal to be under the influence of cannabis at work, and the federal DOT regulations still require random drug testing of employees performing safety-sensitive functions," said Farthing. "For some positions, the city's pre-employment drug testing will be unchanged; however, there may be some positions for which off-duty use of cannabis would have no relevance to an employee's job performance and the city is currently reviewing those positions to determine whether a change in drug testing policies is needed."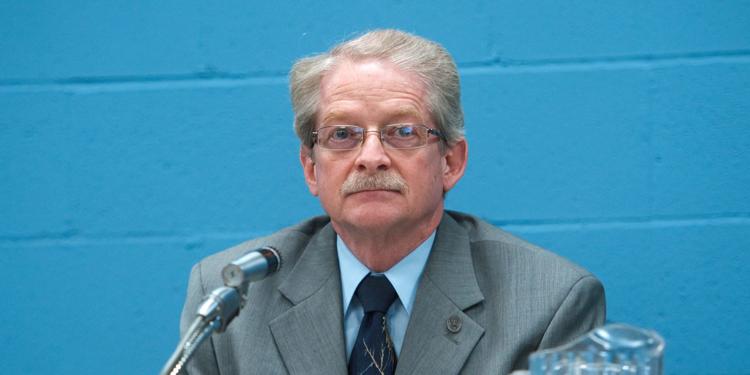 Urbana school district issues
"Given all the personnel changes in the Urbana (school district), and his own health scare, does (school board President) John Dimit plan to step away from the school board soon? Also, would love an update on the district's purchasing of land across from the high school for use down the road. Do they still do that and how many properties are they up to?"
Dimit said he has not made a decision about continuing on the board "because despite recent issues, I still find it quite rewarding to be able to give back to a community that means so much to me. However, my term as president is up in a few months and when I agreed to serve as president this year, I indicated that this would be my last year as president.
"My school board term is up in 2021 and I will make a decision closer to that election cycle. Personal and family concerns will be a significant factor. If I was strictly adhering to doctor's orders, I would have resigned mid-term months ago, but the times called for continuity on the board during the personnel changes noted in the reader's question. In the name of fairness, my hope is that my successor will be chosen via election as opposed to a mid-term appointment."
As for the district's voluntary purchases of property north of Urbana High School, Dimit said this: "From our original goals set over 20 years ago, we are 99 percent done, owning nearly the entire Iowa/Race/Washington block except for the northwest quadrant. We have a secondary campus strategic plan in process which we hopefully will be able to bring forward in mid-winter. The plan is aimed at resolving significant safety issues and maximizing the use of space in our constrained setting.
"There is no doubt that our 20-year land acquisition effort will allow us to stay in place, continue to be outstanding neighbors, strengthen our urban core, preserve our historic architecture and most importantly meet the needs of 21st century education. Paul Poulosky and I, acting as the board's property committee, plus many staff members and several community input opportunities, have worked with the consultant over the past 18 months. I believe this plan will generate a great deal of excitement and give us a wonderful vision for the future of our (Urbana High School/Urbana Middle School) campus."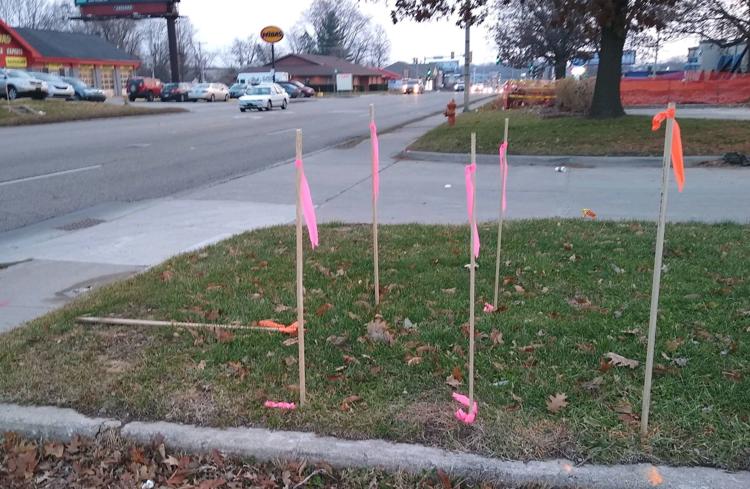 University Avenue project
"There are several surveying makers all along University Avenue in Urbana from Wright Street to the far east side of the city. Do we know what they are working on?"
"Right-of-way is being staked for the University Avenue project that was on the September 20, 2019 letting. The project limits are from Wright Street to Cunningham Avenue (about 1.53 miles) in Urbana," said Kensil Garnett, the Region 3 engineer for the Illinois Department of Transportation. "Open Road Paving is the contractor and work should begin in the spring of 2020."
Speed limit signs on the Interstate
"Who is responsible for the speed limit signs on the Interstate during construction? It seems as if the signs around the I-57 North University Avenue exit get blown over and exposed during high winds.
"Currently a sign is showing 55 mph and a digital speed display but there is no work ahead ... creates a lot of confusion."
Garnett again: "The prime contractor is responsible for all traffic control devices placed during construction activities. The Illinois Department of Transportation inspects the condition and location of each device a minimum of once a week and notifies the contractor if a problem exists.
"Traffic control devices required to be used during a lane closure on I-57 are temporary and the contractor has experienced difficulty securing the equipment during weather events. The temporary work zone speed limit signs are required to be covered if not in use. The signs were inspected after receipt of this question and found to be covered, however the speed display trailer was displaying a contradictory message and this will be rectified by the prime contractor as soon as possible."
Missing road signs
"Is it my imagination, or are the street signs (intersection warning and name signs) missing from the intersection of High Cross Road (Illinois 130) and Old Church/Deers Road? Or were they never there? That intersection is very hard to spot in the dark."
Garnett for the hat trick: "To mitigate this issue at high volume or hard-to-see intersections, (IDOT) may install intersection warning signs. Those signs have been in place for many years at Deers Road. However, a field review prompted by this inquiry revealed that the intersection warning sign for southbound traffic had been knocked down. "We have issued a work order to have that sign reinstalled. We also noticed that the green street/road name signs were missing at the intersection but those are the maintenance responsibility of the township."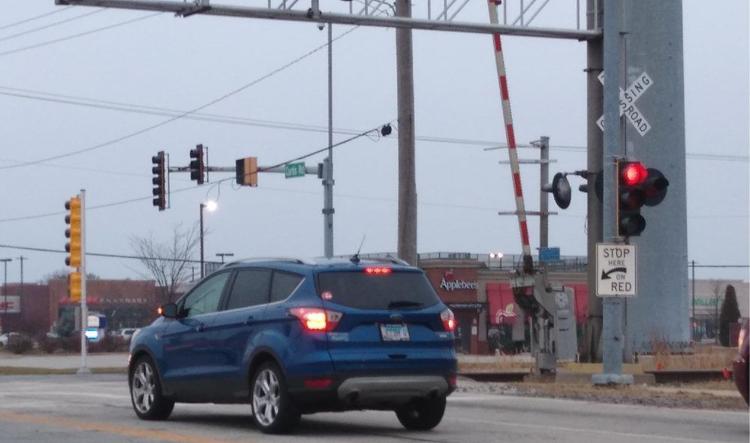 US 45/Curtis Road intersection
"Several times, I've had to bypass standing traffic on westbound Curtis Road at U.S. 45 because I knew that someone had stopped short of the sensor(s) under the pavement. Other traffic simply sits there while the signal cycles through, never giving a green light to westbound traffic. I typically pass everyone and get the lead driver's attention to advise that he/she must stop on the sensor(s,) otherwise, the light will never change. Other drivers seem content to sit in line all day, assuming there's something wrong with the signal. (A separate issue, indeed.) Something needs to be done at that intersection. I know plans are being discussed for major renovation, but perhaps a simple sign may suffice for now; alerting drivers that they must pull up to the white line or they will never continue and likely be found hours later, sitting there, dehydrated, hungry and waiting for the light to turn green."
Garnett for the grand slam: "We understand the scenario you have described and agree that it can be frustrating. As you suspected, the signals here are on recall to U.S. 45 and will therefore not service the Curtis Road approaches unless a vehicle stops on the detector loops that are placed in the pavement just in advance of the stop bar. To aid motorists, the standard 'HELP' sign has also been installed here. The sign that reads 'STOP HERE ON RED' is intended to guide motorists to the proper stopping point. Perhaps motorists are simply shying away from the tracks here."
Gas tax revenue
"The state of Illinois raised the gas tax 19 cents last summer. When will the state, county and cities see the actual increase in funding so that we can start repairing our highways and streets?"
The revenue surge has already started. In October 2019, according to an Illinois Department of Transportation report, Champaign County's motor fuel tax allotment was $290,407, up from $211,496 a year earlier.
In Champaign the October to October increase was $194,190 to $268,639.
In Danville it was $79,125 to $109,460.
In Urbana it was $$98,825 to $136,714.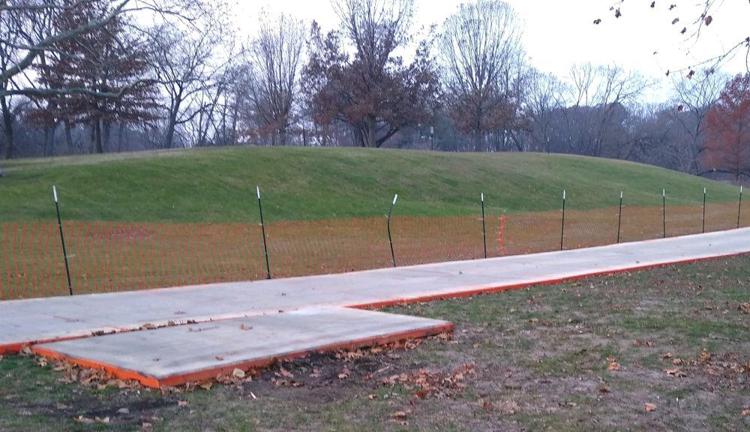 Cannonball Hill 'sidewalk'
"With winter upon us, I'm wondering why on earth did someone at the Urbana Park District decide to put a 'sidewalk' at the base of Cannonball Hill in Crystal Lake Park? It would seem to be unusable for anyone wishing to enjoy the sledding when it does snow. It's the only one located on the north side of town and is heavily used during winter events by local families."
The "wood decking" in place now is not a sidewalk, said Urbana Park District Executive Director Tim Bartlett, and is temporary to allow safe access for heavy equipment.
And he has a suggestion for an alternative site for sledding enthusiasts.
"The temporary wood decking in place — parallel to the Saline Branch — at this time is to allow access to the creek from Broadway Avenue for the habitat restoration project underway," he said. "The structure serves as a 'haul road' for heavy equipment to move back and forth to the street while minimizing soil compaction, protecting remaining trees and creating a safe work zone. The decking structure will be removed as soon as possible after the project is completed.
"We apologize for any service disruptions in advance as the lake, creek, roads, trails and park areas will be undergoing renovations over the next few years. We are trying to minimize disruptions by staging and scheduling all of the work as carefully as we can — giving a lot of consideration to the multiple events and activities that occur year round in our largest and oldest park.
"Signage and orange construction fencing will be in place to alert visitors to the surrounding conditions for their safety. As an alternative, Prairie Park also has a large sled hill that will provide easy access for sledding. Once all of our phased construction is completed, Crystal Lake Park will be a great destination for all."
UI noose case
"Where does the case against Andrew Smith (accused of hanging a noose in a UI residence hall) stand? I seem to recall reading that legal proceedings would begin in late October, but I haven't heard anything since. It seems odd that a case which attracted international attention has dropped off the map so completely."
On Oct. 22, Smith appeared before Judge Heidi Ladd with his attorney. His case was continued to the Dec. 31 pretrial call at 11 a.m. Smith, 19, of Normal was charged with a hate crime, a Class 3 felony, and disorderly conduct, a misdemeanor, following his arrest Sept. 2. He allegedly left a rope tied into a noose hanging in an elevator at Allen Hall.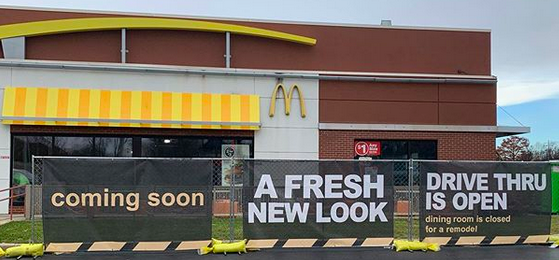 McDonald's remodel
"Didn't they just remodel the McDonald's on Neil? Why do it again?"
City permits show the current remodel of the unit at 1605 S. Neil St., Champaign, includes electrical, plumbing and HVAC work worth more than $300,000. The last major work there was in 2011, according to city records.
Parkland parking
"Exactly how many parking spaces do they have at Parkland College? Has there been thought of using that space for better purposes?"
The following information comes from Jim Bustard, the director of physical pant at Parkland:
— There are 3,407 parking spaces on the main campus and 285 parking spaces at Parkland on Mattis.
— During the times of highest enrollment, the parking lots on the main campus were almost completely full during the day. In fact, Parkland administration was considering a parking expansion, even taking steps to evaluate the options and associated costs.
— These days, while there are generally more available spaces, there are still times during the week when scheduled class loads are high, and several of the parking lots are at or near capacity. We also use the lots for athletics and community events throughout the year.
— The cost to repurpose existing parking lots is high, depending on the intended use of the space. The College does not have any current plans to expand facilities or programs that would require the use of any of the existing parking lots, nor are there any current funding sources available for this purpose.
(Bustard referred to times of higher enrollment; it is worth noting that Parkland's enrollments in fiscal years 2019 and 2018 was 11,367 and 12,235, respectively. In fiscal years 2009 and 2008 it was 16,767 and 16,814, respectively.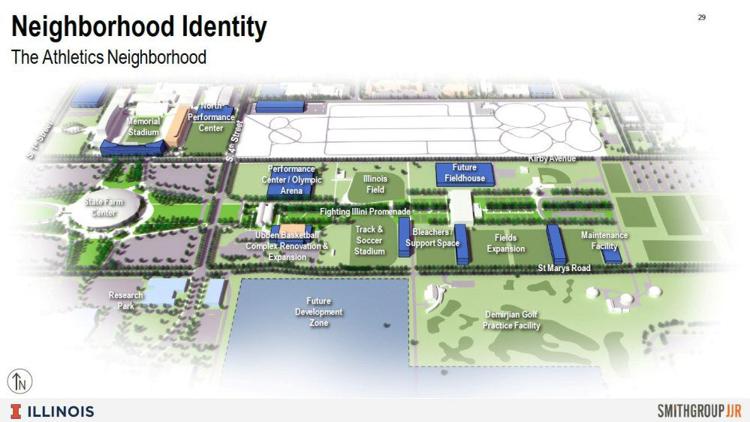 New UI fieldhouse
"In the university master plan updated in 2018 there is a plan for a new fieldhouse. Is that the plan still? If so, any timeline?"
The master plan you refer to shows a "future fieldhouse" along Kirby Avenue, just east of the Illinois baseball field and west of the softball stadium.
"DIA is not moving ahead at this time with the fieldhouse that is indicated on the master plan," said UI-Urbana spokeswoman Robin Kaler.
As an aside the master plan also shows a "Performance Center/Olympic Arena" at the southeast corner of Fourth and Florida and a "Future Ice Arena" at the southeast corner of First Street and Peabody Drive.
Mailbag correspondence
Veteran TV newsman Paul Davis (formerly of WCIA and WGN) let us know that two of his long-ago colleagues at WCIA — newsmen who might be familiar to some readers — died recently.
Don McMullen, who was news director at the station in the early 1960s, died in Sugar Land, Texas in October.
Jack Margraves, who was a news reporter and an anchorman at the WCIA for 11 years in the 1960s and '70s, died in Charlotte, N.C., in November. A native of Herrin, IL, he was critically injured and permanently disabled in 1981 while working on a story for a Charlotte TV station.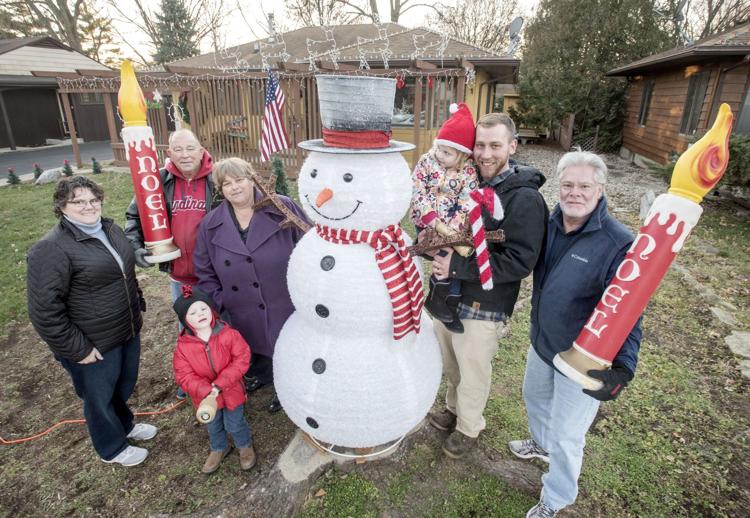 Candlestick Lane
"Will Candlestick Lane in Urbana open this weekend?"
Not this weekend
It will open with a ceremony at 6 p.m. Saturday, Dec. 14, according to the Urbana Public Works Department.
This will be the 56th — or maybe the 59th year — for the holiday tradition in the east Urbana neighborhood around Grant Place and Eastern and Fairlawn drives.