Tom's #Mailbag, April 16, 2021
Think you can stump Tom? Submit your question by clicking here
It appears there won't be a parade in Champaign-Urbana this Independence Day but there will be a stripped-down fireworks show. Other morsels in the Mailbag: the COVID moratorium on traffic enforcement has ended, pear trees that are pretty but invasive, Crane Alley reopening plans, a baseball game between Champaign and Paxton 154 years ago, partisanship in school board elections and no news on H Mart.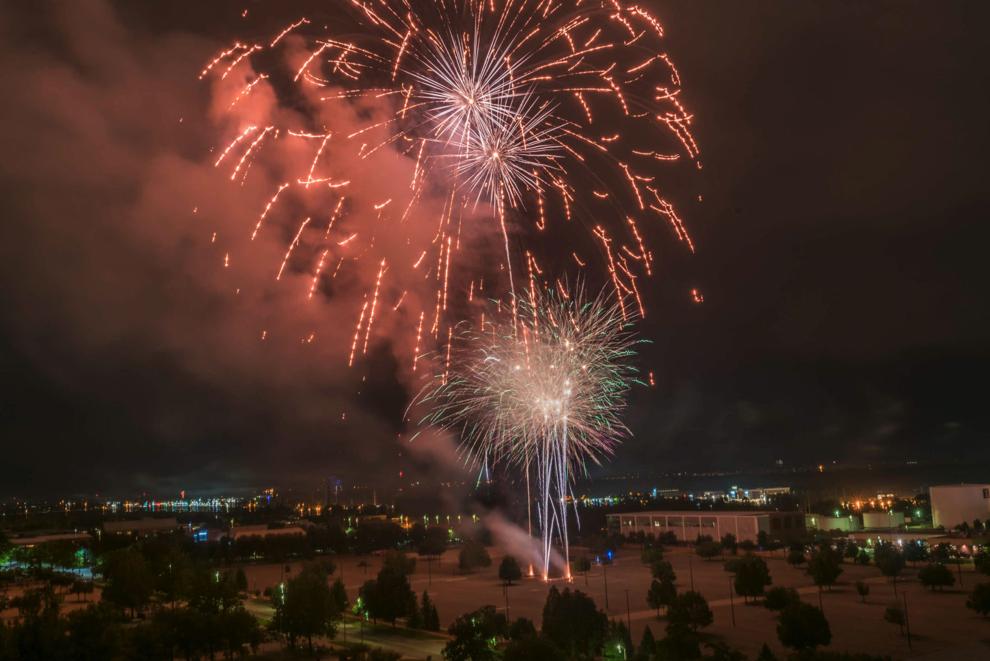 2021 Freedom Celebration
"Are there any plans for the Champaign County Freedom Celebration parade and fireworks this year?"
There won't be a parade or any races again this year, said Pamela Lukemire, general chair of the Champaign County Freedom Celebration Committee, the volunteer group that has put on Champaign-Urbana's Independence Day festivities since 1949.
But there will be fireworks. COVID-19 wiped out all of the fun last year but the aerial bursts will be back on Sunday, July 4.
"As of right now you can sit in your car and watch the fireworks in two of the parking lots (around the southwest side of the University of Illinois campus)," she said. "There will be no vendors, no pottyhouses, no live music.
"For now it's come, see, go," Lukemire said. "It's going to be like it was long ago when we used to drive into the country, park our cars and watch the fireworks."
The regulations came from the University of Illinois, which provides the site for the fireworks show.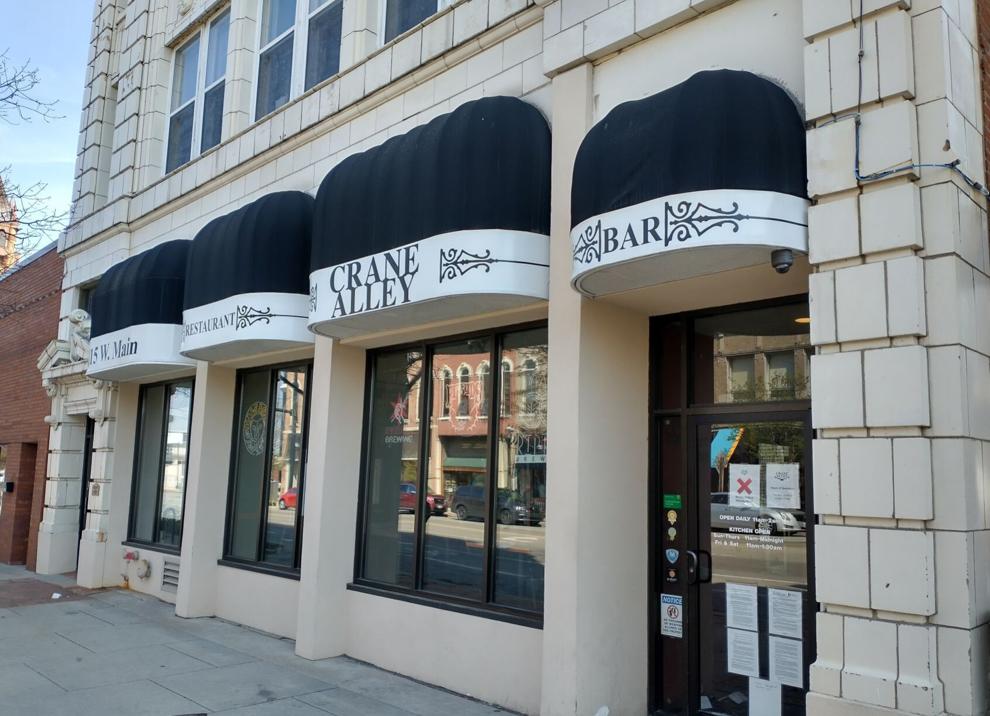 Crane Alley reopening?
"I used to eat (and drink) at Crane Alley in downtown Urbana all the time. Last fall they closed down when it got cold. On their last day the waitress said it was not permanent. But she didn't sound very promising. Are they in fact going to reopen?"
and
"When will Crane Alley in downtown Urbana reopen?"
It's coming.
"We don't have a set date just yet. There is a lot to do first," said Crane Alley owner Scott Glassman. "We are in the process of getting things ready to reopen. We have had to do some maintenance and are trying to finish that up."
But the "X factor," he said, is filling positions for servers and kitchen crew.
Traffic enforcement has resumed
"Am I the only one who has noticed an increase in the amount of speeding on the streets of C-U since the pandemic started? Driving way over the posted speed limit on Mattis Avenue and West Kirby seems to be on the increase. Is there less police enforcement of speeding in the past year?"
Urbana Police Chief Bryant Seraphin said that his department's "COVID moratorium" on traffic stops was lifted on April 1. Police in Urbana and elsewhere in the United States were trying to minimize contact because of the virus.
Police in Urbana are "still focusing traffic stop efforts only in stop zones that have been selected due to traffic crash data," an issue that was discussed by the city council last fall, Seraphin said. But he added that police can make traffic stops outside of those zones as well.
In Champaign, said police spokesman Tom Yelich, "we are aware of the issue in the community. During the onset of the pandemic, it was necessary to make certain modifications to policing services in the interest of public health and while we were all trying to understand how to safely adjust to COVID-19. This did impact and reduce traffic enforcement throughout 2020 and the early stages of 2021; however, those limitations in service have since been lifted and enforcement action has resumed."
Bradley Avenue overpass
"Has there ever been talk of an overpass over the tracks on Bradley Avenue? I can't tell you the time I've wasted waiting for trains to pass. If Savoy can do it, can't Champaign?"
"The concept of an overpass for the tracks on Bradley near Market has been investigated and discussed a few times over the past 20-plus years," said Champaign Public Works spokesman Kris Koester. "While an overpass would certainly address the delays experienced by drivers when trains are blocking the tracks, other factors were also considered. In the end, the idea of an overpass was dismissed due to the impacts on the surrounding residential neighborhoods (an overpass structure would start ascending/descending at Market Street and at Fourth Street)."
Options to avoid waiting, Koester suggests, include the Washington Street viaduct off of Market Street, Interstate 74 or Olympian Drive.
Green Street streetlights
"I've noticed that along Green Street in Campustown (between 5th and Wright Streets) several street lights have been out for a long time. Does the city of Champaign or University of Illinois plan on fixing them soon?"
"There were nine lights reported out on Thursday night by a city employee while on duty," said Koester. "Staff began repairing them Friday morning and have continued repairs, with plans to finalize by the end of this week."
Conditions along I-57
"I have noticed that I-57 through Champaign looks like a war zone. Even with all the construction there is no reason for downed interstate signs and damaged guardrails not be replaced in a timely manner. Some signs have been down over a year I believe. Why is this?"
"Unfortunately, we have an issue with our statewide interstate sign contractor getting many of our signs replaced — including the one south of the I-57/74 interchange," said Kensil Garnett, Region 3 engineer for the Illinois Department of Transportation. "It has been requested for replacement a number of times and still has not been done. District 5 will continue to push to get it replaced as soon as possible."
I-57/74 project
"Is there a schedule anywhere that tells us when the I-57/74 might be finished or completed? Consider me skeptical."
"The Bloomington Road structure over I-57 and the Mattis Avenue structures over I-57 and I-74 have a completion date of July 31, 2021 plus 10 working days," said Garnett. "The first of the large I-57/I-74 interstate projects is on an upcoming letting and work should begin this summer if the bid received is considered awardable. The programmed cost for the upcoming project is $121 million."
As of now there is no schedule posted online.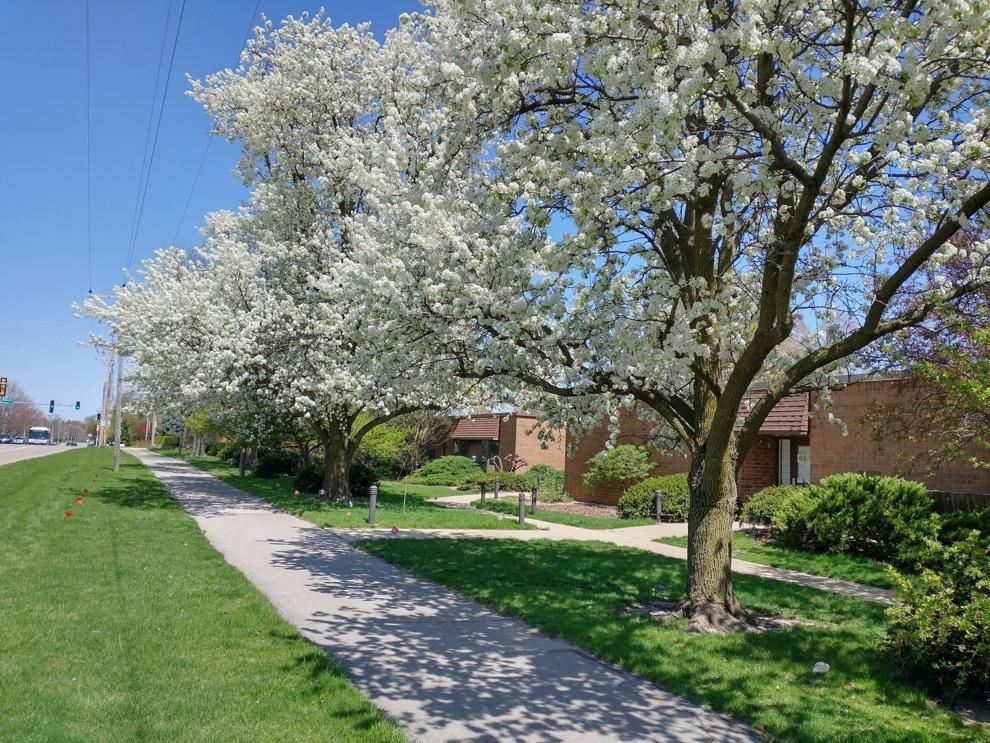 Flowering trees
"New to the area. What are all of the beautiful white flowered trees?"
Jay Hayek, an extension forestry specialist at the University of Illinois, said you're likely thinking of a pear or a crabapple tree.
"Crabapple flower colors are pretty variable (light red, light/dark pink, pinkish-white, white)" or a "callery pear 'Bradford' one of Illinois' nasty invasive species — it has white flowers and is in bloom. Eastern redbud is also in bloom, but its flower color consist of the entire palette spectrum of pink."
Hayek is no fan of callery pear. "Callery pear is regrettably a very popular ornamental and planted all over the place here in Champaign, Urbana, and Savoy. Regrettable because it is extremely invasive," he said.
The callery pear is native to China and Taiwan.
Park district elections
"Urbana Park District Commissioner positions were contested in the April 6 elections, but I have not found the results reported anywhere. What happened? Who was elected?"
You'll know for sure at the close of business next Tuesday when county clerks all over Illinois certify the consolidated election results.
Unofficial results are available at:
https://www.champaigncountyclerk.com/elections/i-want-run-office/historical-election-data
As of now here are the Urbana Park District election results:
Meredith Blumthal 1,278
Cedric Stratton 1,246
Linda Turnbull 1,198
Cindi Adkins 368
Consolidated elections turnout
"I tend to agree with the Sunday, April 11, Editorial calling for all Champaign County local elections to be shifted to the higher-turnout federal election dates. How did these elections come to be scheduled during this off-cycle, and who has the authority to change them: the local governments themselves, the state or a combination?"
In Illinois elections law is determined by the Legislature and carried out by the State Board of Elections. But it wasn't always that way. Fifty years ago or so, for example, school districts ran school board elections and tax increase referenda. That's why, some older readers may recall, tax increase votes were held on random Saturdays with polling places in schools. Prompted by complaints about election fatigue and costs (sound familiar?), the Legislature voted in the late 1970s to follow the lead of other states and to consolidate elections in Illinois.
It took a few years to enact the legislation but in April 1981 Illinois held its first consolidated election. There were three election dates that year: a spring primary and a separate spring general election for most municipal offices and a third, non-partisan school election in November for school boards, park boards and other special districts.
There were, of course, more complaints about election fatigue, low voter turnouts and high costs so the third odd-year election date was eliminated. That's how we have the current system — with the complaints about election fatigue, low voter turnouts and high costs.
Nationally, most municipal elections are held, like Illinois, in the spring of odd-numbered years. And in many states and communities there have been complaints recently about the costs and the low turnout for these local elections. In Missouri, for example, there is a bill to move local elections to the November general election.
But opponents argue convincingly that shifting the local races to the same times as national and state races means they'd be swamped by the money, media and partisanship of presidential and gubernatorial races.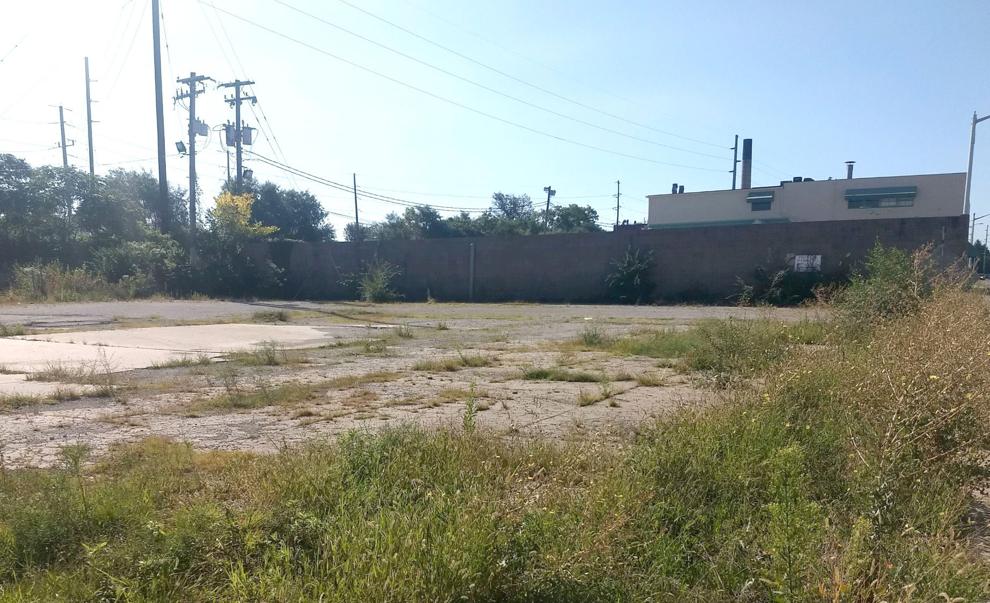 H Mart
"Do you have an update on the Champaign H Mart that was scheduled to be built on South Neil Street?"
We emailed H Mart, the largest Asian supermarket chain in the United States and have not heard back about their planned store at 702 S. Neil St. H Mart first acknowledged it was coming to the Champaign market in December 2018.
T.J. Blakeman, a senior planer for economic development for the city of Champaign, said that there "are no new updates on the status of the H Mart grocery store. We remain optimistic that they will decide to move forward on this project."
Work at Dunkin building
"What's an update you can provide on why there's fencing by the unused portion of the building by Dunkin on Springfield Avenue, Champaign?"
The city of Champaign has received no building permit applications for the site, said Randy Smith, the city's building safety supervisor.
Partisanship in school board elections
"According to the Illinois Association of School Boards (IASB), school board elections are nonpartisan. Per the IASB's Code of Conduct, 'I will represent all school district constituents honestly and equally and refuse to surrender my responsibilities to special interest or partisan political groups.' Why are local candidates accepting endorsements and support from political interests such as the Mahomet Republican Party and the Champaign County Young Democrats? Is this allowable?"
"I appreciate the shout-out from the Young Dems and did not seek their endorsement or take any monetary support from them," said Urbana board candidate Lara Orr, who was endorsed by the Young Democrats. "The Young Dems are a PAC and not an official party, and can endorse in nonpartisan elections. If elected I will make decisions to benefit all students in the district and those aren't partisan decisions."
"If an endorsement came with no strings attached I don't see that accepting an endorsement is a 'surrendering of responsibility,'" said Urbana candidate Sandra Ahten, also endorsed by the Young Democrats. "In my case I didn't have any financial ties or conversations about issues with any partisan groups. Perhaps they gave me an endorsement because I am a registered Democrat."
The three Mahomet candidates endorsed by the local Republican Party — Sunny McMurry, Max McComb and Justin Lamb — answered as a group.
"To answer simply, yes, it is allowable for candidates of non-partisan races to receive endorsements from political parties and special interest groups. This happens often between candidates and special interest groups when considering the special interests of teachers' unions and their endorsement of specific candidates during school board elections. In recent years the Champaign Federation of Teachers has endorsed multiple candidates for the Unit 4 Board of Education. For this current election another special interest group, the AFL-CIO, endorsed Jarret Clem for the Parkland Board of Trustees. As is typical for groups and organizations, groups have the right to endorse any candidate running for office according to the organization's guidelines. You can see that the endorsements likely came from organizations that saw similar values in the candidates they endorsed, regardless of political affiliation. We did not seek out or request an endorsement from this group. Instead, it seems that based on our involvement in the community and our dedication to our schools, the Mahomet Republican group felt we would be assets to our Board of Education.
"This endorsement or any endorsement, however, does not mean a candidate is 'surrendering' responsibilities. In fact, the language you quoted is for board of education members following the election. Regardless of who endorses a candidate during the election, once the election is over board members are there for one purpose: to serve our students, which is clearly a non-partisan task."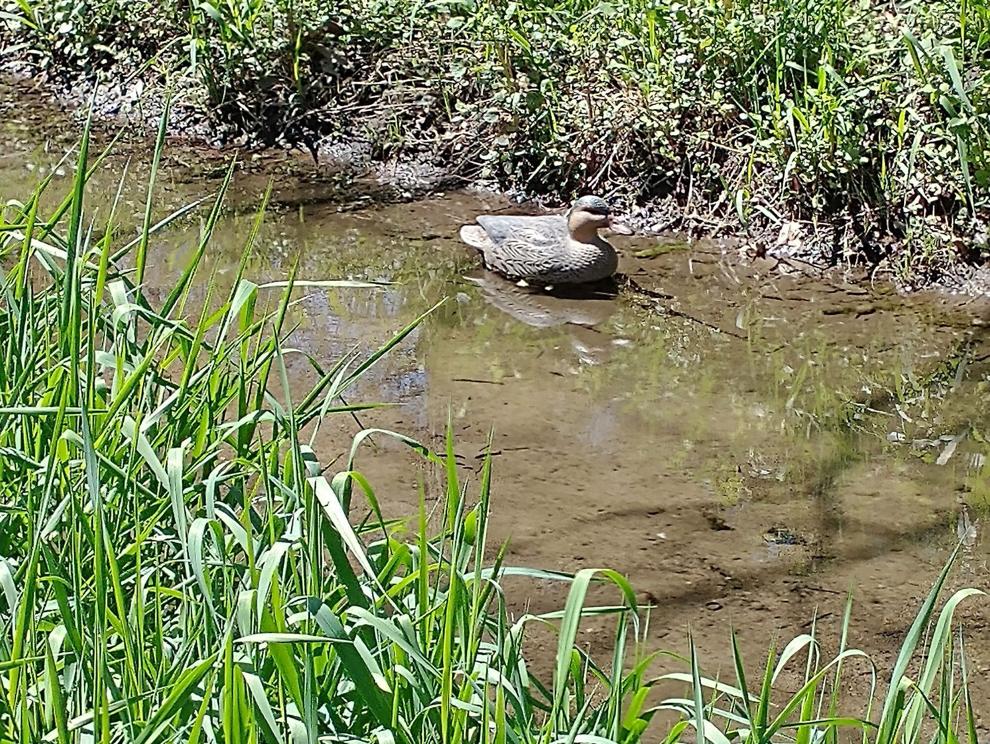 Duck decoys
"The attached photo was taken on our Friday, April 9th walk along Boulware trail adjacent to Rosecrance. Those are male and female duck decoys anchored in the small stream. Who manages the upkeep of the trail and what is the purpose of the decoys? There are several pairs of live Mallards we've observed regularly feeding and nesting in the same area."
"The Champaign Park District does not manage the creek nor any of the ponds along the trail other than Mattis Lake," said Dan Olson, director of operations for the Champaign Park District. "As for the duck decoys, we do not know who placed them there or why they are there."
Baseball in C-U
"With the opening of baseball season, I was wondering what is the earliest record of local baseball teams or leagues playing in Champaign County?"
The first reference I could find was a March 21, 1867, story in the prohibitionist Urbana Union and Gazette under the heading, "Base Ball Club."
"We learn that the young men of this city are about effecting the organization of a base ball club, and we cannot withstand the temptation, the opportunity affords of making a few commendatory remarks. To speak to these young gents poetically we will say 'go in lemons,' for the exercise which such sports furnish will be a much better tonic and appetizer than any quantity of the quack nostrums which sail under the head of 'bitters;' it will be cheaper and more sensible than billiards and while playing the game you will never be found where your friends will be ashamed of seeing you.
"Yes, push forward the organization of your club and cultivate your muscle and your health for we may be ever so temperate in eating and drinking and observe the best rules for the prevention of diseases, yet without a strict attention to exercise we cannot enjoy good health."
Six months later the newspaper reported on a base ball game between Champaign and Paxton.
"About 2,000 persons witnessed the match. The game commenced at 2:37 p.m. and lasted for three hours and 50 minutes. It was a close spirited contest and showed marked improvement in the Red Jacket club but the excellence of our Empires at last won the victory by leading their opponents nine tallies at the end of the game. The Champaign folks were then invited to the courthouse where they sat down to as fine a supper as ever greeted the eyes of a hungry crowd. We will venture to say that it equaled anything ever produced in this part of the country, for it seemed that the ladies who had the matter in charge had provided everything it was possible for their minds to invent or in their hands contrive. About 300 people were fed and the bounty displayed by the Paxton folks put the Champaign hospitality to blush."
The crowd left Paxton on a train at about 1 a.m., the story said, and returned to Champaign "making the run in the lively time of forty minutes."