Being Black in America: Valena Claiborne
In her own words, an African American community resident shares a first-person story about what it looks, feels and sounds like to be black in America.
Continuing a conversation we're privileged to host, The News-Gazette asked African American community members to share their stories and solutions in the wake of George Floyd's killing.
Featured today: CU Church Executive Pastor VALENA CLAIBORNE.
If you'd like to share your story, email jdalessio@news-gazette.com. To view the entire series, click here.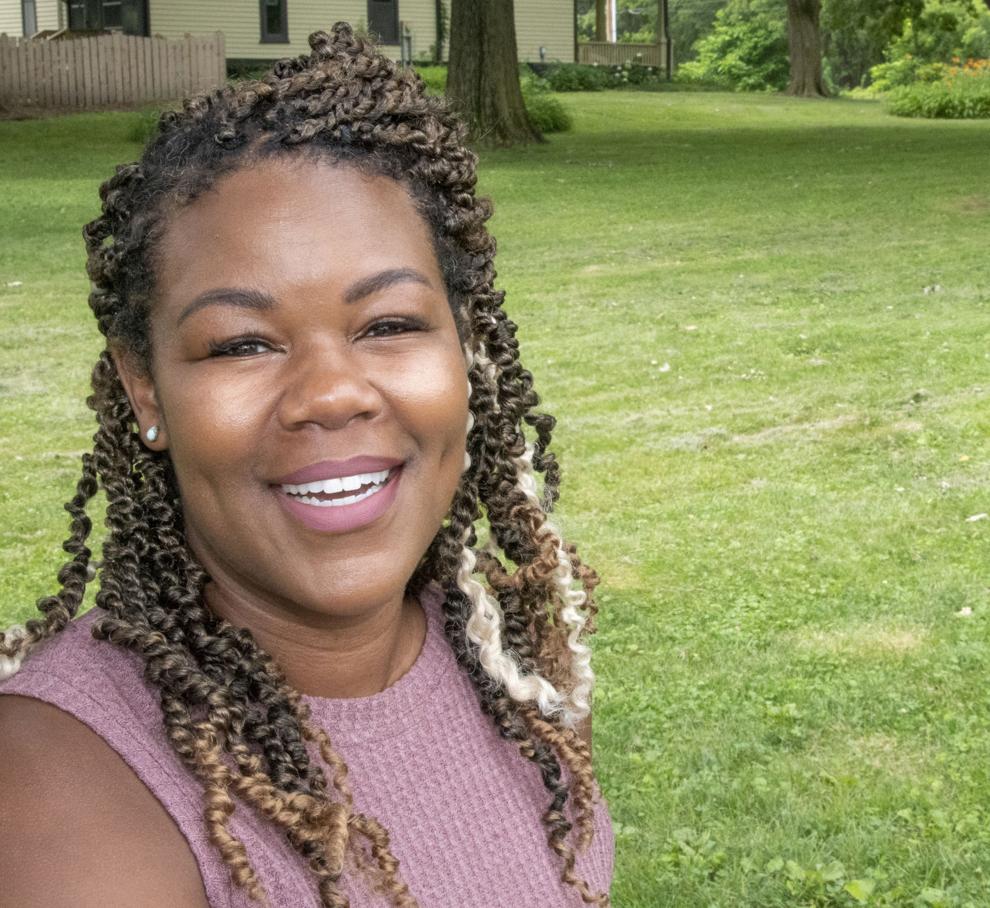 'If we hold that all human life is sacred, then why is it that Black and Brown lives are ended way before their time?'
BY VALENA CLAIBORNE
Growing up in this community, I have had a different perspective of Black America. My grandmother did a great job of sheltering me from many truths.
As I have processed my upbringing against what I now know to be true, I have been drenched in anger, sadness, frustration and fatigue. And for many of us, these are not sporadic responses but chronic conditions. We've all seen, heard and read of the lynching of Ahmaud Arbery, the shooting of Breonna Taylor, the use of the police by a White woman to threaten Christian Cooper, Minneapolis police officers executing George Floyd.
My heart aches over this. I see those names, and I see my children. I see my husband. White America has long had its knee on our necks for many years.
I am sure that some who just read that sentence are saying, "Not all of White America." But that's the problem. It's hard for people of color to feel that White America is with us and not against us. White America has not demonstrated the collective resolve to repent, rebuke and reorient itself against racial injustice.
That includes Christians. White Christians can opt out of outrage over racial injustice. The status quo works for some of them.
As a pastor of a predominately White church, I feel blessed that I am surrounded by White Christians who chose not to opt out. Growing up in this city, I am blessed to have encountered Whites that choose not to opt out. At the very least, they stand with us as we can acknowledge that injustice demands a response to people in power.
My heart keeps returning to our churchwide series in Acts when Jason (Epperson), lead pastor of CU Church, talked about how Paul called the magistrates to account for their actions, and we must do the same. We should be outraged over injustice, and people in positions of authority need to feel our anguish.
For years, Black and Brown people have been doing the same as Paul in calling out injustice. The apostle Paul's demands to the magistrates foreshadows Mamie Till's bold move to have the body of her lynched son, Emmett, open for viewing. She wanted America to see what was allowed to happen to her son.
Some Whites have blamed victims of violence, waiting for some dirt on the victim to be dug up. Some Whites have minimized the actions of the perpetrators by imagining there must be "another side to the story." Perhaps even worse is the downgrading of injustice to the actions of a few bad characters rather than the failings of an entire system and a worldview that vilifies non-Whiteness.
In that Acts 16 story, the magistrates apologize. They also ask Paul and Silas to leave the city. But before the apostles leave, they meet with the newly forming Christian community in Lydia's house to encourage and caution them. Surely this church, which now included a jailer, understood how power worked in Philippi and began their own revolution.
Judging from what Paul wrote to that church sometime later — from prison — they were to learn that the revolution means being like Jesus, considering others as more important than yourself (Phil. 2:3-4). The revolution means laying aside privilege in service to others (Phil. 2:5-11). Perhaps not just White Christian America, but all of America can be motivated by that.
Let me be clear that White people are not the enemy — and if you believe that, then the enemy has you blinded. This is a sin issue. It is possible to be, like Jesus, angry at injustice while demonstrating and calling for love.
As much as I want to, it's important for us to not rush to solutions. Let us not use solutions as a hand sanitizer for a guilty conscious. Yet I do think about what moving forward means, especially since my husband and I have three children — Black children. We think about a revolution for them. A revolution of love.
I support that Black or Brown skin and non-European ancestry is not the problem. We fight White supremacy, in part, by loving our non-White selves that have been created in the image of God. We don't need to take on a Carlton Banks of Bel-Air persona to prove our American-ness. (And in case you've forgotten: It didn't work for Carlton Banks, either).
I encourage the use of our Christian imaginations to envision practicing the "weightier matters" of justice, mercy and faith (Matt. 23:23). Rather than looking backwards to some mythical past greatness, we look forward to God's ongoing work in the world.
I cheer the revolutionary power of the Holy Spirit. I have hope that those who have pledged allegiance to King Jesus will be moved by love to frustrate the evil at work in the world because worldly power does not outdo or suffocate the power of the Holy Spirit.
I wish that when I stepped out into the world, the people around me would see me as fundamentally Christian. But the truth is that no matter how many Bible verses I quote, how many great books I read and post, how morally excellent I am, what degrees I hold, or any other trait that is "successful," none of that can shield me from the perceived tragedy of being Black.
Ultimately, the lack of respect for the dignity and sacredness of all human life is sin. And if we hold that all human life is sacred, then why is it that Black and Brown lives are ended way before their time? The facts speak for themselves. There is a striking racial problem in America and if we want to join in the gospel movement against racism and toward equality, our struggle must continue well after these hashtags fade.
Although we are adjusting to Phase 4, most of us are still relying heavily on screens for our communication. But hopefully, we will be able to get away from the screens and go beyond the videos and hashtags to join in solidarity with those who hunger and thirst for justice (Matt. 5:6, NLT).
Revolutionary justice ... revolutionary love ... as we seek the Lord to help us search our own hearts and commit to bear one another's burden.
If you'd like to share your story, email Editor Jeff D'Alessio at jdalessio@news-gazette.com.
Valena Claiborne is the executive pastor at CU Church.