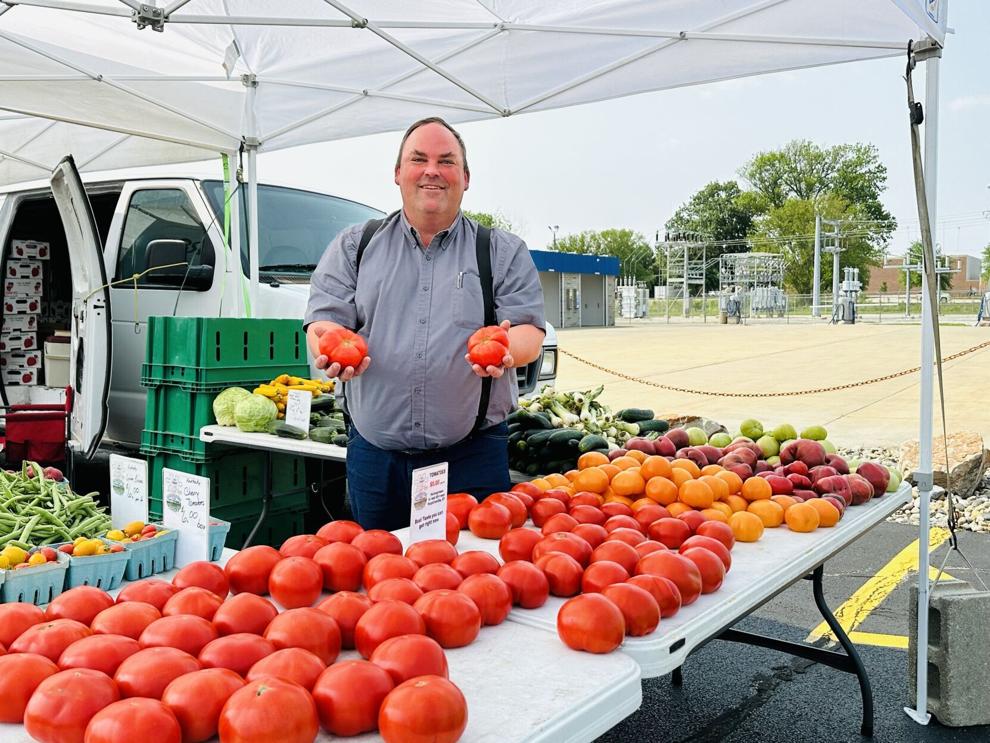 SAVOY — Swing by Sheldon Raber's local fresh produce farmstands this time of year, and you're sure to hear the catchy lyrics to his favorite Guy Clark tune in the background.
Homegrown tomatoes, homegrown tomatoes
What'd life be without homegrown tomatoes?
Only two things that money can't buy
That's true love and homegrown tomatoes
Three days a week, the Arthur man sets up his white-tented farmstands in parking lots around the area — outside Savoy's Old Orchard Lanes & Links from 10 a.m. sharp to 4 p.m. on Wednesdays and Saturdays, and Mahomet's Hen House from noon to 6:30 p.m. every Thursday.
The rest of the week, Raber drives all around Illinois — and even to Hopkinsville, Ky., on Mondays — in search of the season's "freshest, tastiest produce." And people from all around the area drive to his stands to get dibs on his selection.
Raber's cheeks glow tomato-red by the end of a long shift at the stand. Even though he works 12 to 15 hours per day, he doesn't seem tired or stressed. In fact, he seems downright breezy, like he just spent the day at the pool.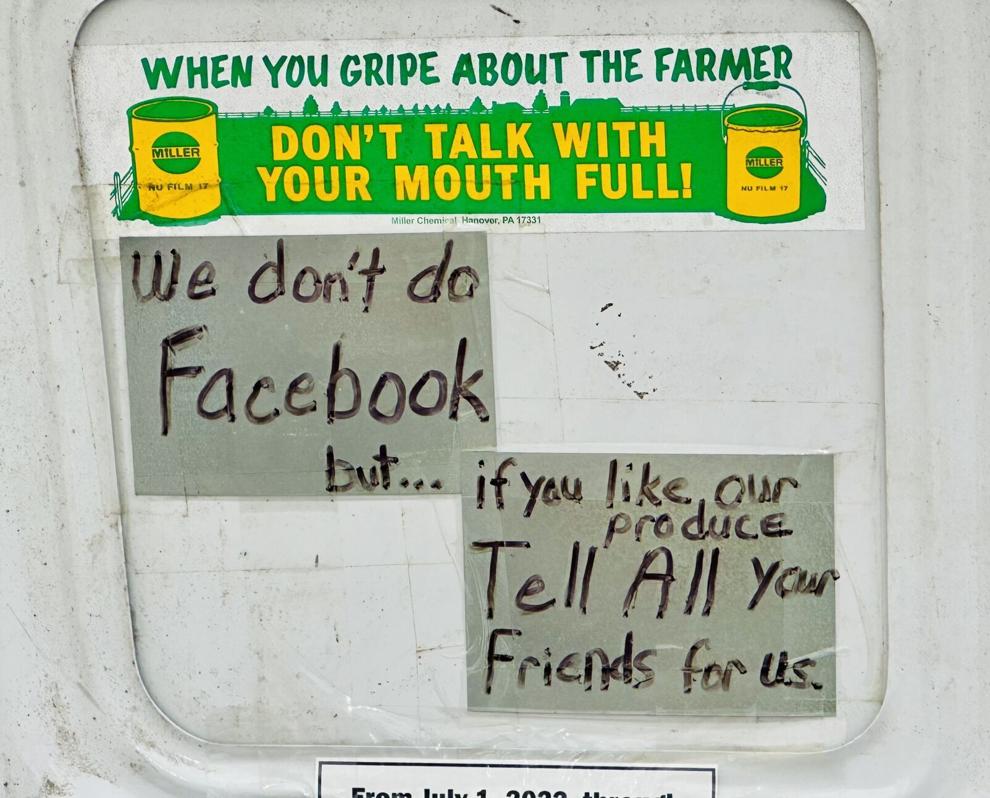 As a Mennonite, "business is not separate from life," he says.
Raber takes pride in his produce, from what he selects to how it's displayed. Quality is of utmost importance and the reason for one of his policies: "If you touch it, please buy it."
Oils from hands bruise produce, he explains, especially the tomatoes. It's one of his secrets to perfect-looking produce.
Even the strawberries are flawless — not a single mushy one in any bunch, and each container as flawless as the next. No need to hunt for the best batch.
"Every once in a while, I still miss one," Raber says. "Seeing the produce personally, before I buy, or having a previous relationship with a farmer helps us to make sure we get the quality we want."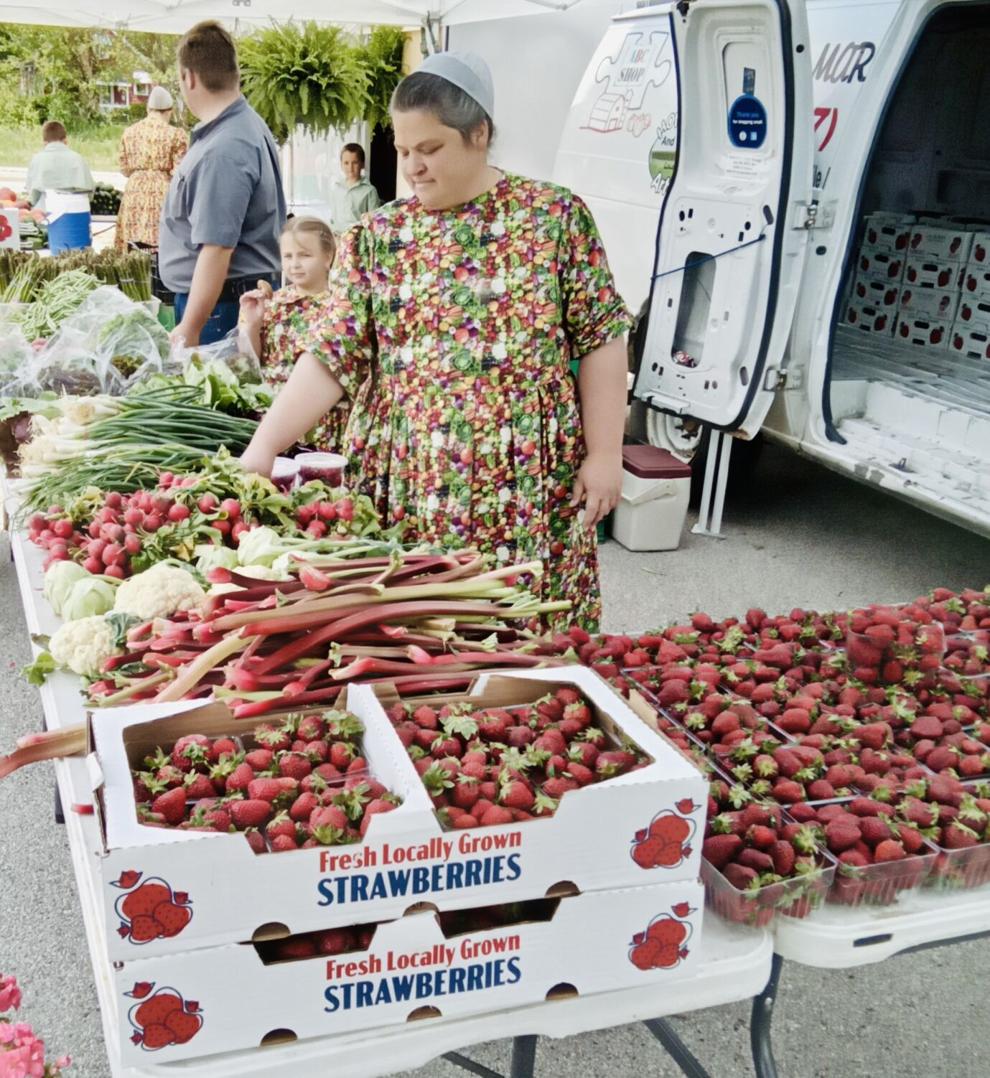 When Raber moved to Arthur in 2007, he opened ABC Shop, selling used books and puzzles. Then, one hot summer day, he decided to sell melons outside of the bookstore. When customers returned the next day, they asked for more. Raber obliged, and the seeds for the farmstand were planted.
He continued to sell melons outside his store, adding other produce along the way. Eventually, he decided to focus exclusively on produce.
In 2014, he opened his first farmstand in the parking lot of the Danville Gardens location in Champaign. But when that store closed at the end of 2020, Raber had to find a new lot to call home.
A jolly guy, he makes friends everywhere he goes. Early in the pandemic, he struck up a conversation at a gas station with Scott Lutz, owner of Old Orchard. Raber decided to try his luck — he stopped by the bowling alley for a visit, hoping Lutz would remember him.
Dressed in jeans, a tucked-in button-up shirt and black suspenders, Raber is hard to forget. Lutz agreed to Raber's idea, and a handshake sealed the deal. In May 2021, he opened the Savoy produce stand in the northeast corner of Old Orchard's lot.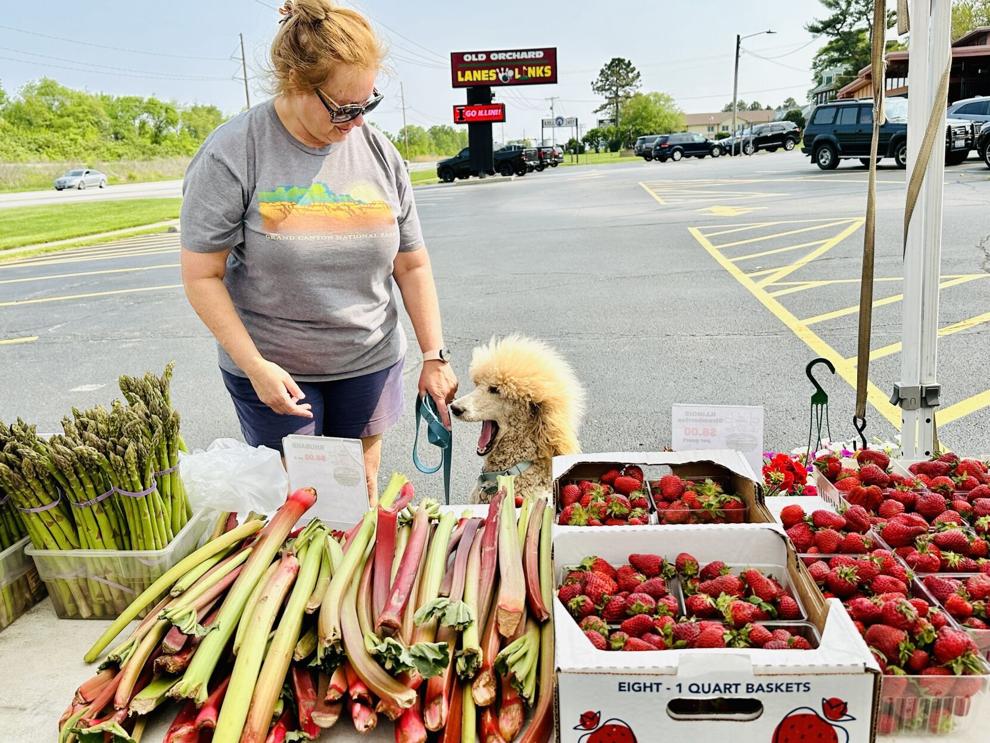 "Face-to-face relationships and customer service are still the main ingredients for a successful American small business," Raber says. "In a post-COVID world, I still believe in handshakes and relationships."
His advice for up-and-coming small-business owners: "Stick with it. Do something you enjoy. And you have to be willing to change."
Raber is not a part of farmers markets this year. His solo venture works better for his family. And so, his farmstands are alone in the lots — but he's rarely by himself.
Rhoda, his true love and wife of 20 years, often joins him, along with any number of their five kids, who love to help at checkout. On those days when he is on his own, his favorite used books keep him company.
Raber's marketing strategy is simple.
"We don't do Facebook, but if you like our produce, tell all your friends for us," a handwritten sign reads.
In Savoy, he's found plenty who do, with his regulars ranging from University of Illinois field researchers to retirees to daytime bowlers.
The farmstands feature tomatoes in just about every color of the rainbow, as well as flowers and hanging plants, green beans, cucumbers, peppers, cauliflower, lettuce, zucchini, asparagus, mushrooms, sweet corn, rhubarb and strawberries.
Blueberries, blackberries and melons will arrive in the coming weeks and months, as soon as they're in season. And fresh peaches from Echo Valley Orchard in Carbondale drop on July 4.
"Produce people don't get vacations," he says. "Produce still grows on the Fourth of July."
The higher the temperature outside, the better the business for Raber.
"Sometimes, we can hardly keep up," he said. "People can't wait for those melons."