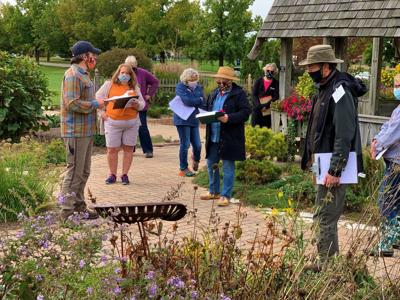 Plant identification can be challenging, often leading to a lifetime of learning for true mastery of the botanical skills needed to pinpoint one down to a specific species.
Many of the University of Illinois Extension Master Gardeners are experts in plant identification, often from many years of hands-on experience. However, many folks enter the program with basic skills, relying on the information presented in the training course to hone their identification abilities.
When our 2020 training course abruptly went remote last spring, many aspects of our class had to be re-envisioned. Just last week, we finally had the opportunity to hold a rescheduled Plant Identification Workshop in the Idea Garden at the University of Illinois Arboretum. Many of our Master Gardeners participated in this event to help interns learn the plants of the Idea Garden as well as other aspects of what we do in this wonderful space.
Over the years, Champaign County Master Gardener volunteers have worked hard to establish and maintain the 15,000-square-foot Idea Garden at the corner of Lincoln and Florida avenues in Urbana. This space is open to the public and was designed to be an inspirational and educational garden to teach the community about all aspects of home gardening. Simply put, its goal is "helping others learn to grow."
Master Gardeners invest almost 2,500 hours of volunteer time at Idea Garden each growing season. To provide a learning environment, many plants there have labels to help visitors identify each specimen. The Master Gardeners also publish an annual plant list for each section. Our hope is that these resources can help both novice and expert botanists with the identification of plants at the Idea Garden.
As we look toward 2021, UI Extension will again be hosting our annual Master Gardener training course in both Champaign and Vermilion Counties. The course is designed to be specific to Illinois gardening, using a comprehensive manual UI Extension developed and refined over the past four decades. Classes are geared toward all levels, from beginners to more experienced gardeners, and feature a variety of garden-related topics such as botany, soils, diseases, insects, annuals and perennials, vegetables, trees, shrubs and many others.
We have been exploring new ways to design a curriculum that better meets the needs of participants and offers more flexibility with remote learning. An entirely online version of the Master Gardener training will be offered beginning in January 2021. This version is self-paced, allowing participants to complete learning modules as their time allows. We will also incorporate hands-on activities at various community gardens to complement online learning and help build the field skills needed to perform the duties of a Master Gardener.
In Vermilion County, we will offer a hybrid version of Master Gardener training that will also begin in early 2021. It will include the same subject matter as the online course, but it will also incorporate a variety of self-learning and hands-on activities. We are currently still planning the schedule, but the goal is to meet once a week either in person or remotely, as needed, for about 10 weeks throughout late winter and spring.
Each year, we assess feedback from our new class of Master Gardeners and look for ways to improve their training. In recent years, plant identification has been a topic of growing interest, and we plan to incorporate additional learning on this subject across our programs.
If you are interested in joining any of the 2021 Master Gardener training, please go to the UI Extension website at go.illinois.edu/HNR or call our office at 217-333-7672. For more info on the Master Gardener programs, please visit the Champaign County website (go.illinois.edu/CCMG) or Vermilion County website (go.illinois.edu/VCMG). More information about the Idea Garden can be found at go.illinois.edu/IdeaGarden.
Ryan Pankau is a horticulture educator with the UI Extension, serving Champaign, Ford, Iroquois and Vermilion counties. This column also appears on his 'Garden Scoop' blog at go.illinois.edu/GardenScoopBlog.