Ryan Pankau: In the Garden
In the Garden | Integral process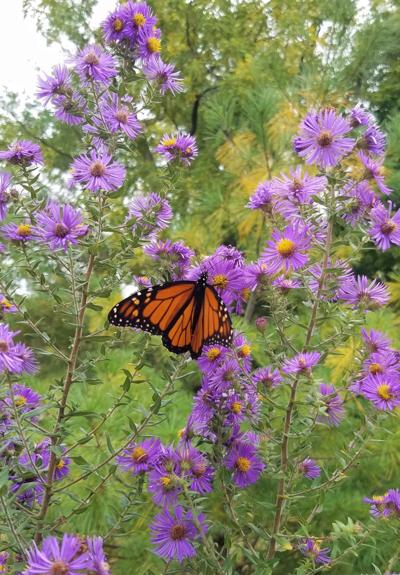 This coming week is National Pollinators Week (June 21-27), a time set aside by congress to honor and wonder at the amazing process of pollination. Governors in all 50 states have also honored this special week by making their own proclamations to recognize pollinators.
Pollination is the process by which pollen is transferred between flower parts to allow fertilization and plant reproduction. Numerous plants we eat rely on insects and other pollinators for this vital process.
It has been estimated that flowering plants and their associated pollinators are responsible for one out of every four mouthfuls of food in the U.S. Both directly and indirectly, pollinators are also crucial for the production of dyes, medicines and fibers. All in all, pollinators are an integral part of our nation's economy that is often undervalued or overlooked.
When you consider pollinators' role in our native ecosystems, they are vastly important as well. Similar to the way they sustain human food systems, pollinators perpetuate native plant communities that provide food and shelter for wildlife. Although 99 percent of North American pollinators are insects, and the majority of those are bees, the list of pollinating species is long, including butterflies, moths, beetles, hummingbirds, flies and wasps.
Flowering plants produce nectar and pollen, which both serve as primary food sources for pollinators. However, during other stages of their life cycle, many pollinators have specific plant needs.
The greatest example of these intricately evolved relationships is that of the monarch butterfly and milkweed plants. During the monarch's caterpillar stage, it feeds exclusively on milkweeds. Therefore, healthy populations of milkweed are needed to perpetuate the species. In recent decades, weed-control techniques have advanced rapidly to a point where we as humans are very good at controlling agricultural weeds like milkweed. As a result of extensive weed suppression (combined with habitat loss), milkweed populations have plummeted. Consequently, monarch populations have also drastically declined.
The monarch is just one example of these specific flora-fauna associations. Many other pollinating insects have similar dependency on a specific plant species or groups of species. For a variety of reasons, with loss of natural areas and habitat topping the list, pollinator populations across the U.S. are suffering similar dramatic declines.
As gardeners and homeowners, there are small things we can do that can have a big impact when multiplied across all 50 states. Since habitat loss is a major factor in pollinator decline, there are many plants we can add to our gardens and yards that will benefit pollinators. Simply by selecting native plants for landscaping, we can add significant habitat.
Although many exotic plants, such as butterfly bush (Buddleja davidii), attract a ton of butterflies who benefit from the nectar, these plants may not sustain other portions of insect life cycles that native plants support. In addition, native flora are well adapted to our climate, often requiring less watering and maintenance than their exotic cousins.
If you are interested in getting out during National Pollinators Week to see both plants and pollinators in action, join the Ford and Iroquois County Master Gardeners for a Garden Walk from 9 a.m. to 1 p.m. June 26.
The event features gorgeous and inspiring local gardens that participants may tour and enjoy right along with pollinators that will be buzzing among the beautiful blooms. Homeowners will be present to greet everyone and answer any questions about their inspirational designs and unique uses of both plant life and hardscaping.
This year, the Loda Cemetery Prairie will also be included, representing one of the most high-value natural areas in central Illinois. This amazing prairie remnant is home to over 130 species of native prairie plants, providing a rare and historic glimpse into the central Illinois prairie of times past.
Tickets can be bought the day of the event at the Doris Robinson Memorial Pavilion at Bayles Lake near Loda. The registration area at will also feature gardening-themed vendors for participants to peruse.
Tickets may also be purchased in advance at the University of Illinois Extension Offices in Onarga, Danville or Champaign or by calling 217-333-7672. More information, as well as ticket purchasing, can be found at
Walk2021. Proceeds will fund Master Gardener involvement and educational programs at community garden projects in Ford and Iroquois counties.
Ryan Pankau is a horticulture educator with UI Extension, serving Champaign, Ford, Iroquois and Vermilion counties. This column also appears on his 'Garden Scoop' blog at go.illinois.edu/GardenScoopBlog.