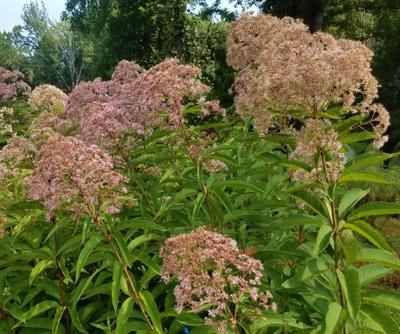 When most gardeners consider adding native plants to their landscapes, we generally think in terms of full-sun locations, much like the vast central Illinois prairie would have been long ago. However, near drainage ways, open prairie gave way to forests in transitional areas known as savanna.
Many of the flowering plants that have adapted to savanna or forested settings work wonderfully in part-sun or full-shade locations in the landscape.
In spring, the superstars of native shade gardens are spring ephemeral wildflowers. While many of these are sensitive and difficult to cultivate, there are a few that are commonly sold or may be seeded successfully into an existing shade garden.
Among my favorites are Virginia blue bells (Mertensia virginica) and wild geranium (Geranium maculatum). Both do well in cultivation and can be found at sales and nurseries. Bluebells are in full bloom now in my woodland, and wild geraniums are just about to start.
With their overlapping bloom times, these plants together provide about 2 months of spectacular flowers and then gently fade away into surrounding plants.
Wild columbine (Aquilegia canadensis) is another plant that flowers earlier in the year and enjoys shade. I just love its delicate, drooping flowers, which gently dangle atop 2-foot-tall plants to attract pollinators. This plant tends to pop up occasionally in my garden and disappears as other plants crowd it out.
It can also tolerate full sun, making it a fun "wild card" that may appear in other garden spaces over time. It certainly pays to learn how to identify young seedlings so they are not accidentally pulled as weeds.
Ohio spiderwort (Tradescantia ohiensis) flowers a little later, typically June to July or August in our area. Showy blue clusters of flowers top 2- to 3-foot-tall stems and are a favorite of long-tongued bees, especially bumblebees. While Ohio spiderwort is shade tolerant, its flower display does need some sun.
Sourcing native spiderwort can be tricky, as there are a number of cultivars and hybrids out there. While these plants often do wonderfully in a garden setting, our native species is likely the best choice for bumblebees and typically best sourced at native plant sales or nurseries that specialize in natives.
Joe-pye weed (Eutrochium purpureum) is one of my favorite native, shade-loving plants. It matures late in the season as a very tall, upright and clump-forming perennial with showy tufts of flowers at the tiptop of its leafy stems. The flowering display persists for about a month in late July or August, eventually producing attractive seedheads that persist into wintertime.
With stems reaching 4 to 5 feet
tall and bearing a giant tuft of flowers in late summer, this is just one of those plants you cannot miss in the landscape, a real showstopper when in bloom. Like spiderwort, cultivars are more commonly sold at garden centers, but the straight species is worth seeking out.
For later-season blooms in shade locations, I really like smooth blue aster (Symphyotrichum laeve) and short's aster (Symphyotrichum shortii). Both plants provide an abundance of flowers from August to October, making them one of the most productive late-season floral resources for pollinators.
Smooth blue aster is a great addition and tends to stay upright, unlike some of the other aster species that are inclined to flop over later in the season. Short's aster has an interesting and slightly larger flower head for an aster which lasts almost two months. Both plants attract an array of pollinators in noticeable numbers late in the season.
In areas with deepest shade, several native ferns are readily available in cultivation. As a tall ground cover, I love the effect these plants create, and once established, they work well in combination with early-spring ephemerals.
A few of my favorites are Christmas fern (Polystichum acrostichoides) or maidenhair fern (Adiantum pendatum) for a shorter (1-2 feet tall) plant, and cinnamon fern (Osmunda cinnamomea) or sensitive fern (Onoclea sensibilis) for a taller effect.
If you are interested in adding natives to your landscape, don't miss the Grand Prairie Friends' annual plant sale. They offer over 40 native species, all accessible on their online plant catalog, which includes information about each species' planting requirements and other attributes. The online sale starts Sunday and runs through May 14.
Ryan Pankau is a horticulture educator with UI Extension, serving Champaign, Ford, Iroquois and Vermilion counties. This column also appears on his 'Garden Scoop' blog at go.illinois.edu/GardenScoopBlog.