Ryan Pankau: In the Garden
In the Garden | The elixir of life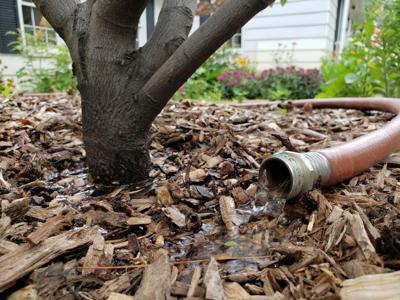 Although rainfall has been significant so far this summer, newly planted trees and shrubs need watering as temperatures creep up and rain dwindles during the drier part of our summer.
The next few months can be critical for woody plants struggling to become established in their new planting location, and the water we provide can really make the difference.
Transplant shock is a term commonly used to describe the plight a of newly planted tree or shrub, which can often last for several years. When we install a new tree or shrub, it takes quite a bit of adjustment for the plant to acclimate to its new site and extend its roots beyond the initial planting hole. Everything, including water, sunlight, soil drainage and available moisture, differs from the nursery setting.
It is safe to assume that your new plant may take up to three years (or sometimes longer) to adjust to its surroundings and become "established," which is term used to describe a tree that has grown out of transplant shock. Trees become established when they have fully adjusted to their new location and extended their root system beyond the planting hole dug at installation.
The care we provide in the first three years after planting is critical to ensure your tree or shrub's longevity in the landscape. Recent studies have reported alarmingly low survival rates among urban street trees in the years following planting.
The myriad stressors that the urban environment creates for plants can really add up, and watering is one of the few factors we may be able to control. Since some urban conditions can be so harsh, even trees that are 5 or 6 years old may still be struggling to overcome transplant shock, requiring irrigation during hotter months.
I am often asked how much and how often to water newly planted trees or shrubs. The simple answer is to plan on watering anytime we have received less than 1 inch of rain per week. Watering should be done in one large application, about once a week, as opposed to smaller amounts more frequently. The total quantity of water needed by individual plants varies considerably based on the size of plant and many other factors but should be designed to provide the equivalent of 1 inch of rain, once a week, to the entire root system of the plant.
Mature trees are presumed to have a root spread up to three times the canopy spread, which provides an illustration of the desired root zone we might expect later. However, we know that a newly planted tree or shrub doesn't have nearly that size of a root system relative to its above-ground parts. A huge part of overcoming transplant shock is the development of a more proportional root system.
To promote the expanding root system of your newly planted tree, plan to water an area larger than you might expect the roots to occupy. Over time, expand the area you water as your tree grows to draw root development outward and create the larger root system of an established plant. So the area you should plan to apply water each week is likely much larger than the planting hole or mulch ring around the base of your tree.
While the area to water can seem simple enough, the actual application of water is quite a bit more complicated. Homeowners tend to have a ton of questions as they try to determine exactly how long to turn on the hose to ensure their plant has adequate moisture.
Join me next week for some specific examples of the quantity of water you should plan to apply, as well as a discussion of various methods you can use to deliver water efficiently to your newly planted specimen.
If you interested in a live discussion on how to water all aspects of your garden, join me and fellow UI Extension educators Kelly Allsup and Candice Hart for "Live with the Horticulturists" at noon July 15 at go.illinois.edu/FacebookLive, where you can find both our live shows and our past recordings.
Ryan Pankau is a horticulture educator with UI Extension, serving Champaign, Ford, Iroquois and Vermilion counties. This column also appears on his 'Garden Scoop' blog at go.illinois.edu/GardenScoopBlog.