Top of the Morning, July 13, 2021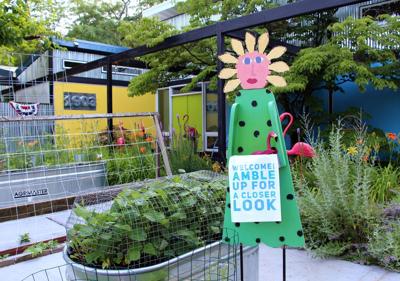 A year ago at this time, Annie Feldmeier Adams simply missed her community.
"Last year, I was missing seeing people, being around people, talking to people," she said. "But I thought, 'How can we do this in a safe way where people will feel comfortable doing it and interacting with.' Because I think we just missed seeing people and talking to people, even total strangers."
Adams, who works for the Graduate College at the University of Illinois, has a background as an artist who specializes in "creative placemaking," which highlights what makes a community unique. Over the years, she's led events through "Imbibe Urbana," which encourages people to get together to support local artists and downtown businesses.
Last year, of course, that wasn't possible. So she decided to use something that she thinks makes Urbana unique: its front yard gardens.
That's how the idea of the Urbana Amble Garden and Arts Tour came about. Adams put together a list of 40 willing gardeners and made a map that people could walk. She used the event to raise awareness and raise money for Solidarity Gardens, a Champaign-Urbana project that uses gardens to reduce food insecurity.
"My obsession is gardening," she said. "I just think it's fun how people in this city garden. It's really interesting. People are hardcore gardeners here. There will be hardcore vegetable gardeners, there will be native, to non-native … and then there are people who incorporate art into their spaces. It's just fun."
Adams didn't realize the Urbana Amble would turn into an annual event. But after she was asked about it, she decided to put the event on again. It'll take place Saturday and Sunday.
"People kept asking me to do it again, and I said, 'Well, I guess so,'" Adams said. "We're a garden city. It's just incredible."