Jodi Heckel: The Starting Line
The Starting Line | Uni High grad enjoying the (cross-country) ride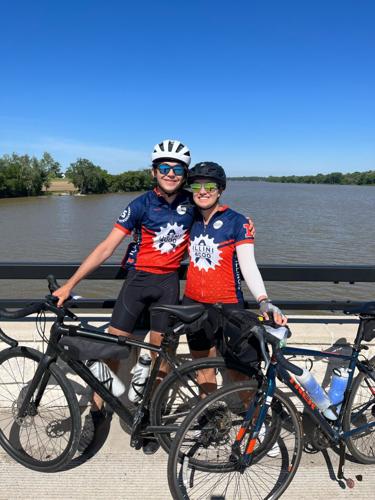 It was Zona Hrnjak's first day of riding with the Illini 4000, a group of University of Illinois students bicycling across the country this summer to raise money for cancer research and care organizations.
The group started May 24 in New York City, but Hrnjak didn't join them until the sixth day, in State College, Pa., once she had finished isolating after contracting COVID-19.
She was riding with some of the team's faster cyclists up a large hill. When they got to the top and started descending, Hrnjak soon was moving as fast as she ever had on a bicycle. The road curved sharply at the bottom, and Hrnjak entered the turn going too fast, then braked and crashed.
"I crashed an hour into my first ride," she said.
Fortunately, she wasn't hurt and was ready to ride again right away.
"I realized the only reason I crashed was because I didn't trust myself," Hrnjak said. "Now, if there are a lot of cars or I'm feeling anxious, I just say, 'Trust yourself.'"
Her crash notwithstanding, the cycling so far hasn't been as hard as Hrnjak expected. The mental aspect of getting up every day and getting back on the bike when she is tired has been more challenging.
"At the same time, it's very liberating. Nothing else matters but to get up, go bike and do our chores for the team," she said.
She expects her perspective on life to be changed by the time the group finishes its 4,000-mile ride on Aug. 6 in San Francisco.
Hrnjak, who grew up in Urbana and graduated from University Laboratory High School, is a rising junior at the UI, studying geography and philosophy. She was a competitive swimmer when she was younger and began biking regularly when she got interested in triathlons.
"I feel like I belong on a bike. It's a very natural movement to me," she said. "I felt that with swimming, too. It's very relaxing. And biking is not only a sport, it's a transportation method."
She often rides on country roads outside of Urbana, and the activity gives her a mental reset.
Hrnjak wanted to experience the Illini 4000 ride, but the cause is also meaningful to her. Each cyclist is responsible for fundraising, with the money they raise going to cancer research and services for cancer patients and their families.
Hrnjak is riding for Nancy Abelmann, the mother of her close friend and an anthropology professor and an associate vice chancellor for research at the UI, who died in 2016 from breast cancer. Hrnjak said she and Mrs. Abelmann had similar approaches to life.
"She was always one of my biggest cheerleaders," she said. "She was someone I looked up to a lot and I think about a lot when I approach problems in life. I wonder what Nancy would do."
Hrnjak is this year's director of the Illini 4000's Portraits Project, which documents the experiences with cancer of people that the group meets along the ride. Hrnjak compiles and edits the interviews.
"We meet so many people along the way and see the ubiquity of the disease and the real strength of the human spirit in the face of it," she said.
She also has been awed by the generosity of people along the way who have offered the use of showers or prepared meals for the cyclists.
"People appreciate what we are doing and are really supportive," Hrnjak said. "It's touching to see how generous people are."
The group averages about 70 miles per day, and they take a rest day every seven to 10 days. They'll arrive in Champaign-Urbana today, attend a reception at the UI Cancer Center and have a rest day on Thursday before heading toward Chicago.
"I'm really excited to go out West and travel from East to West in the pattern of settlement," Hrnjak said. "It's an interesting moment to reflect on where we live and why we're here."
Jodi Heckel, a writer for the University of Illinois News Bureau, is a runner and triathlete. You can email her at prairieathlete@gmail.com or follow her on Twitter (@jodiheckel).