2019-20 High School Confidential: Week 2
Welcome to Year 4 of High School Confidential, an award-winning project made possible by aspiring student journalists from every corner of our circulation area. Each Wednesday through May, they'll tell us what's happening in their hallways at news-gazette.com.
Once a week, we'll hand over our Snapchat account (News-Gazette) to our correspondents for behind-the-scenes tours.
Today, Fisher senior Sidney Sievers (Snapchat: @S_sievers02; Twitter: @sidneysievers; Instagram: @sidney.sievers) will take us behind the scenes at homecoming, which includes tonight's parade in the tiny Champaign County village. The future labor and delivery nurse loves Fisher because "everyone knows each other and everyone is always willing to lend a hand."
This year's panelists:
Academy - Megan Wiarda
ALAH - Kenli Nettles
Arcola - Patty Rodriguez
Armstrong-Potomac - Emily Rogers
Bement - Braden Fogerson
BHRA - Gabe Martinez 
Blue Ridge - Kalyn Warner
Centennial - Hailey Choi
Central - Julia Wilson
Chrisman - Addison Pickett
Cissna Park - Abbi Kaeb
Danville - Leilani Islam
DeLand-Weldon - Peyton Lappin
Fisher - Sidney Sievers
G-RF - Chelby Hall
GCMS - Sierra Hileman
Heritage - Lynnae Struck
Hoopeston - Erin Anderson
Judah Christian - Brayden Riesberg
Mahomet-Seymour  - Rachel Myers
Monticello - Addison Wichus
Monticello - Mary Grace Ross
Oakwood - Maecii Barabas
PBL - Emma Schuler
Rantoul - Veronica Duddleston
St. Joseph-Ogden - Mallory Ames
St. Thomas More - Noelle Schacht
Salt Fork - Autumn Lange
Schlarman - Farrah Anderson
Tuscola - Emma Zimmer
Uni High - Samaia Jones 
Uni High - Erin Minor 
Unity - Kimberly Pruetting
Urbana - Molly Sweeney 
Villa Grove - Grace Hutchison
Westville - Emma Myers
On to this week's report: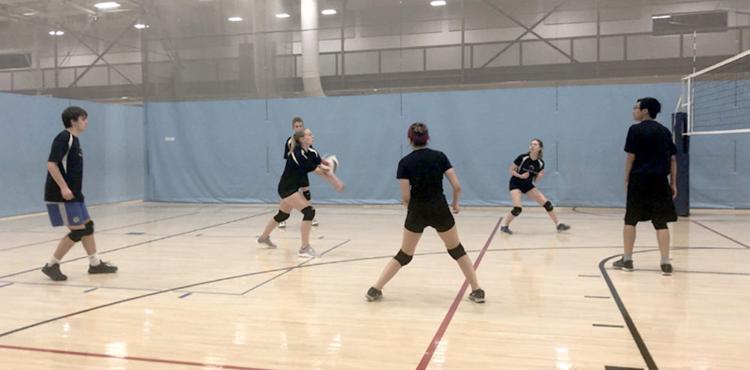 ACADEMY HIGH
This is a look at the Owls volleyball team, which competes recreationally, in action. From back to front are Max Harman, Sam Laufenberg, Briana Ballard, Cassie Colmenares, Colette Tichenor and William Ding. — Megan Wiarda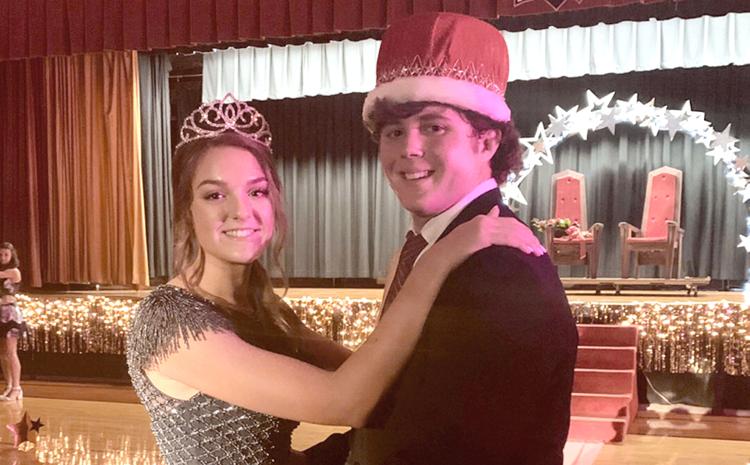 ALAH
Homecoming saw Jessica Diener and Lucas Otto crowned queen and king. — Kenli Nettles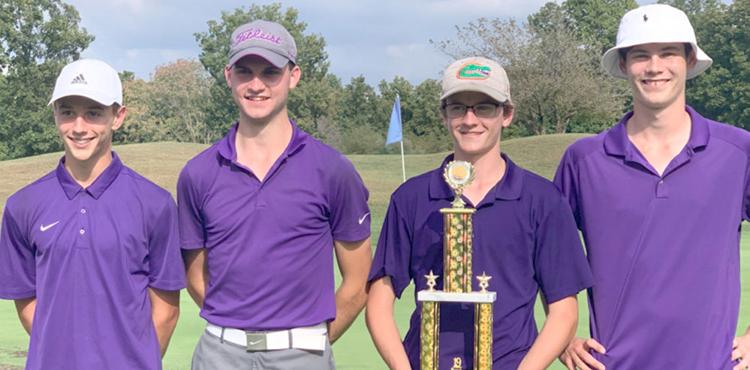 ARCOLA
The boys' golf team won the Lincoln Prairie Conference Tournament. Pictured, left to right, are Alex Kuhns, Jacob Butler, Dallas Sisk and Derek Tuttle. Sisk finished first, and Butler second individually. — Patty Rodriguez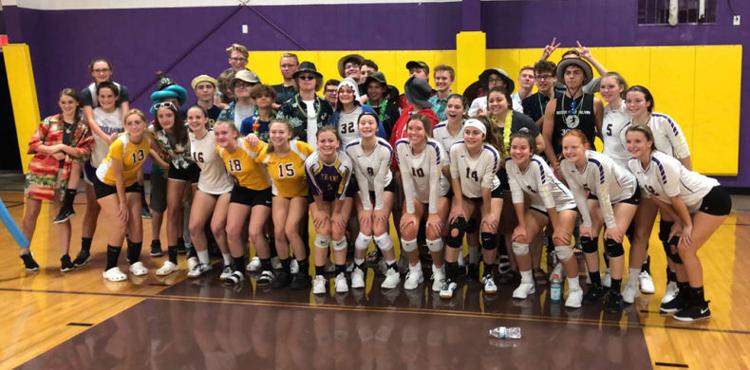 ARMSTRONG
The student section helped the volleyball team to a win. The theme was Beach Night. — Emily Rogers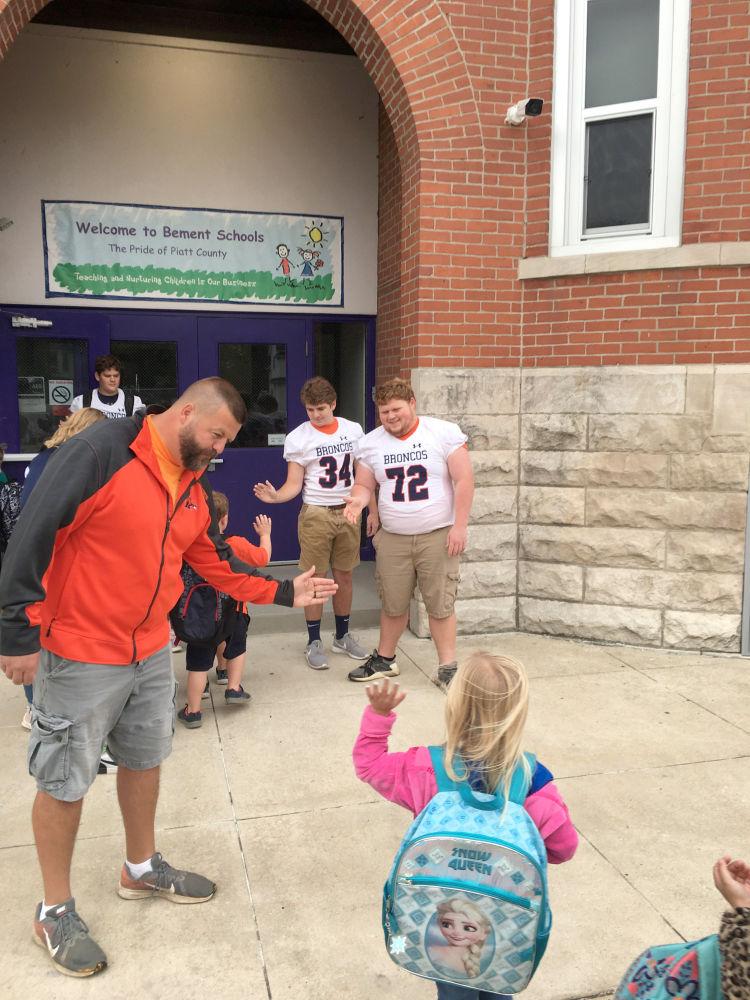 BEMENT
Cerro Gordo-Bement football players celebrated High-Five Friday with elementary students, a weekly tradition to inspire the younger set for the school day. Pictured with coach Chad Corum, left to right, are Aiden Shonkwiler, Sam Dalton and Xander Hutchcraft. — Braden Fogerson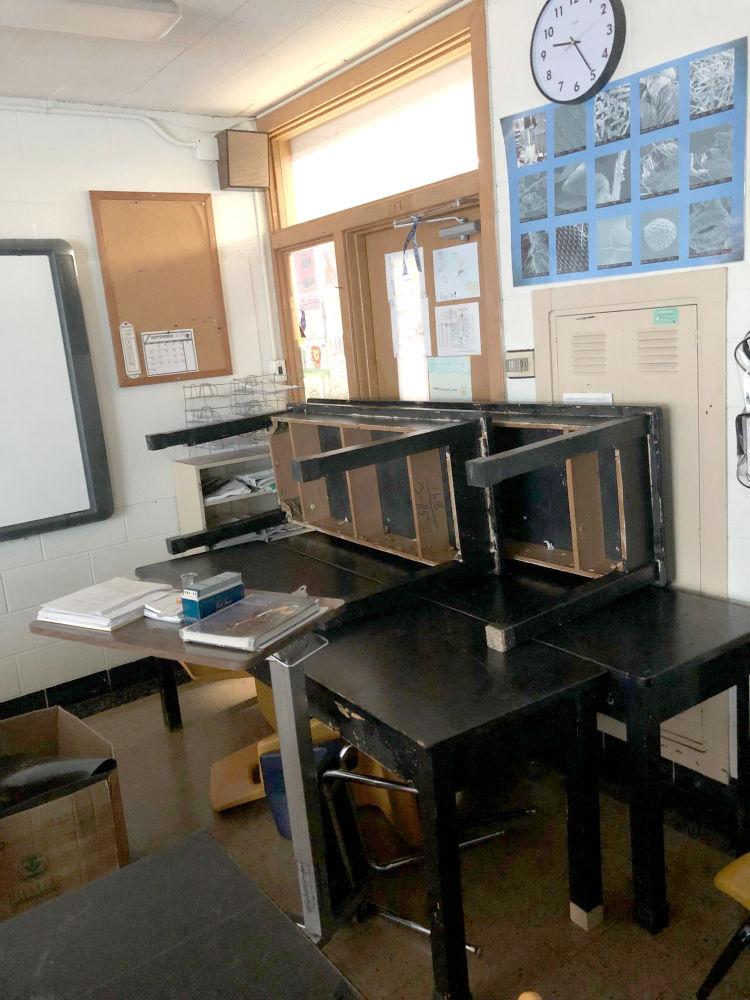 BHRA
On Thursday, students and staff practiced a lockdown drill that included barricading doors (photo inside Andy Head's science classroom) while others evacuated. — Gabe Martinez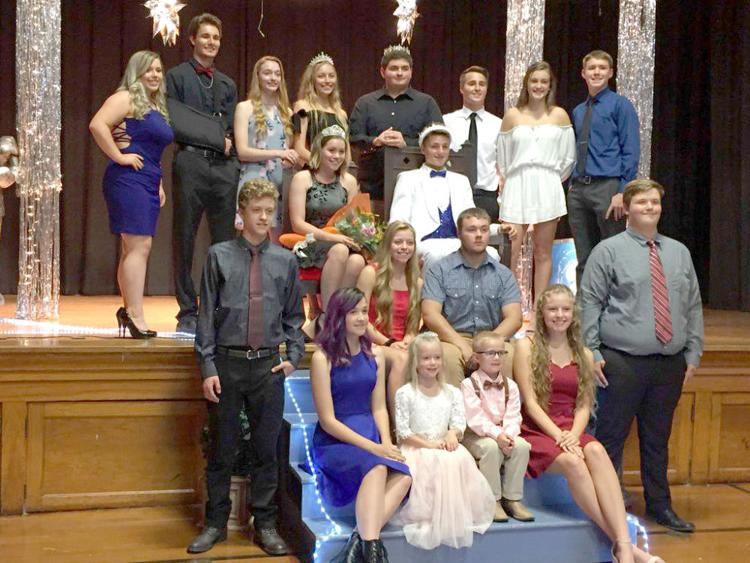 BLUE RIDGE
Homecoming week saw king Brenden Flannell and queen Georgia Manuel join this year's court and the 2018 king and queen. Also, the girls' golf team won a conference championship in record-setting fashion at Eagle Creek. — Kalyn Warner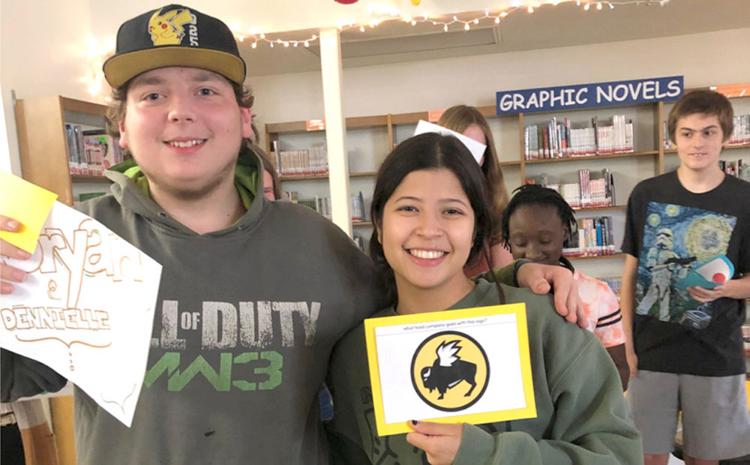 CENTENNIAL
Best Buddies, a nonprofit focused on building one-on-one friendships with people who have physical or mental disabilities, had its match party to kick off the school year. Pictured are club president Dennielle Monge-Vargas and her buddy Bryan Thompson. — Hailey Choi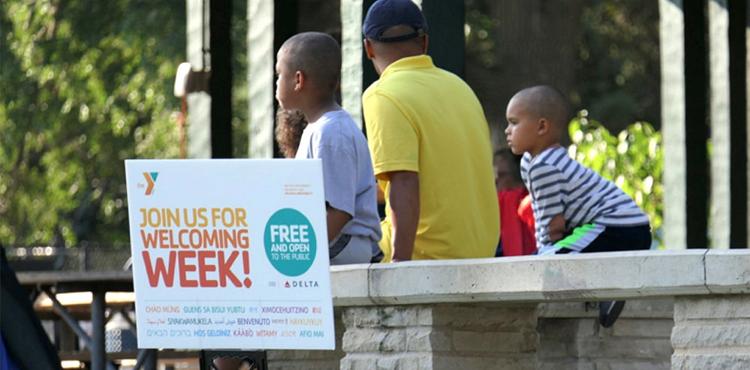 CENTRAL
Members of Spanish Honor Society volunteered at the University YMCA's Immigrant Welcome Week with activities for kids such as face painting, a bounce house and crafts. — Julia Wilson

CISSNA PARK
On Wednesday, 16 FFA students competed in section soils judging. Pictured are, back row, Noah Phelan, Brett Walder, Carter Ferguson, Malaki Verkler, James Yergler, Will Petry and Emma Morrical; middle row, Brody Sluis; and, front row, Kenadee Edelman, Riley Maul, KayLee McWethy, Clayton Powell, Nora Kaeb, Lanna Kaeb, Lyssa Kaeb and Lexi Seggebruch. — Abbi Kaeb

DANVILLE
A busy week in athletics included the boys' soccer team's 11-2 Big 12 win against Peoria Manual. — Leilani Islam
FISHER
Senior football standout Tyler Wilson was named Athlete of the Week by WCIA. — Sidney Sievers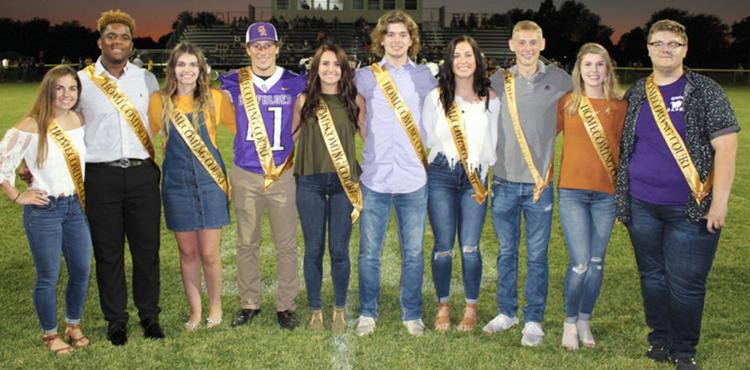 GEORGETOWN-RIDGE FARM
After a week of activities, a football win and dance capped homecoming week. The senior court, left to right, was made up of Sydnie Spires (queen), Chaze Rowell-Caruthers (king), Cloe Amos, Gavan Shelton, Gracie Liles, Jeremiah Smith, Taylor Stal, Hudson Lenhart, Shelby Siddens and Matthew Tansy. — Chelby Hall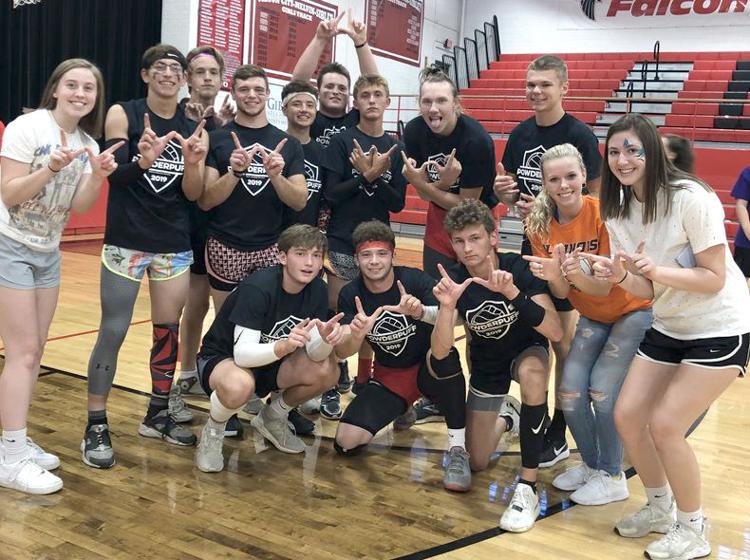 GIBSON CITY-MELVIN-SIBLEY
Coached by volleyball players, a group of boys won powderpuff volleyball to help the senior class win homecoming week. Back row, left to right, are Mady Schutte, Darin Bauer, Nick Butler, Payton Kean, Chase Pondel, Keegan Kutemeier, Bryce Boundy, Ethan Freehill and Spencer Meenen; and front row, left to right, Cade Elliott, Colby Taylor, Tanner Cribbett, Emily Clinton and Rylee Tompkins. — Sierra Hileman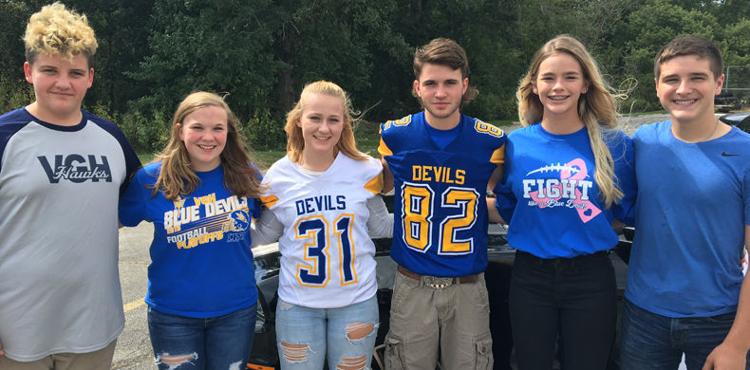 HERITAGE
On Friday, freshman attendants Aaron Coffin and Paige George, sophomore attendants Lily Ploense and Cory Stewart and junior attendants Audrey Hancock and Ryan Cheatham joined senior court members in the Villa Grove/ Heritage homecoming parade in Villa Grove. — Lynnae Struck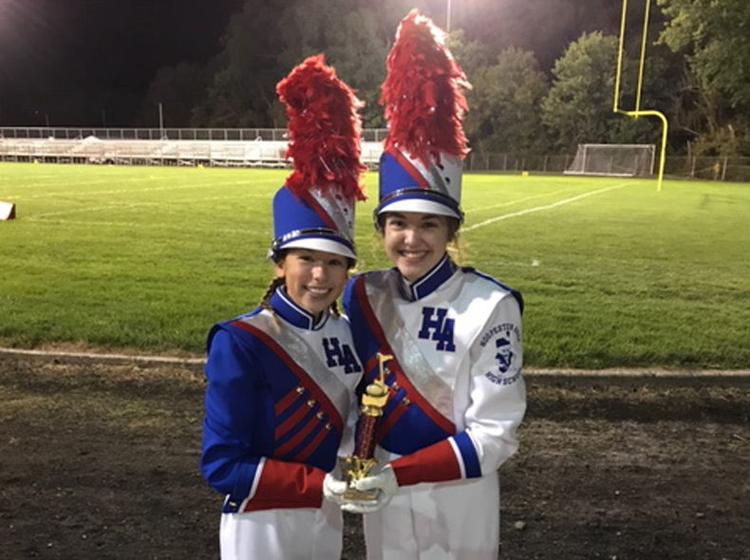 HOOPESTON AREA
The Marching Cornjerkers competed at the 46th annual Danville Viking Marching Band Invitational. Drum majors Erin Anderson and Macy Hayes were awarded Best Drum Majors in Class 2A. — Erin Anderson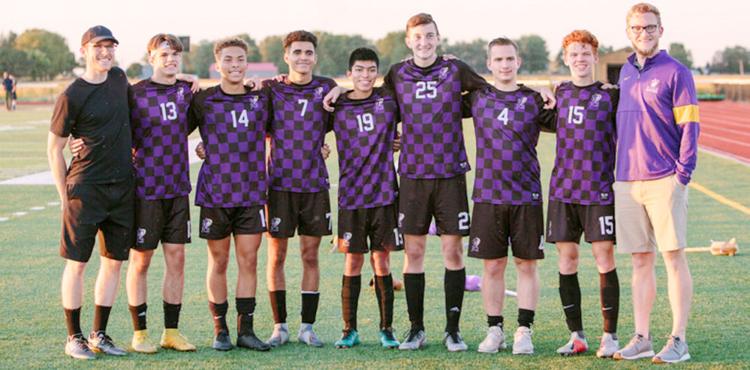 JUDAH CHRISTIAN
Soccer's Senior Night took place against Uni High on Thursday. "Being on this team all four years will be something I won't take for granted. The bonds I've made with my teammates on and off the field will stay with me for a long time," senior Joe Linsner said. Pictured, left to right, are Kyle Stone, Caleb Aldridge, Izak Brown, Isaac Noteboom, Tyler Grenda, Nathan Aardsma and and Linsner. — Brayden Riesberg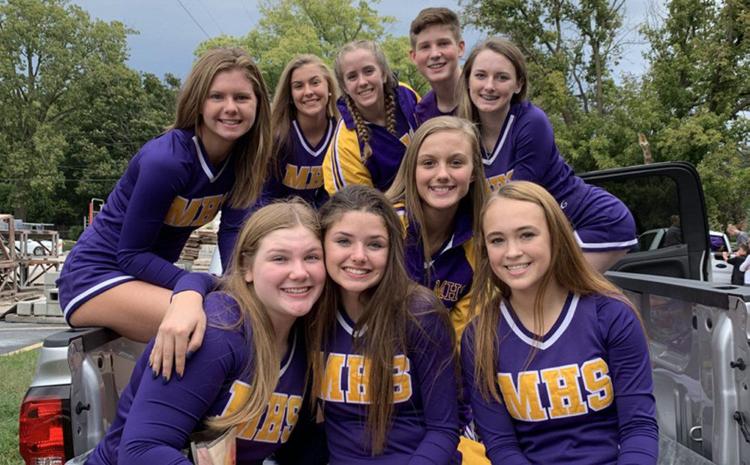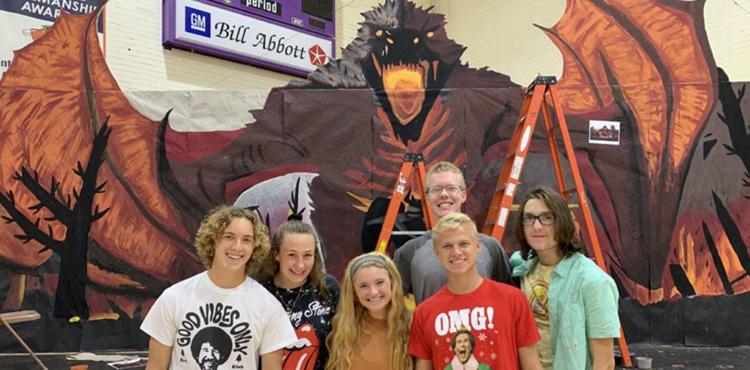 MONTICELLO
Despite rainy weather, the Sages still showed their school spirit during homecoming week, from pep rallies to a parade to Art 12 students finishing their murals for the gym. — Addison Wichus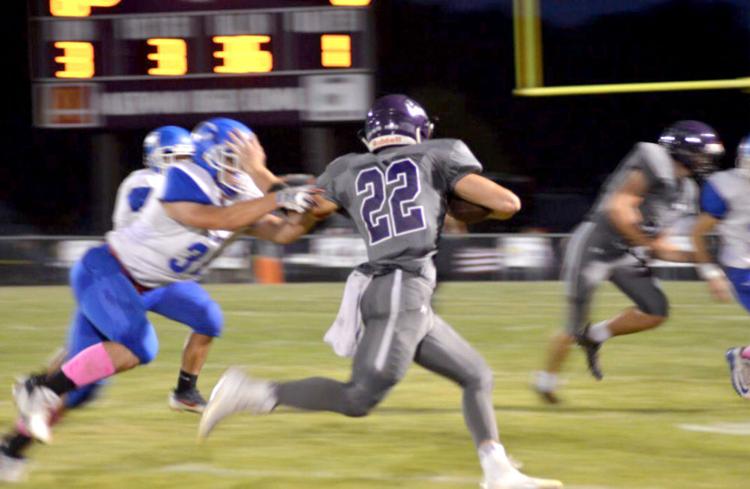 OAKWOOD
The school's Athlete of the Month was senior Colby Smiley. Senior Grace Hance was awarded Character Trait of the Month for honesty, and Chris Richardson was Staff Member of the Month. — Maecii Barabas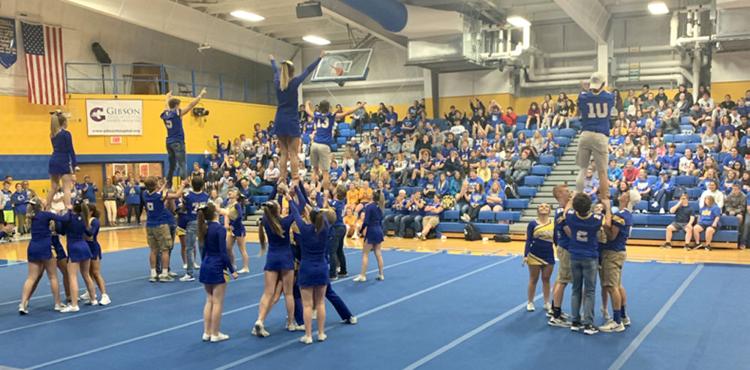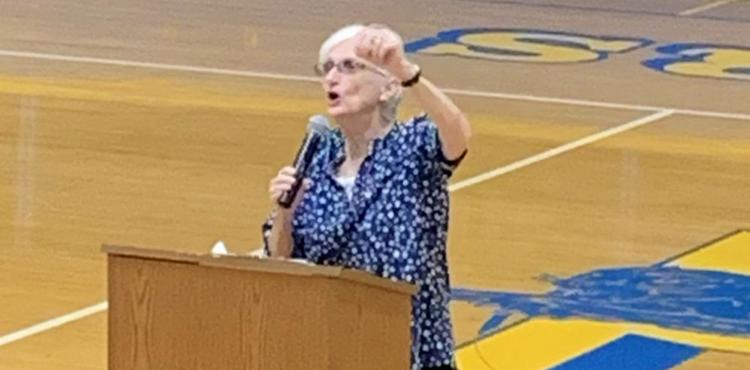 PAXTON-BUCKLEY-LODA
Homecoming week included dress-up days, Kendra Smiley's induction into the PBL Hall of Fame, macho volleyball, powderpuff football, a pep assembly, a parade and Saturday's dance. — Emma Schuler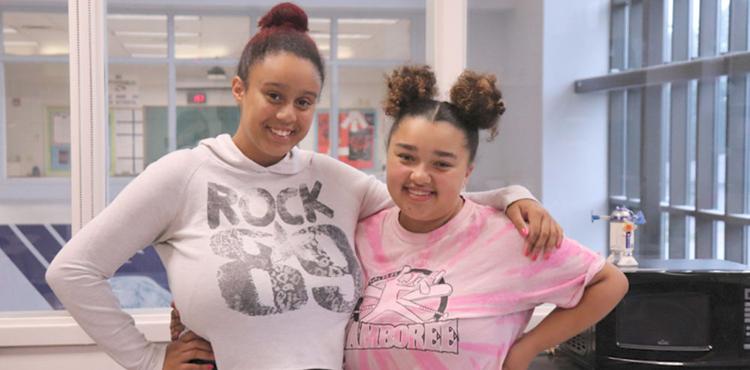 RANTOUL
Among those recognized at Friday's 27th Student Recognition: Evan Bock (band, chorus), Bria Connelly (photographer for modern media/band and madrigals), Makayla Stanley (photographer for modern media and band) and Andrea Espinoza (band). These students were nominated by classmates. — Veronica Duddleston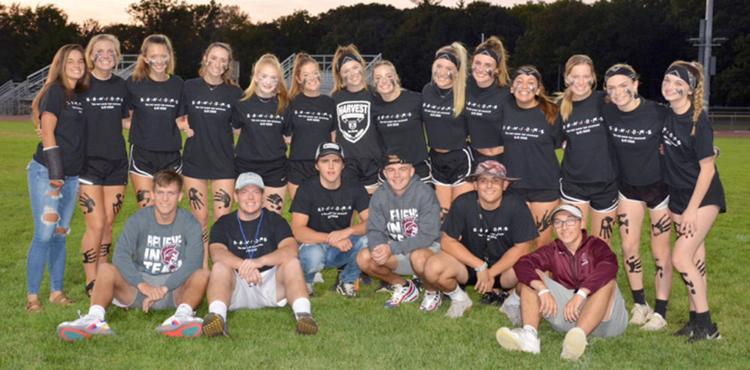 ST. JOSEPH-OGDEN
During homecoming week, girls from each class competed in powderpuff, with sophomores pulling out the win. Still, teacher Don Beckett said, "The senior class will be ready for a picture at the drop of a hat." He wasn't wrong. Back row, from left, are Hannah Dukeman, Bailey Dowling, Taylor Barnes, Zoey Witruk, Isabelle Vliet, Emily Hardimon, Mallory Ames, Paige DeMay, Alivia Norem, Anna Tranel, AJ Fuentes, Carson Mills, HaileyBirt, Aubrey Kern; and front row, from left, Conner Hodge, Blake Dable, Brodie Sullivan, Jordan Kelly, Bode Gebbink and Brodie Landreth. — Mallory Ames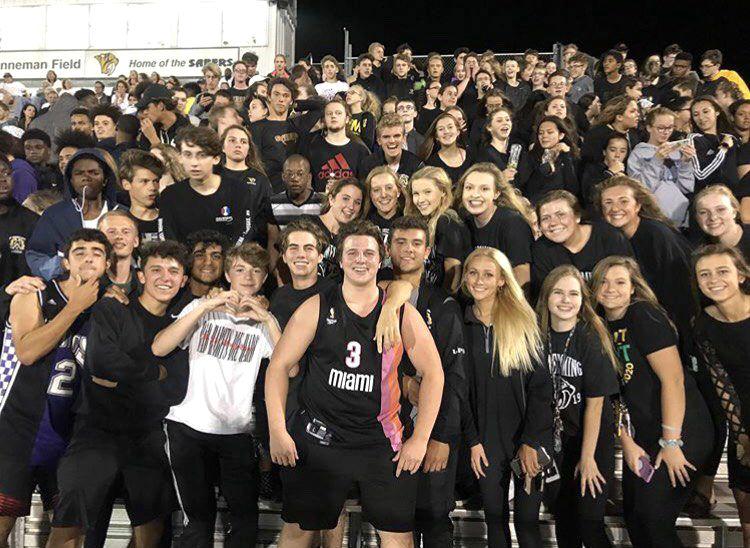 ST. THOMAS MORE
The Saber Pack, led by Callahan Leibach and others in the class of 2020, cheered the football team to a last-minute victory as part of a homecoming weekend that saw queen Alaina Bowie (far right) and king Jay Shin honored. — Noelle Schacht

SALT FORK
The homecoming court, from left; was made up of Karlie Cain, Ashlyn Davis, Cassidy Chandler, Jaycie Jenkins, Baylee Birge, Amber Wilson, Briley Davis, Piper Pierce, Linzi Fauver, (queen) Gracie Labaw, Max Shepherd, (king) Logan Appelman, Caine Wilson, Kieler Bennett, Kaleb Hurt, Peyton Taylor, Josh Weller, Jake Trosper, Bo Taylor and Garret Taylor. — Autumn Lange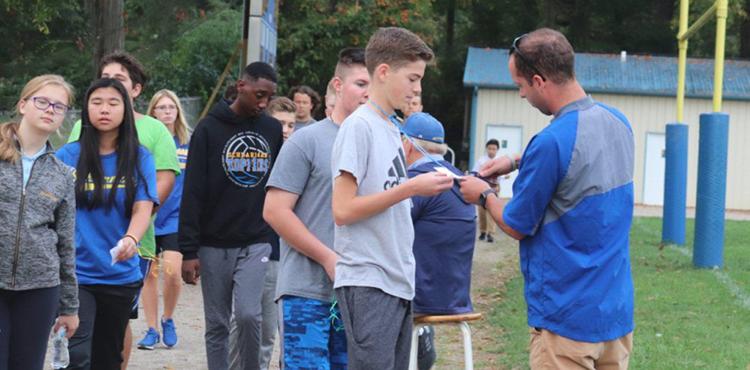 SCHLARMAN
Charles Ludwig got his Race for Education card stamped during the annual fundraiser. Students send out flyers courting sponsors to raise money for the school's various needs like renovations and textbooks. — Farrah Anderson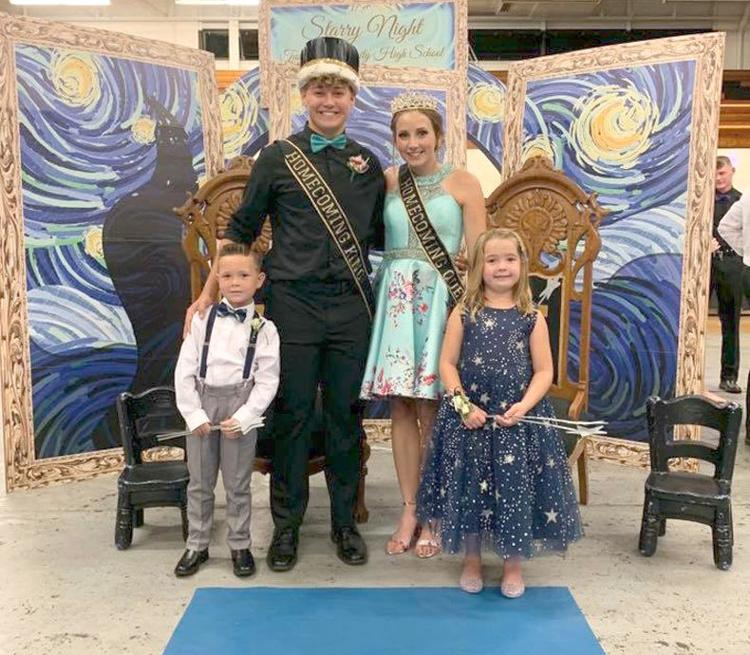 TUSCOLA
Newly crowned homecoming king and queen, Jonah Pierce and Hannah Lemay, pose for a picture with the crown bearers, Trey Boyer and Brownyn Minger. — Emma Zimmer
UNI HIGH
At Senior Night at the UI Arboretum course, the school's boys' and girls' cross-country teams finished together in packs of eight, led by Kate Ahmari and Henry Kraatz. The race was followed by speeches and gifts from underclassmen. Seniors pictured, back row, from left, are Anya Kaplan-Hartnett, Sasha Rushing, Othniel Carr, Joshua Mok-Chih, Mariano Herrera, Sam Atkinson and Henry Kraatz; and front row, from left, Erin Minor, Nicholas Ramkumar, Matthew Tang, Sparsh Singh, Ethan Ashbrook, Sophia Schmitz and Faizah Rauther. — Erin Minor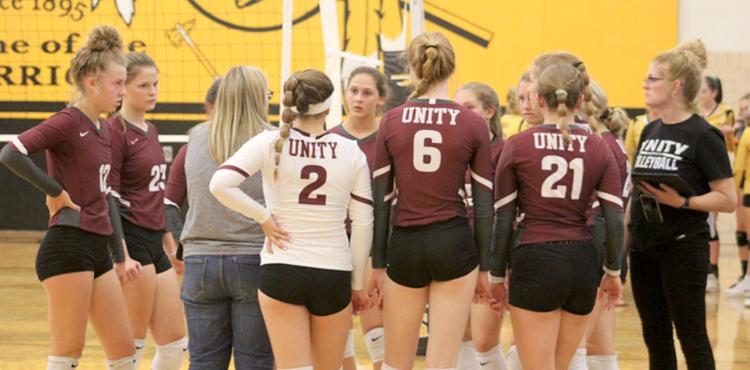 UNITY
Volleyball players Jaylyn Powell, Ella Godsell and Emma Bleecher talked to The News-Gazette last week about team comradery and spirit — and a 20-0 start. — Kim Pruetting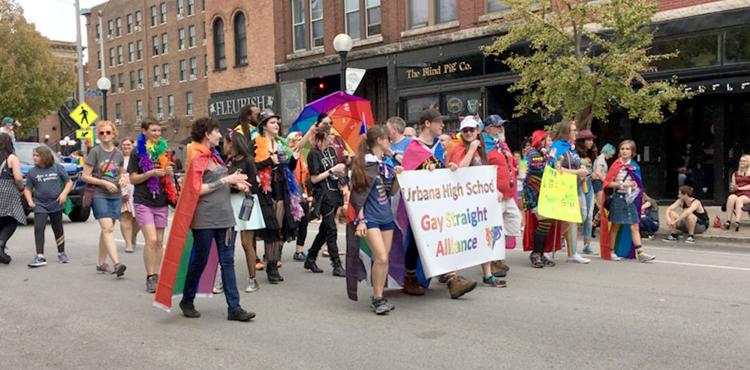 URBANA
A group of teachers and the Gay-Straight Alliance student members took part in the Champaign-Urbana Pride Parade on Saturday. It was Urbana High's sixth year marching in the parade. — Molly Sweeney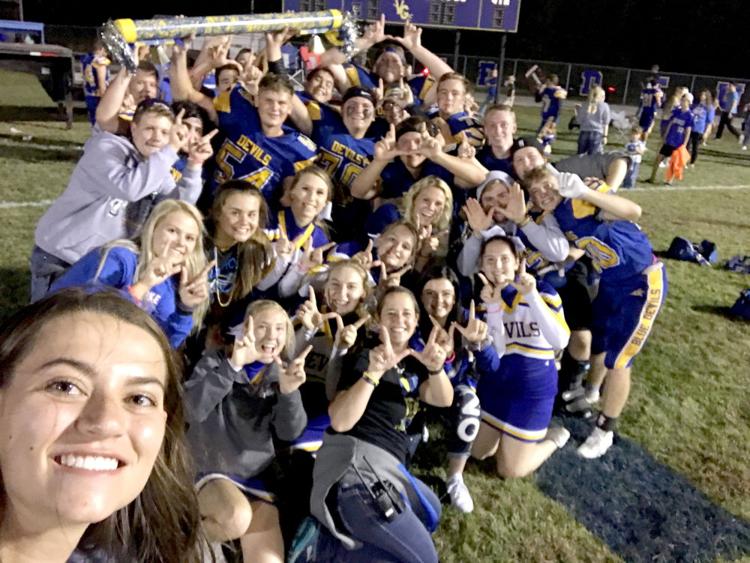 VILLA GROVE
The seniors rallied from a history-breaking 225-point loss to claim the spirit stick for the second year in a row. Pictured is the senior class with principal Sara Jones. — Grace Hutchison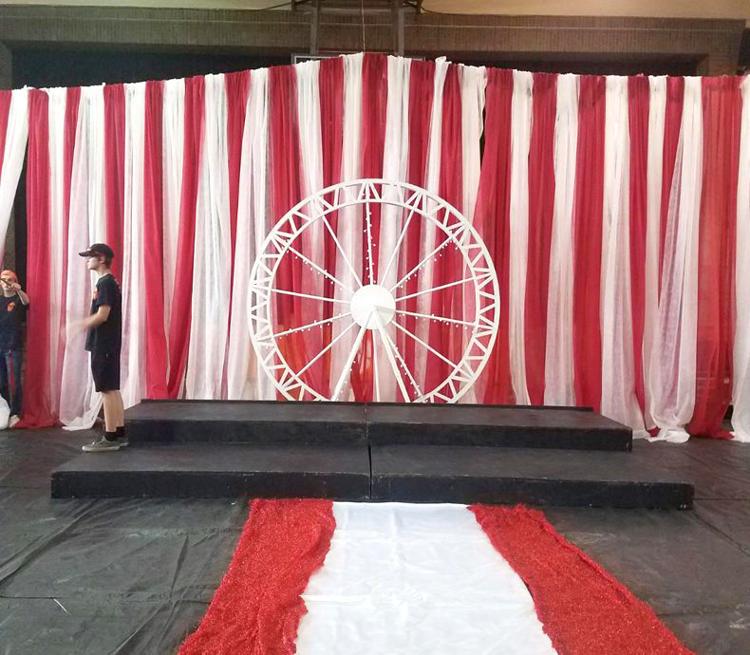 WESTVILLE
The carnival-themed homecoming was a success as Bradie Ellis and Daphne Williamson were named king and queen. — Emma Myers