2019-20 High School Confidential: Week 3
Welcome to Year 4 of High School Confidential, an award-winning project made possible by aspiring student journalists from every corner of our circulation area. Each Wednesday through May, they'll tell us what's happening in their hallways at news-gazette.com.
Once a week, we'll hand over our Snapchat account (News-Gazette) to our correspondents for behind-the-scenes tours.
On Friday, Urbana senior Molly Sweeney (Snapchat: runnergurl55; Twitter: @msweeney5599; Instagram: @molly.marie55) will take us behind the scenes at homecoming, which includes a pep rally, parade and football game against Peoria Richwoods. After college, she plans to "move to Boston and work as a journalist or travel for a few years and freelance."
First up: Watch this video of a cool moment at Heritage High that is included in this week's report.
On to this year's panelists:
Academy - Megan Wiarda
ALAH - Kenli Nettles
Arcola - Patty Rodriguez
Armstrong-Potomac - Emily Rogers
Bement - Braden Fogerson
BHRA - Gabe Martinez 
Blue Ridge - Kalyn Warner
Centennial - Hailey Choi
Central - Julia Wilson
Chrisman - Addison Pickett
Cissna Park - Abbi Kaeb
Danville - Leilani Islam
DeLand-Weldon - Peyton Lappin
Fisher - Sidney Sievers
G-RF - Chelby Hall
GCMS - Sierra Hileman
Heritage - Lynnae Struck
Hoopeston - Erin Anderson
Judah Christian - Brayden Riesberg
Mahomet-Seymour  - Rachel Myers
Monticello - Addison Wichus
Monticello - Mary Grace Ross
Oakwood - Maecii Barabas
PBL - Emma Schuler
Rantoul - Veronica Duddleston
St. Joseph-Ogden - Mallory Ames
St. Thomas More - Noelle Schacht
Salt Fork - Autumn Lange
Schlarman - Farrah Anderson
Tuscola - Emma Zimmer
Uni High - Samaia Jones 
Uni High - Erin Minor 
Unity - Kimberly Pruetting
Urbana - Molly Sweeney 
Villa Grove - Grace Hutchison
Westville - Emma Myers
On to this week's report: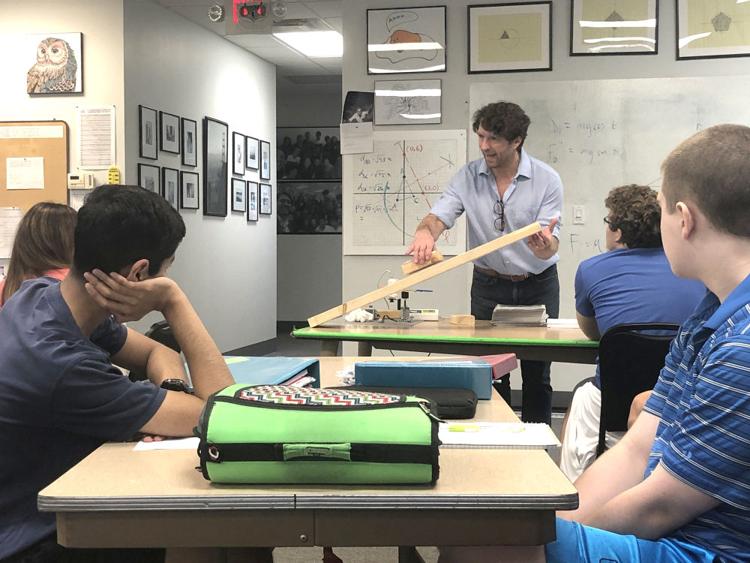 ACADEMY HIGH
Dr. Darren Pascavage engaged the physics class using wooden blocks as a representation of gravity. Pictured, from left, are Cassie Colmenares, Mayank Hirani, Pascavage, Nik Gritten and Caleb Moore. — Megan Wiarda
ALAH
The cross-country team became the first Lincoln Prairie Conference champions. Pictured, back row, from left, are Cade Hendrickson, Jace Green, Layton Hall, Logan Beckmier, Justin Miller and Emma Edwards; and front row, from left, Jacob Adcock, Conner Edmonds and Lyle Adcock. — Kenli Nettles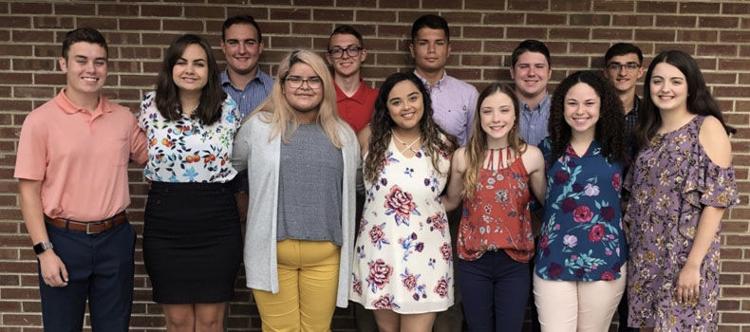 ARCOLA
Five Arcola students, joining peers from Tuscola and ALAH, participated in the Douglas County CEO class, including Jakob Sullivan, Lyssa Madlem, Victoria Schuman, Mariana Corona and Patty Rodriguez. — Patty Rodriguez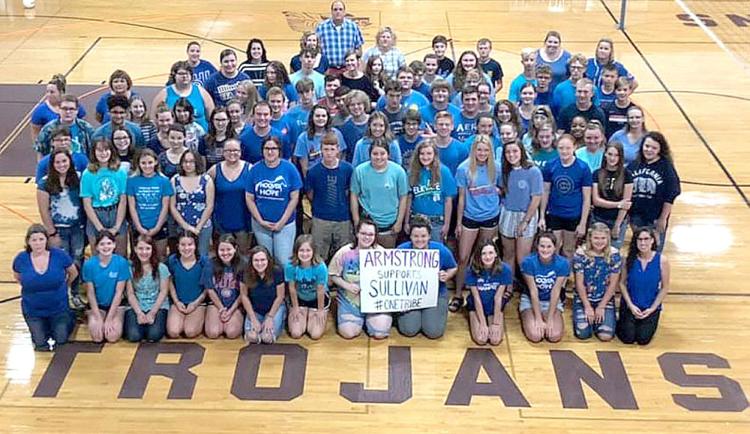 ARMSTRONG
Students and faculty wore blue to honor the life of Sullivan's Tyson Mendoza, a 5-year-old who was killed in a school bus crash. Armstrong teacher Wade Rogers, student-taught at Sullivan. — Emily Rogers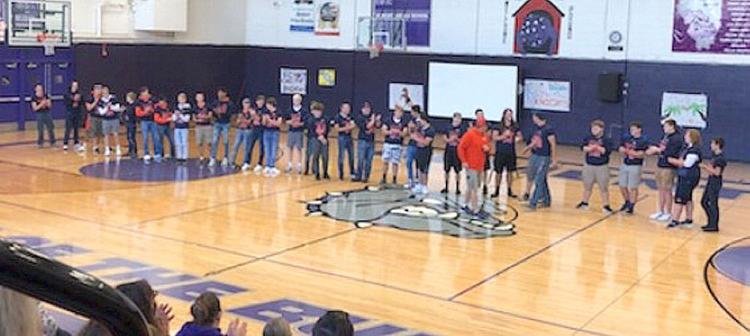 BEMENT
Football players lined up on Friday to be introduced by coach Nick Walker. While there, Sam Dalton and Blain Burns were named captains for the week. — Braden Fogerson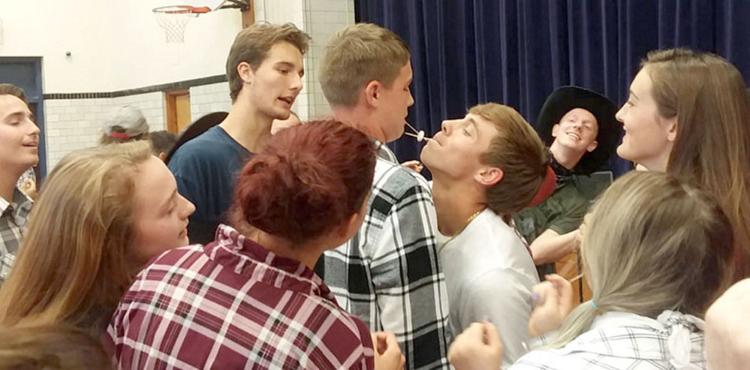 BLUE RIDGE
Seniors gathered as Aaron Jayne and Zach Stephens continued the lifesaver pass for a class competition. Each class also participated in a line dance, a series of relays and dress-up days, seniors winning the homecoming championship trophy. — Kalyn Warner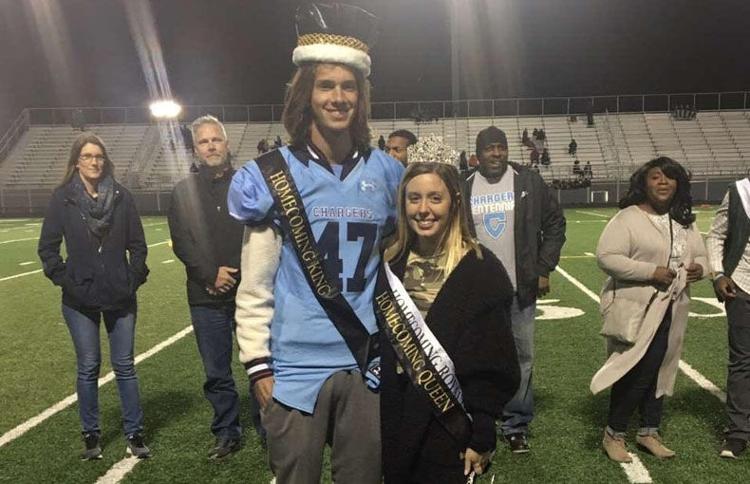 CENTENNIAL
At the homecoming football game against Urbana, Molly Frey and Max Wallace were announced as queen and king. — Hailey Choi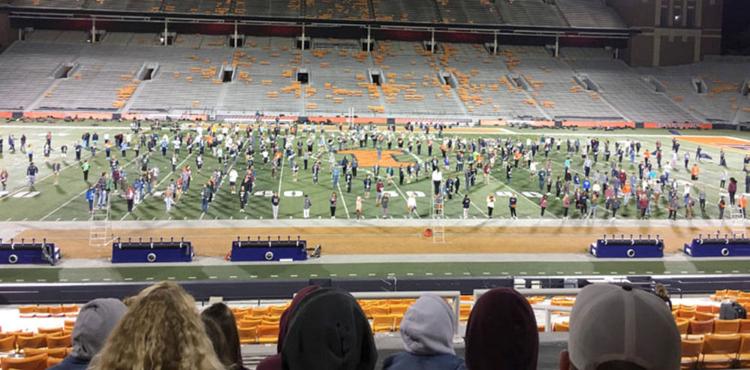 CHAMPAIGN CENTRAL
A this photo by senior Maroon Marching Band section leader Jordan Simons shows, section leaders visited a Marching Illini rehearsal last week for pointers to bring back to high school. — Julia Wilson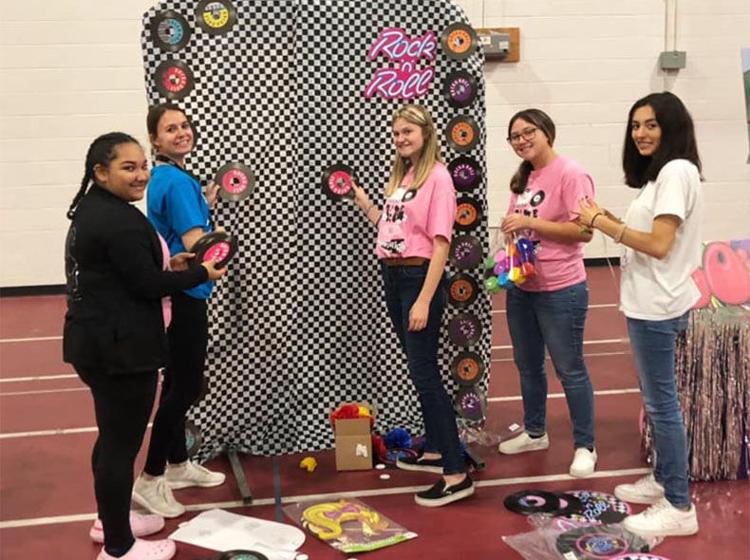 DANVILLE
Spirit week included student council helping set up for homecoming. Pictured, from left, are Terriana Reed, Allison Bartniz, Danielle English, Leilani Islam and Victoria Rangel. — Leilani Islam
FISHER
The homecoming court at coronation Saturday, from left: Aundreha Kelley and Austin Whitton, Riley Parks and Jacob Hansens, Lacey Cotter and Andrew Ferguson, Queen Daneigh Burk and King Will Delaney, Claire Hortin and Caleb Liestman, Sidney Hood and Hunter Coon, and Kylee Bishop and Jed Chow. – Sidney Sievers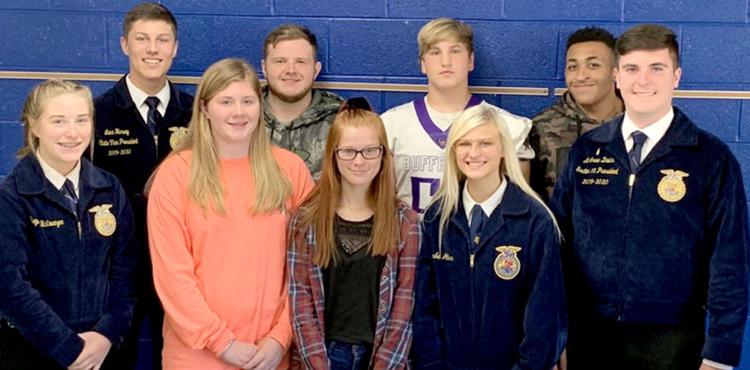 GEORGETOWN-RIDGE FARM
Lane Harvey (Illinois FFA state vice president), Andrew Davis (Section 18 president), Cheyenne Haltiwanger (Section 18 secretary) and Phoebe Allen (Section 18 reporter) visited G-RF, encouraging members to set personal goals. Davis attends G-RF. Top row, from left, are Lane Harvey, Lane Spray, Layton Starnes and Tyler Adkins; and bottom row, from left, Cheyenne Haltiwanger, Ally Cobble, Sydney Key, Phoebe Allen and Andrew Davis. — Chelby Hall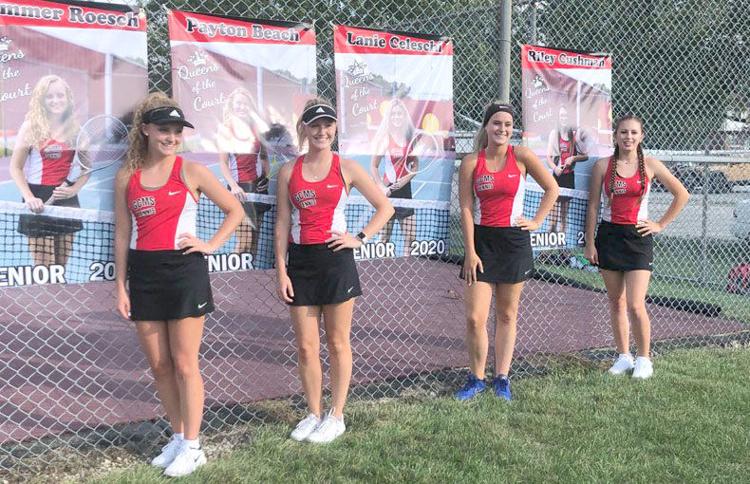 GIBSON CITY-MELVIN-SIBLEY
The girls' tennis team celebrated Senior Night. From left, are Summer Roesch, Payton Beach, Lanie Celeschi and Riley Cushman. — Sierra Hileman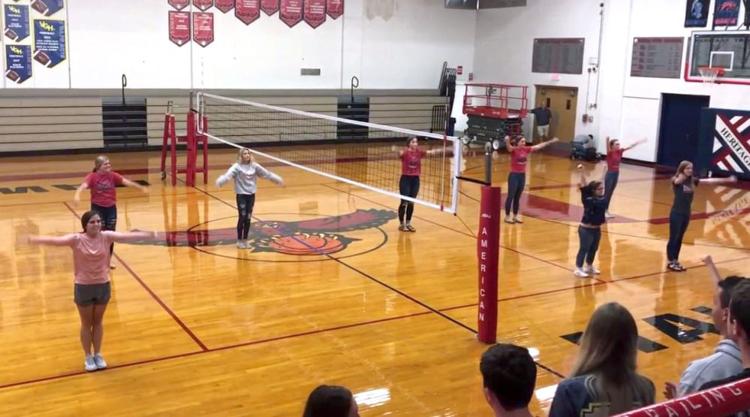 HERITAGE
Students raised $500 in a Soak the Principal fundraiser, presenting a check to freshman Maureen Daly (above) during an assembly. Student council members were excited to present Maureen with the check to sponsor her in the Down Syndrome Buddy Walk on Saturday. Daly is going to join the cheer squad during home basketball games this season. At the assembly, she took the court with cheerleaders while they performed the school song. — Lynnae Struck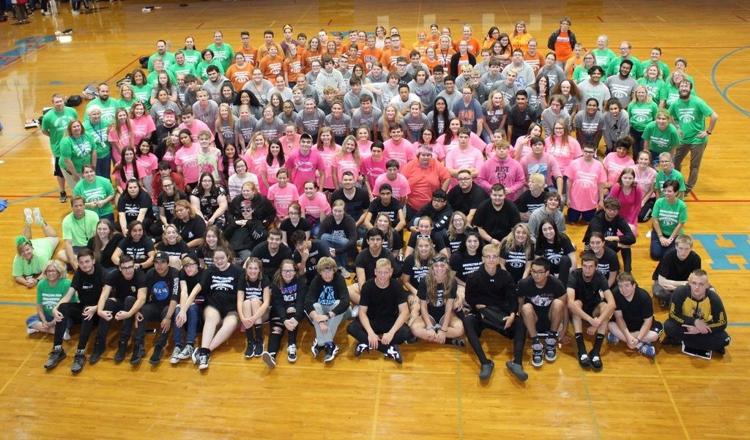 HOOPESTON AREA
Homecoming week included daily dress-up days, a bonfire, a parade, a pep rally and a fairytale-themed dance. Seniors won the class competition. Pictured is the student body in homecoming T-shirts on Class Color Day. The photo was taken by Ginger Gonzalez. — Erin Anderson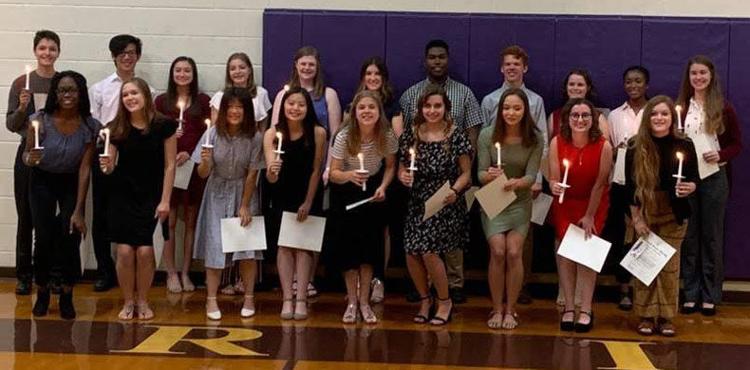 JUDAH CHRISTIAN
At the school's National Honors Society induction ceremony. current members who spoke included Laura Poetzel, Juyoung Choi, Isaac Noteboom, Kyle Stone and Amelia Nelson. — Brayden Riesberg
MAHOMET-SEYMOUR
The Marching Bulldogs took first place in Division 5A at Saturday's Eastern Illinois Panther Marching Band Festival in Charleston.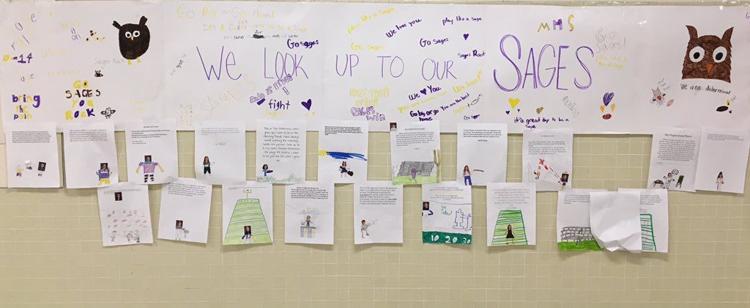 MONTICELLO
Fourth-grade students at Washington Elementary made a banner supporting high school students, also writing on the topic "When I'm in high school I want to ..." — Mary Grace Ross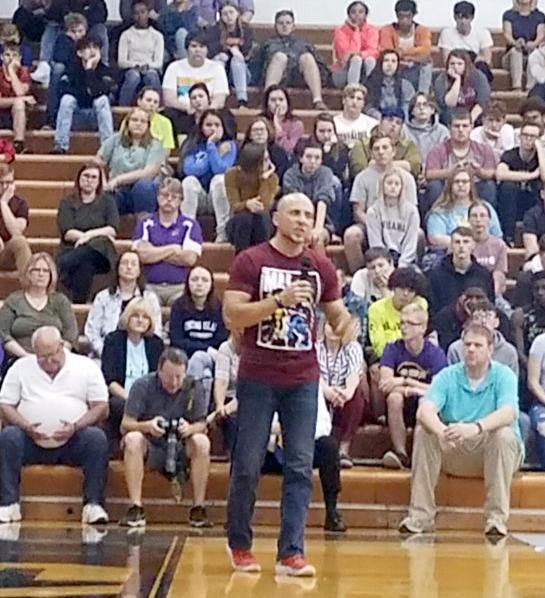 OAKWOOD AND WESTVILLE
On Thursday, students from several schools heard from suicide-prevention speaker Kevin Hines, who shared a powerful message inside Westville's gym, "giving us the reality of what some people go through in their daily lives." — Maecii Barabas and Emma Myers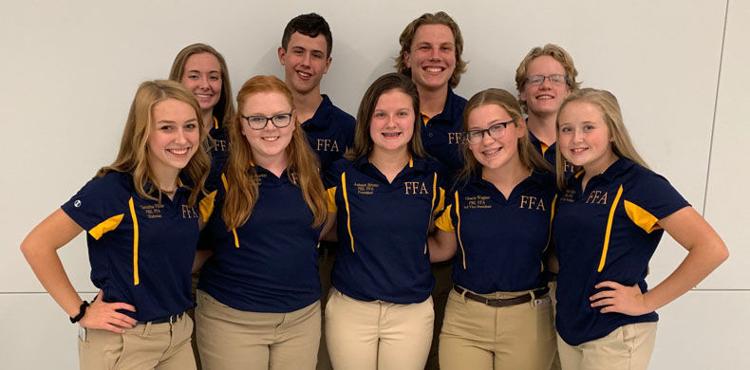 PAXTON-BUCKLEY-LODA
The school's FFA chapter celebrated its 90th anniversary. This year's officers: Autumn Bruens (president), Austin Jones (VP), Jasmine Miles (secretary), Landon Wilson (treasurer), Lizzy Reutter (reporter), Dalton Busboom (sentinel), Christina White (historian), Maci Kingren (second VP) and Gracie Wagner (third VP). The Poultry Evaluation, Novice Parliamentary Procedure CDE and Agriscience (national finalist) teams have won the state. — Emma Schuler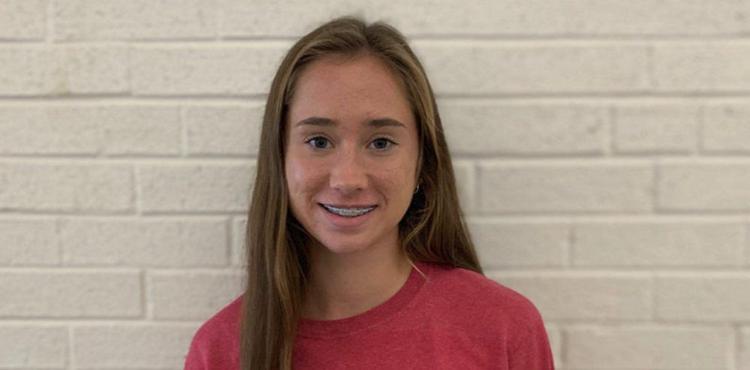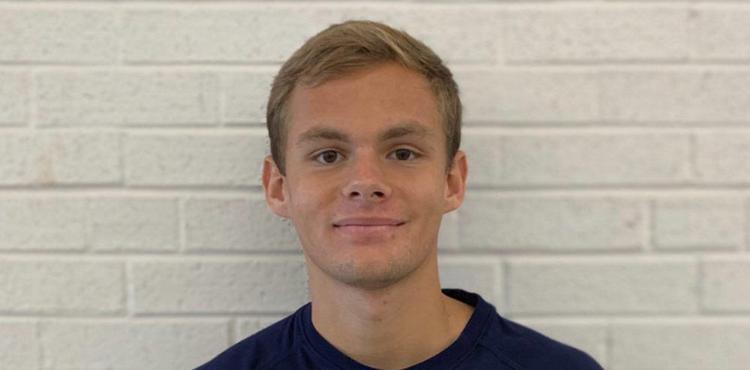 ST. JOSEPH-OGDEN
Hannah Rajlich and Eric Poe were chosen by coach Jason Retz as athletes of September. Candidates participate in cross-country and track and are active in clubs and extra-curriculars. — Mallory Ames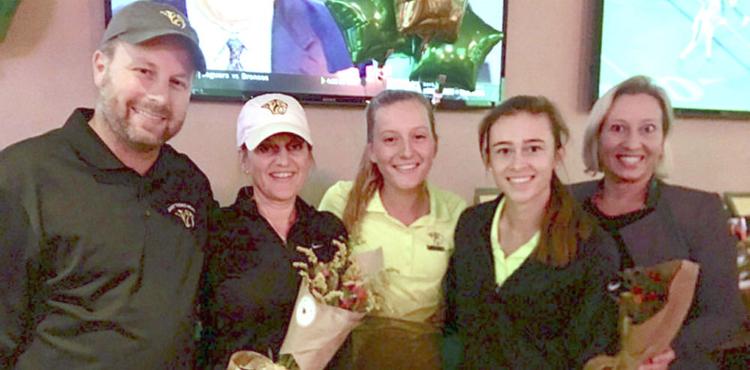 ST. THOMAS MORE
The girls' golf team celebrated Senior Night with a nine-hole score of 158, with seniors Alaina Bowie (36) and Sammy Miller (41) leading the way. Mia Kirby and Brooke Erhard also played well with scores of 40 and 42. — Noelle Schacht
SCHLARMAN
Juniors and seniors visited Danville Area Community College's Bremer Auditorium for Kevin Hine's speech on suicide awareness. — Farrah Anderson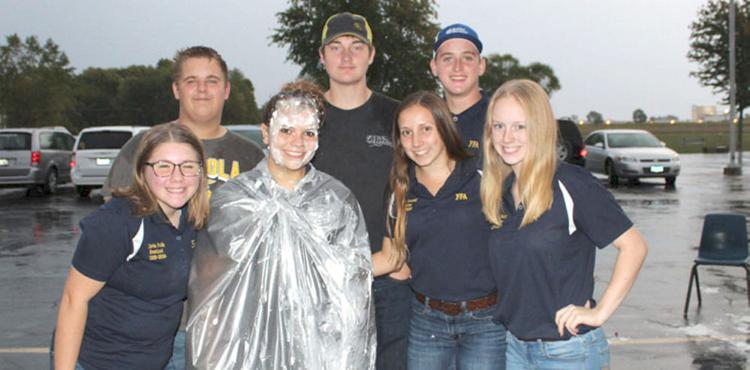 TUSCOLA
During the FFA Fall Festival, FFA officers took a pie in the face from community members for a fundraiser. Pictured are Morgan Jones, chapter president, and FFA officers, from left, Olivia Fulk, Blake Cruzan, Morgan Jones, Hans Goodmann, Hannah Lemay, Coulson Poffenberger and Caleigh Parsley. — Emma Zimmer
UNI HIGH
Ahead of last weekend's gala fundraiser, alumni returned Friday to teach "Alumni Agora" classes and tell of their careers and journey since high school. It is also an opportunity for students to explore future career options and paths. Classes varied from "Truths and Myths of Emergency Medicine" about an alum's experience working in the ER to "How to Land an Internship in Washington, D.C." about an alum's journey from public policy to teaching history. — Erin Minor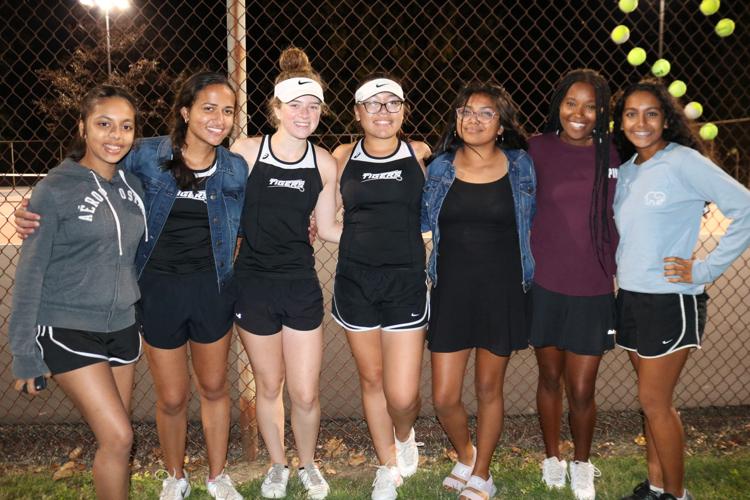 URBANA
Senior Night saw Sanjana Paul win in singles and doubles wins by Devangana Rana and Paul as well as Serena Palacios and Sophia Solava. Pictured, from left, are Stuuti Sharma, Devangana Rana, Sophia Solava, Serena Palacios, Amaris Rodriquez, Daniella Coleman and Sanjana Paul. — Molly Sweeney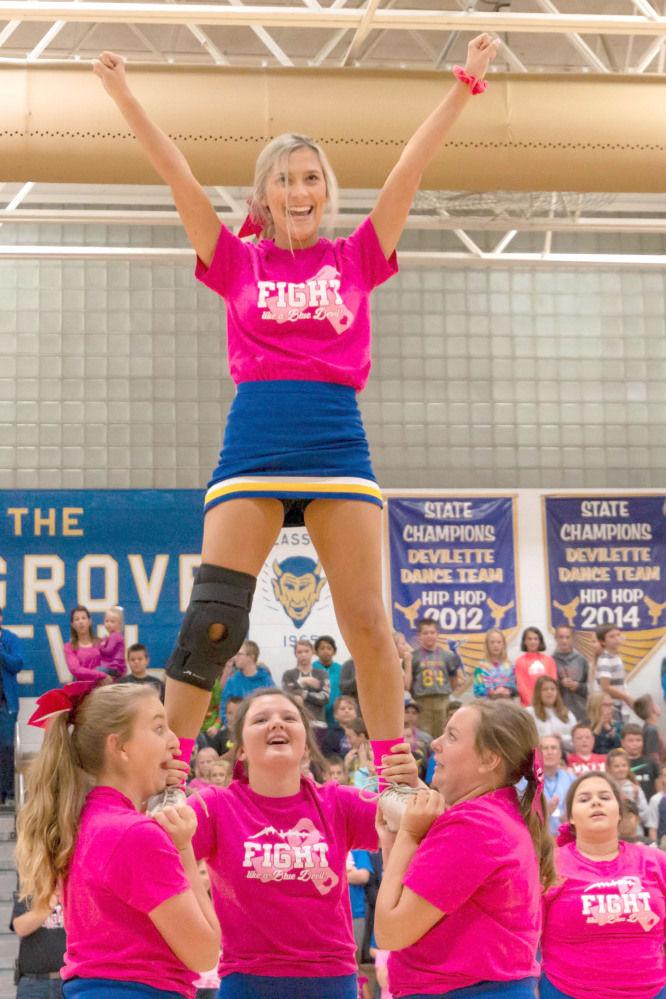 VILLA GROVE
Between T-shirt sales, donations, bake sales and other activities, the school donated $4,323.53 to Mills Breast Cancer Institute. It was Year 6 of the Fight Like a Blue Devil campaign to promote breast cancer awareness. Pictured are Haley Sappenfield, Maci Clodfelder, Molly Mixell and Sydney Eisenmenger during the school song at Friday's pep assembly. — Grace Hutchison