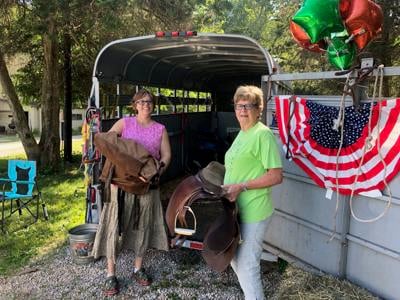 Kind-hearted volunteers will greet you if you're headed to Day 2 of this weekend's Society of Hooved Animals Rescue and Emergency (SHARE) fundraiser outside Dewey.
So will many of the 40 horses that call the nonprofit's facility home.
"The horses know when someone is coming — they're nosy," volunteer coordinator Heide Fogal said. "They want to know what's going on, so they'll come over from the pasture."
Like so many of us, SHARE has taken a financial hit during the coronavirus pandemic. That makes this weekend's "Stuff the Horse Trailer" event — designed "to bring goodies to the horses," Fogal said — even more critical.
Donations will be accepted from 8 a.m. to 5 p.m. today at 2946 County Road 800E.
"Feed, halters, grain, water buckets, fly spray ... the horses don't care," Fogal said. "Anything to help out."
Even grub.
"Horses love watermelons," she said. "People bring buckets of apples and carrots, too."
SHARE's mission — as told in these pages (archived stories are available at news-gazette.com) — is to provide housing, care and training to injured and mistreated horses. The most recent addition was a malnourished draft mule rescued two weeks ago before it was scheduled to go to auction.
"It was bound to be horse meat headed to Canada or Mexico," Fogal said. "We're here for situations just like that."
Visit SHARE's website or email jrossow@news-gazette.com for ways to help after this weekend.