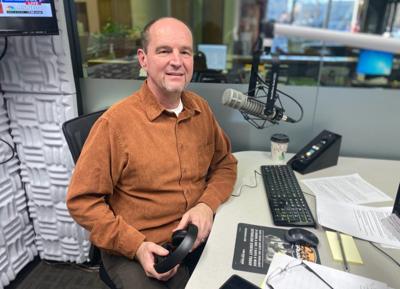 Not many can say they ended up right back where they started, but CW GREER has come full circle, from working in radio to collision repair to pastoring at Home New Life Church of Faith and back to radio — but this time, as the new co-host of the WDWS Morning Show with Dave Gentry. He talked with staff writer Alexandria Kobryn about his Homer roots, love of wrestling and how he came to be where he is today.
How did you come to end up at Homer New Life Church of Faith, and how long have you been pastoring there?
With God's calling to ministry, I was studying with Pastor Thomas W. Miller from New Life Church of Faith, Danville, as we attended there. In 2004, God opened a door to plant a church in my hometown of Homer. God must have a great sense of humor sending me to start a church in the town I grew up in, and still live in. On the second Sunday of September 2004, we had our first service with 19 people in the Heritage Grade School cafeteria. Now, 15 years later, we have a beautiful facility on 20 acres, all debt-free, with around 80-100 people on any given Sunday in a town of 1,200. I continue as the senior pastor and hope to do so for as long as God wants me (and the people want me).
Tell me a bit about how your radio career started.
I received my associate degree from Parkland College in broadcast technology in 1982. While at Parkland, I worked at the college station, WPCD, and at the local country station, WCCR-1580AM. About three months after graduation, I joined WIAI 99.1-FM in Danville doing sales and marketing and occasional fill-in on news. Then I came back to Champaign-Urbana to WJTX 1580-AM as sales manager, working with Dave Gentry and Dave Loane. Finally, I ended up at WLRW 94.5-FM, where I remained for six years in sales. I left radio in February 1990.
How did you transition from radio to pastoring?
After I left radio, I was in collision repair on the business side for 24 years, first with Tatman's and then with Todd's Auto Body. I can't really say there was a transition, but when God calls, we better listen. So I started preparing for a new life's journey. I will say many things I learned in radio and business have helped me in pastoring a church.
You are the new co-host of The Morning Show with Dave Gentry. How did that opportunity come about?
The opportunity to work with Dave Gentry again on the morning show was a little by accident and circumstance. Last spring, word came that Dave Loane was retiring after a stellar career. Dave Gentry and I have known each other for 39 years, worked together in radio during the 1980s, and worked together on other projects over the years. He is one of my best friends and was in Debbie and my wedding 34 years ago. He asked me to initially come on with him, on the morning show, once a month as a fill-in guest.
We noticed that the chemistry we have off the air was just as strong on the air. So we started talking; Mike Haile, the general manager whom I've known almost as long, became involved, and we worked out an agreement for me to be a co-host and still pastor the church. Radio, instead of a career a few decades ago, is now more of a "hobby and relief valve" for me; I have always loved radio since my first taste in seventh grade!
What do you hope to bring to The Morning Show as a co-host?
A fresh voice in the market and maybe a fresh perspective on things of life. I try to look at the "lighter side" of things, understanding that some things don't seem to have a lighter side. I like discussion and looking at many perspectives. And I want to help the listener start their day on a "good note" in order to set the pace for the rest of the day. I want to give the world a smile.
How did you meet your wife, Debbie?
I met Debbie on October 10, 1981, at the Wooden Nickle Saloon inside the Best Western Hotel that was on Route 45, north of Urbana. She was playing keyboards and doing vocals with her family's band, Gator Alley. I was there with friends; we were introduced, and a couple weeks later, we went out on a date. The day after we met was her birthday, and I dedicated a song to her while I was working that Sunday morning on WCCR. The song was by Chet Atkins called "Frog Kissin'," and I am sure that won me the first date!
What has made you want to remain in Homer all your life?
Homer is a wonderful small town, and I'm a small-town guy. I just enjoy the people; I have friends here, people I have grown up with, and great memories from my life here. While I'm a person who has little problem with motivation, I like the slower pace of rural living and being able to really get away from the city. And yes, I enjoy the Andy Griffith Show, and Mayberry is my kind of town, too!
What's something surprising that no one knows about you?
I'm a big professional wrestling fan, especially from the '70s and '80s wrestling. I like to YouTube matches from those decades and reminisce about when wrestling was real ... it was real then, right?! I have a lot of useless trivia in my head from those days of wrestling. One of my good friends is Ted DiBiase, "The Million Dollar Man," who was the lead villain against Hulk Hogan in WWF (WWE). Ted has spoken at our church several times over the years, as he is now a minister of the Gospel. Imagine that!
A piece of advice for someone who wants to follow in your footsteps?
First, get a meaningful relationship with Jesus Christ. One of the benefits of serving Christ is that he can bring more opportunities for us than we could ever imagine. Always be friendly, approachable and professional no matter the place or atmosphere. Work hard, pay your dues, set goals and pray for great wisdom and discernment in everything.