A Life Remembered: Carl Meyer
A Life Remembered | Carl Meyer 'just a great role model for so many'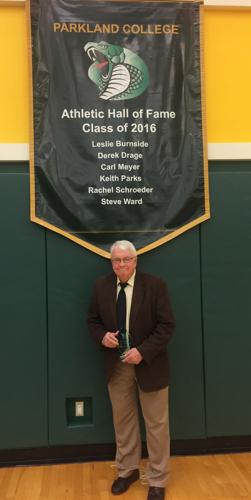 CHAMPAIGN — Carl Meyer's interests were varied and significant. Part coach, part businessman, part educator, part athletic administrator, part fundraiser. He excelled at them all, while maintaining a high level of integrity and modesty.
With his beloved family by his side, Mr. Meyer passed away Wednesday at Carle Foundation Hospital. He was 81.
He is survived by the love of his life, Wava (they were married 61 years); his children and their spouses, Eric (Donna), Scott and Sheryl (Jeff); his sister, Marjeane; and four grandchildren.
"My dad taught me a lot of important things in life," Eric Meyer said. "Having a good foundation of education and family and faith and a strong work ethic would get you a long ways.
"You couldn't do it alone. You always had to network with people."
A longtime Champaign Rotary member, Mr. Meyer followed the organizations' principles of hard work, good will toward others, mentoring and giving back.
"He was just a great role model for so many," Eric Meyer said.
An Ohio native, Mr. Meyer first lived in Champaign from 1971-80. He was on Bob Blackman's Illinois football coaching staff, served as analyst on the Bromar Sports Radio Network and worked at the I Fund office in Chicago.
After stops at Arizona, the University of Cincinnati as athletic director and the University of Miami, Mr. Meyer returned to Champaign in 1992 as co-owner with Eric of Pia's Sports Bar & Grill in Champaign. There were also locations in Rantoul and Monticello.
"He was there every day, greeted people, bartended a little," Eric Meyer said. "He was wonderful as a partner."
In 1997, Mr. Meyer became executive director of the Parkland College Foundation.
"He realized through fundraising, he could help others," Eric Meyer said. "He could fulfill dreams. That's what drove him so heavily. He was a great listener and seemed to know everyone's name."
Eric remembers his dad cutting articles out of the newspaper, laminating them and sending them on to the subject.
He wrote personal letters to those who had helped out.
"He put in extra effort and he truly loved people and he truly loved athletics," Eric Meyer said.
Mr. Meyer was an avid runner until late in life. He would run 5 miles four to five days each week.
"He was always in great shape and kept himself active," Eric Meyer said.
During his 16 years in charge of the Parkland Foundation, Mr. Meyer got to know longtime trustee Jim Ayers.
Ayers was part of a group interviewing candidates for executive director, including Bill Froom and Donald Dodds.
"As soon as we finished the interview with Carl, Bill Froom said, 'He's our man,'" Ayers said. "He took our foundation from its infancy to being a significant operation in the community."
Mr. Meyer's work with the Noel family helped provide the Tony Noel Agricultural Technology Applications Center.
"That was our first really big gift," Ayers said. "It was like we broke the glass ceiling of not being able to get the bigger gifts.
"He made such a difference at Parkland College."
When the Noel family came on board, it made it easier for Parkland to draw other donations.
Mr. Meyer also laid the groundwork for the Parkhill Automotive Center.
"Carl could find a connection to almost everybody," Ayers said about his friend. "That's the key to his success.
"He was such a great man."
A memorial celebration will be held at 2 p.m. Saturday in the Heritage Room at the I Hotel and Conference Center in Champaign. Former Illinois football player Steve Greene and Ayers are among the expected speakers.
The family has received condolences from many, including former Illinois athletic director Ron Guenther and local businessman Peter Fox.