Coronavirus response | At Unit 4, return of students to school a complicated puzzle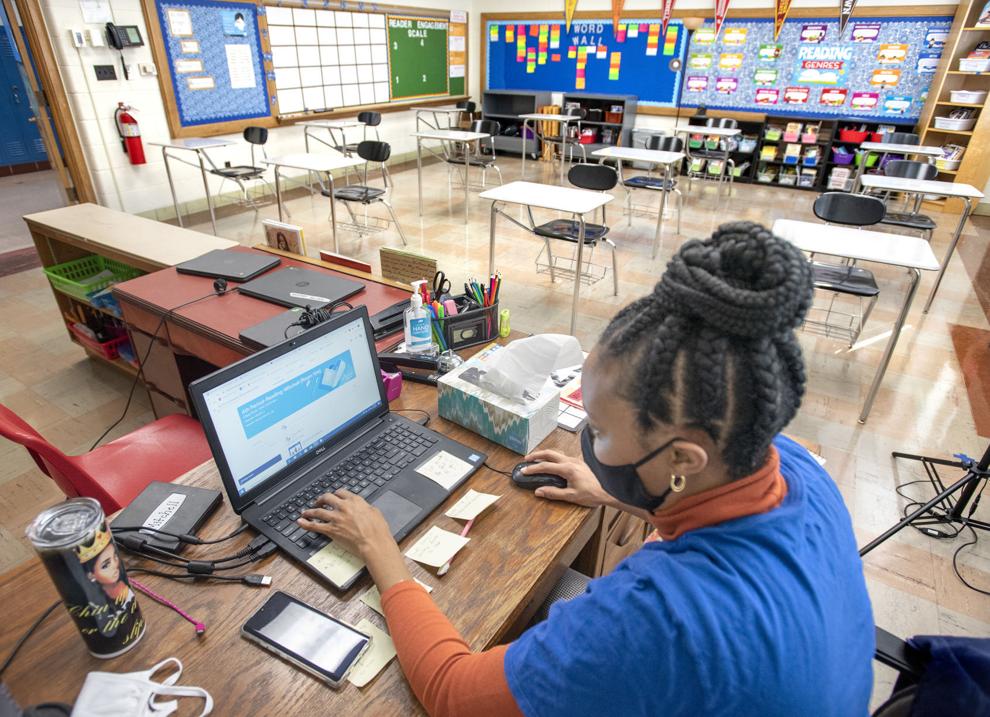 CHAMPAIGN — Many Champaign school district sixth-graders and freshmen will experience the dizzying feeling of entering a completely new school environment today and Wednesday with the start of hybrid learning.
Their experience, though, will hardly resemble a typical week of school.
They'll enter schools where water fountains are turned off, where floors are taped with markings 6 feet apart, where tables and the majority of desks have been removed from rooms and stuffed in any nooks and crannies that can be found, and where three-quarters of their classmates will be watching class from home.
"These are sixth-graders who have never stepped foot in our building," Franklin STEAM Academy principal Sara Sanders said. "They don't even know what it's like to be a sixth-grade student yet. We're trying to orientate them while trying to educate them.
"Our custodians have been working around the clock to make sure our desks are 6 feet apart, to make sure our work stations are 6 feet away from others at all times, that there's PPE in our classrooms. You have to think about food differently and turn water fountains off. But water is an essential item, so what do you do with students who are thirsty? How do you do bathroom breaks? How do you instructionally support students who are both remote and in-person?"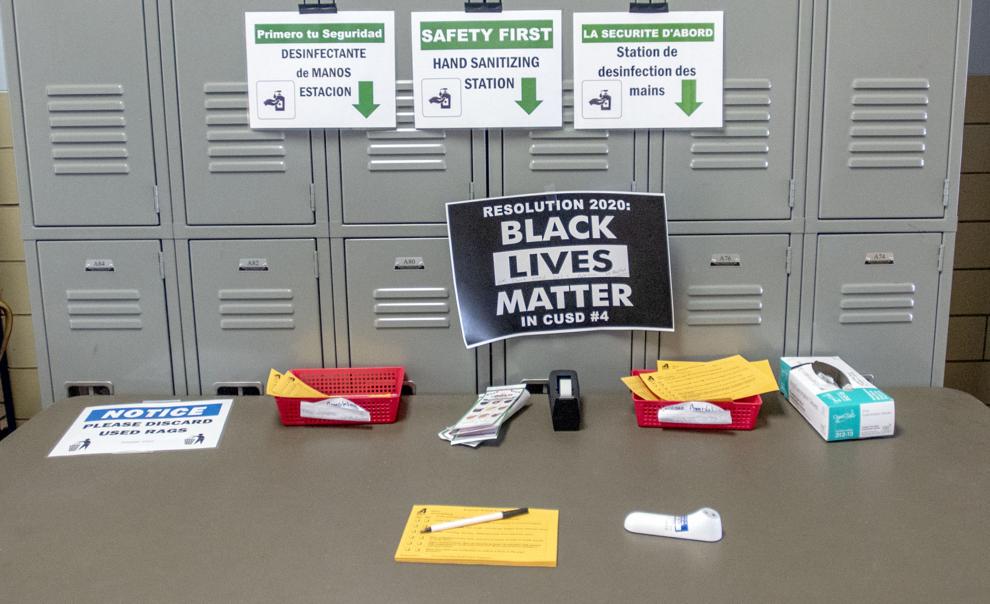 The district will phase in a hybrid schedule over the next three weeks, allowing sixth-graders and freshmen to return in-person this week for two days a week, split between two groups.
With around half of students returning at the five schools, that means a quarter will be in-person today through Friday.
That leaves the rest of students to watch their teachers from home as they instruct the in-person students.
That difficulty is one reason principals gave for not moving to a hybrid schedule in January. Teachers would engage less with students at home when they had students directly in front of them, the logic went.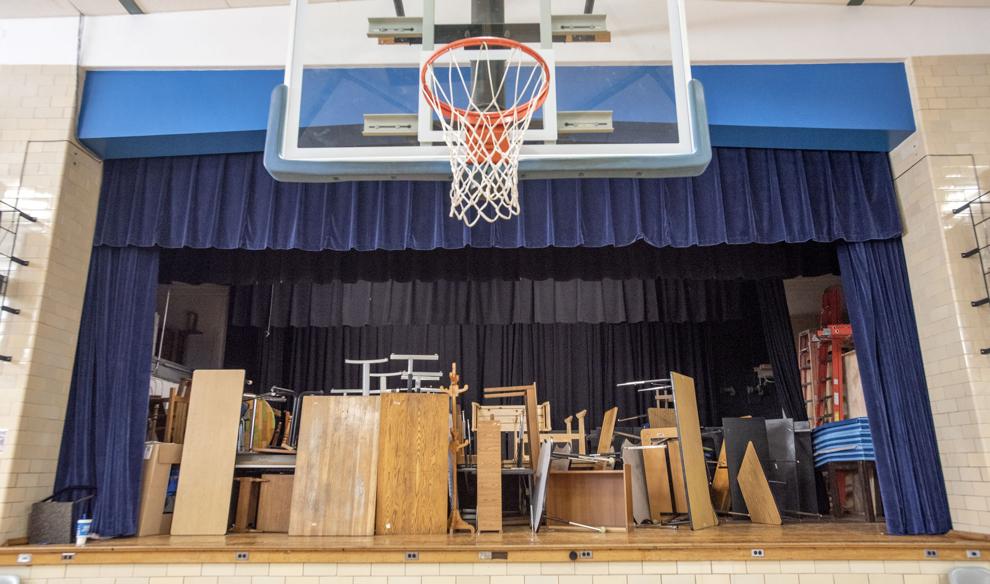 While it'll take extra attention, Champaign Central Principal Joe Williams said teachers will improve at balancing the two types of learners over time.
"If I were teaching, I would think there would be times when you would stop, look at the chat, scan and see what's there because you were up and out of your seat, not looking at the Zoom screen like you are now," he said. "I have hope that we'll get past that feeling of the remote learners watching TV, but as we transition, I think there will be moments of that."
The logistical complications go beyond interacting with students in multiple ways.
Edison Middle School will hold school at two sites, which was always the plan for this year because of its ongoing renovation. Sixth-graders will attend school at Columbia Center, a 116-year-old building that has been used to house students from several schools undergoing renovations over the years.
"We've never been in that building before (with students), so it's just a little bit more work," Edison Principal Angie Schoonover said. "I think it'll end up being fine. But it's nice just having our sixth-graders, because we can be over there to help support all of the kids this week over there."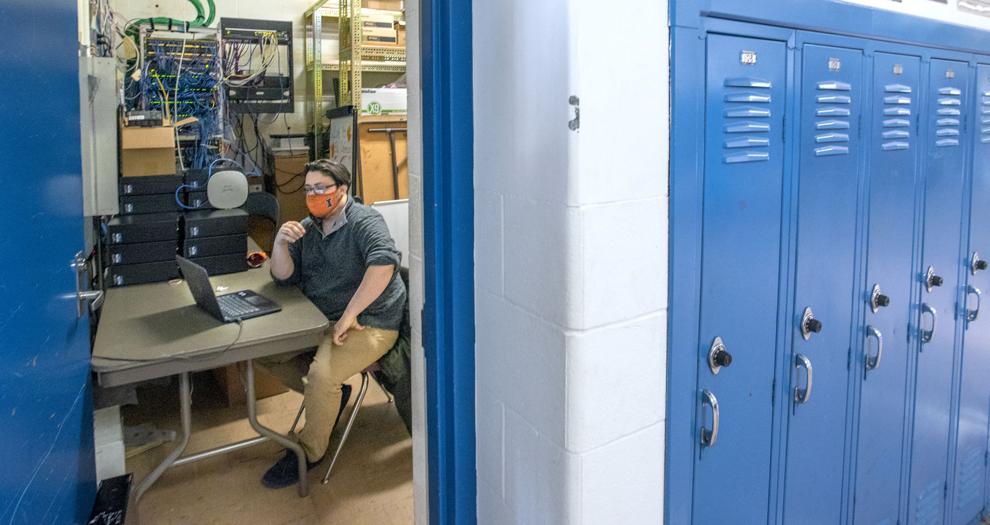 Simply getting students to school has also been a complex puzzle.
At the middle and high school levels, the Champaign-Urbana Mass Transit District handles most bus riders, so working with the new schedule, along with an extra stop at Columbia Center, wasn't simple. The main objective, Operations Director Jay Rank said, was to keep things as easy as possible for kids.
"Basically, the idea was to keep the routes as similar as possible for the students so that they weren't confused," Rank said. If they took the Pink before, they'll take the Pink now, and Yellow, (and so on), but we've got all of our maps updated and have sent them to Unit 4 for distribution in case there were any other changes."
The new schedule is far from normal in-person school. Educationally, it may even make school more difficult and less engaging for some teachers and students.
But traditional educational objectives weren't the only consideration.
"Everybody has their opinion in this, but I think what we're going to gain in this is more of a social/emotional connection just by having students present with us," Williams said. "But I don't want to lose the other half who aren't coming. So I think we're going to have to work through those issues. Honestly, sports coming back played a huge role in that as well. I think educationally, how can we say, 'It's safe to have sports going on, but it's not safe to have in-person instruction going on.' I think when that happened, that moment in January, that's when all of us thought, 'You know, there's no good argument for that.'"
With three months left in a completely unpredictable school year, teachers and staff members are left to navigate yet another new plan. Almost a year after schools shut down for in-person learning, though, adapting is nothing new.
"I think (teachers are) excited to have kids back, but obviously there's a lot of anxiety with, it is a new way of teaching for our teachers," Schoonover said. "I think once we get through the first couple of weeks, it'll be just like it was at the beginning of the school year. People were very nervous about being all online and, 'How are we going to do this?' But I think after they got their feet wet the first couple of weeks, they were fine with it."