Called to Serve: UIPD's Barb Robbins
Called to Serve, Part 4: 'I knew if I could get my foot in the door, I would help with change in the campus community'
In Part 4 of the News-Gazette series 'Called to Serve,' we asked UI Assistant Police Chief of Administration Barb Robbins: When and how did you come to realize that this was the profession for you?
Know someone you'd like us to reach out to for an upcoming edition of Called to Serve? We take requests at jdalessio@news-gazette.com.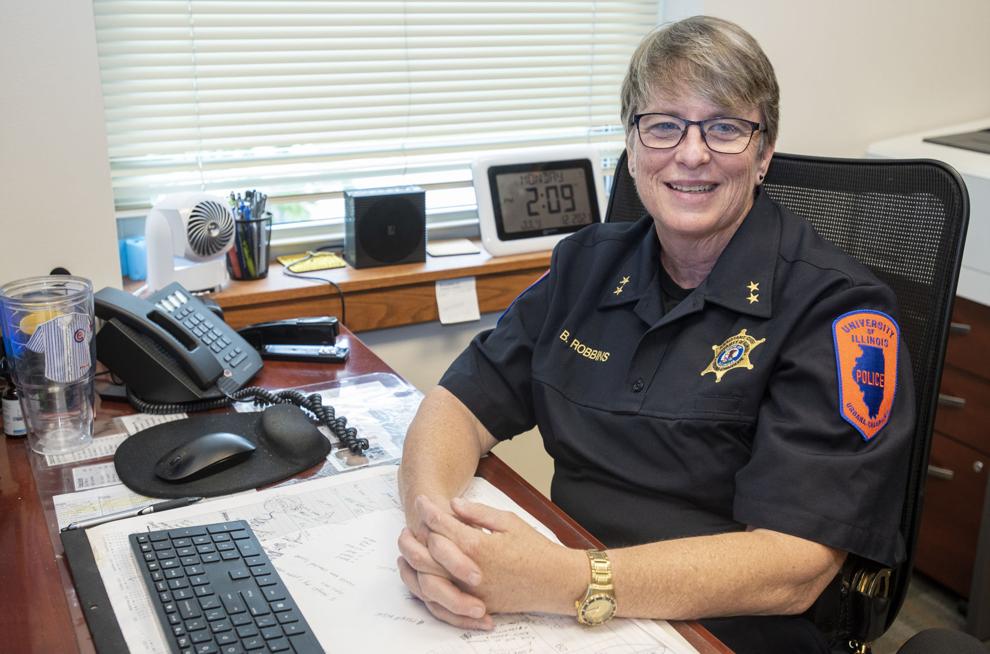 I knew from a young age that I wanted to be a police officer. My father was in the Navy for 30 years, and growing up on military bases and seeing and being around military police during my childhood made a positive impression on me.
However, I was never a good student. But my story is one of perseverance.
At the time, I never really thought about how my poor grades would keep me from getting a good job. I never thought about going to college because of my poor grades.
I took a job in a factory that lasted 12 years. During that time, I started taking criminal-justice classes at Parkland College. I was still not a good student, LOL, but the learning lab staff took me in. I spent every day in the lab getting one-on-one help with reading and writing.
When I look back, Leslie, Connie and Joan gave me all the one-on-one help they could and believed in me.
Those three women and many more people in my life helped me get to where I am today.
I tested for the University of Illinois Police Department at least six times, which is only once or maybe twice a year.
I later learned that Vanessa Horsman, a high school teacher of mine years ago, worked at UIPD. Vanessa was a sergeant, badge number 284. Vanessa helped me study for the police exam. She took time from her busy life to spend time with me and help me understand what police work was.
On July 17, 1996, at age 32, I got offered a job at UIPD. It was one of the best days of my life. I knew if I could get my foot in the door, I would help with change in the campus community.
Well, 27 years later, I still love my job. I started as an officer, then subsequently detective, sergeant with my mentor Vanessa's badge number 284, lieutenant and now assistant chief.
While working at UIPD, I received my bachelor's degree and, in 2006, my master's degree from UIUC. No way did I ever think I would get a college degree, but as I said, hard work is something I have control over, and once again, I was supported by people who were willing to help me at UIUC. I took one class every semester.
I have had the pleasure during my career at UIPD to talk with and mentor young adults in our community. I believe every child has a dream; life is not easy or fair for everyone. I learned it was OK to ask for help. When you're willing to do the work, have a goal of finding a job and have people who believe in you, then the sky's the limit.
Champaign-Urbana is full of people who are willing to help. During my time at UIPD, I have helped young adults find work, shelter, faith, mentors and a positive environment.
I feel after 27 years in this profession, I'm a better person. I still demonstrate the values my parents and grandparents instilled in me, and I have not let my job in police work change who I am.